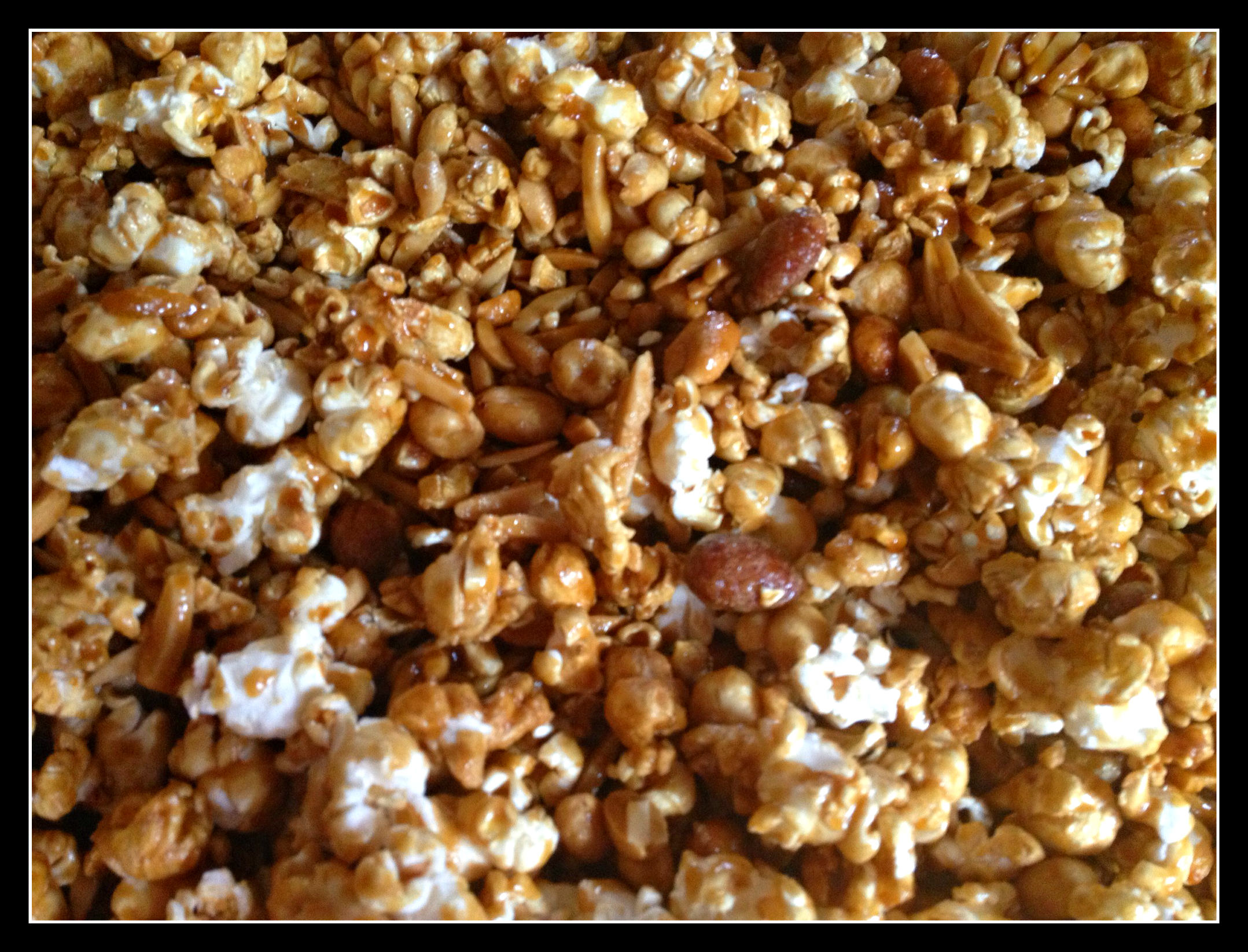 Caramel corn goes with everything.
It's fun at parties, tasty at meetings and a welcome change from the "standards" of cakes, cookies and brownies.
Turns out caramel corn is also very easy.
You get to skip challenge of candy making with crazy stages and clip-on thermometers.  This caramel corn takes about about an hour and was a hit at our housewarming party. People keep asking for the recipe!
Easy Caramel Corn
Recipe modified from AllRecipes.com, "My Amish Friend's Caramel Corn"
Original recipe makes approximately 12 servings ( 1 C per serving)
12 C plain popped popcorn

Approximately 1 1/3 C popcorn kernels

Add-ins (4 C total volume)

Dry-roasted salted peanuts
Slivered almonds, lightly toasted
Honey roasted mixed nuts
Broken pretzel sticks
Anything else you can think of; if using chocolate, add after comes out of oven

2 cups dark brown sugar
1/2 cup light corn syrup
1 teaspoon salt
2 sticks butter
1/2 teaspoon baking soda
1 teaspoon vanilla extract
Place popped popcorn and add-ins in shallow greased baking pan(s).  Use roasting pans, jelly roll pans or disposable roasting pans. I use a giant turkey roaster from Thanksgiving. You may need more than 1 pan; popcorn should be 2 to 3 inches deep. Set aside.
Preheat the oven to 250 degrees. Combine brown sugar, corn syrup, butter and salt in a large saucepan*. Cook over medium heat, stirring to blend. When it boils, continue boiling for five minutes, stirring constantly. I recommend a silicon whisk and a timer.
Remove from the heat, stir in baking soda and vanilla.
Pour hot caramel mixture over popcorn in pans, stir to distribute.  Don't worry about getting popcorn perfectly coated.
Bake for 1 hour, stirring every 15 minutes. Line counter top with waxed paper. Dump out. Cool completely and break up large clumps.
Store in airtight containers or resealable bags.
*The mixture will double in volume and foam when baking soda is added. If you don't use a large pan, you end up with sugar boiling into your stove burners. It is not fun.