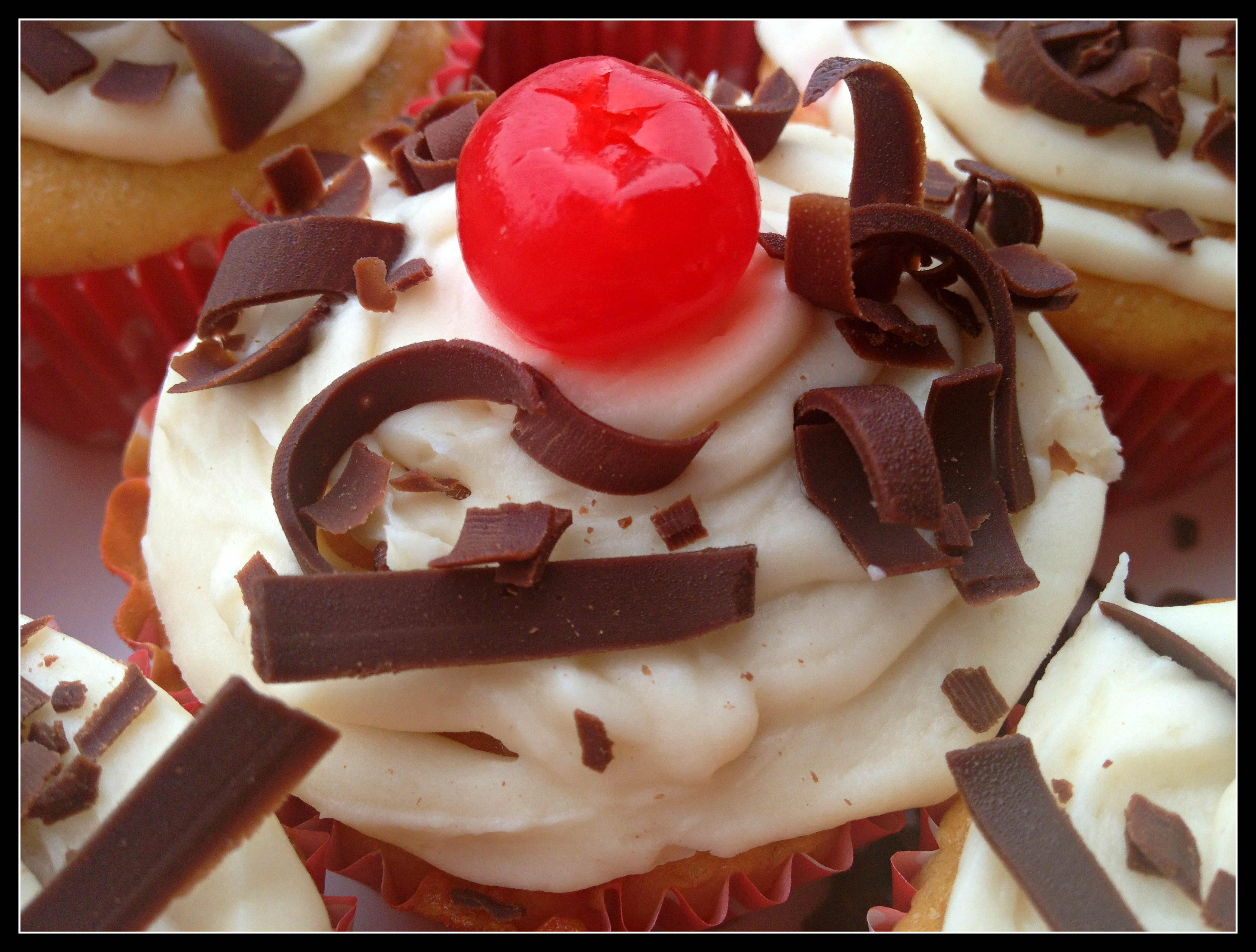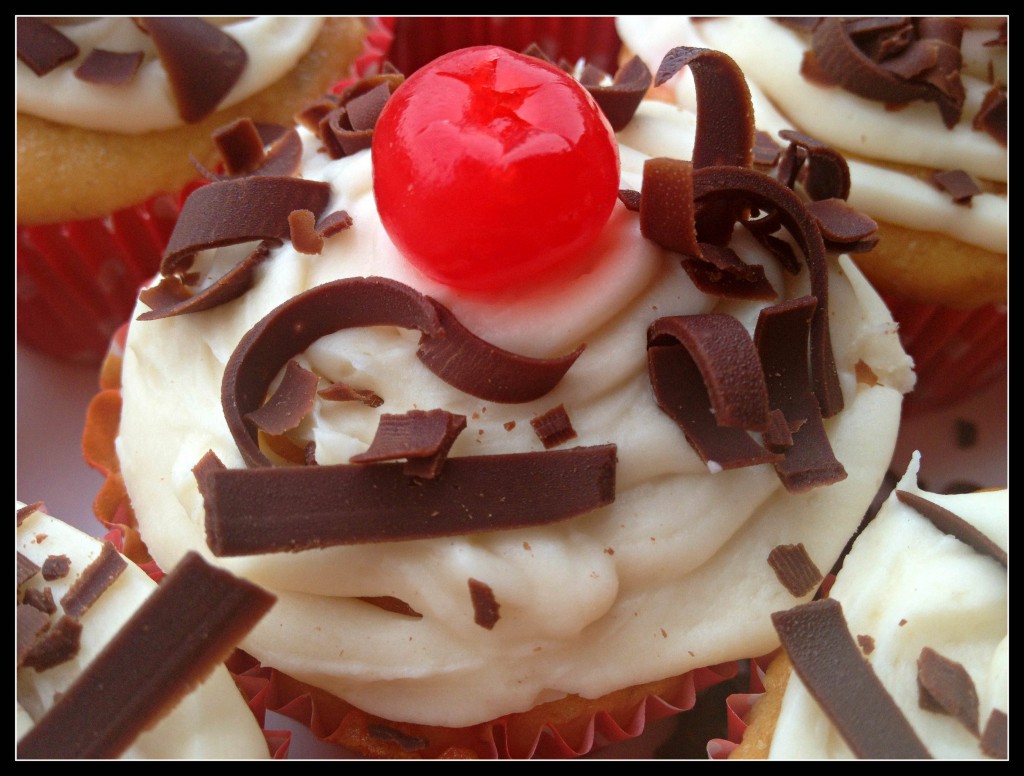 When your name is Anna (or Hannah or Jana), you expect a lifetime of banana jokes.  In high school I drove a 1975 Plymouth Valiant, puke yellow with leopard interior.  Everyone called it the "Anna Banana Boat."  Yikes.
The upside of Anna Banana jokes is an affinity for bananas.  They go well in most anything and work as a substitute binding ingredient in vegan baking.
Although Banana Split Cupcakes are not vegan, they are fun and delicious.  People at work devoured them — when I refused to share with anyone who cracked an "Anna Banana" joke, everyone was silent.  They were busy eating!
Banana Split Cupcakes
Recipe based on Betty Crocker's Banana Split Cupcakes, www.bettycrocker.com
Makes 24 cupcakes
Cupcakes:
1 box yellow cake mix- 15.25 oz size

Set aside 2 tablespoons of cake mix

3 eggs
2 very ripe bananas, mashed
1/4 C water
1/4 C vegetable oil
1/2 C chopped maraschino cherries
1 1/2 C mini chocolate chips
Vanilla Buttercream Frosting:
2/3 C butter softened
6 C powdered sugar
3 t real vanilla
3-4 T milk
Topping:
24 maraschino cherries, patted dry
Chocolate sprinkles or shavings
Vanilla frosting
Preheat oven to 350
Line cupcake pans with liners.  I recommend springing for cute ones.  Wilton wrappers are bit spendy but they keep their color when baked.  (Translation: I complain about the price and buy them anyway.)
Mix cupcake ingredients with hand mixer.  Combine reserved 2 T cake mix with chopped cherries.  This coats the cherries and helps keep them from sinking to the bottom.  Add to cupcake mixture.  Add chocolate chips.  Spoon into muffin cups, filling 2/3 full.
Bake 15 to 20 mins until a toothpick comes out clean.  Set aside to cool.
For frosting, cream butter, slowly adding powdered sugar. Add vanilla. Slowly drizzle milk 1 T at a time until frosting reaches desired consistency.
Frost cupcakes. Top with chocolate sprinkles and maraschino cherries.
Optional:  buy three pre made frostings — one vanilla, one strawberry and one chocolate. Frost a cupcake with each flavor and serve together in a banana split bowl.  Way too much dessert? Blame Anna Banana!