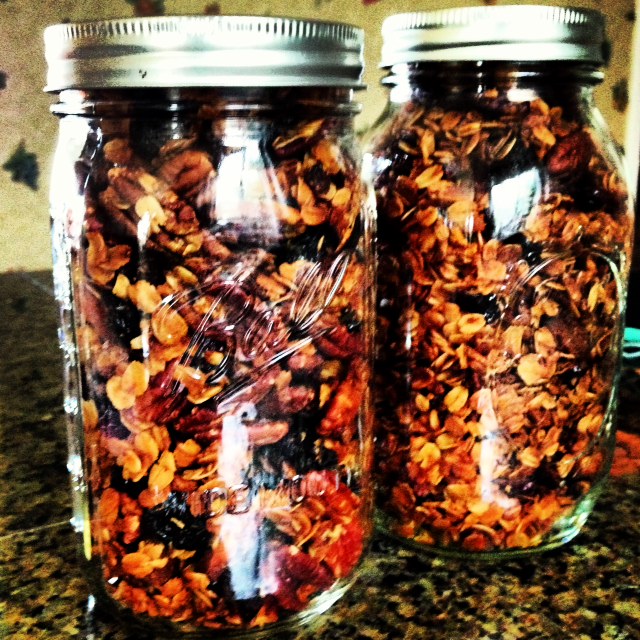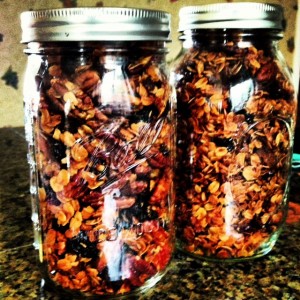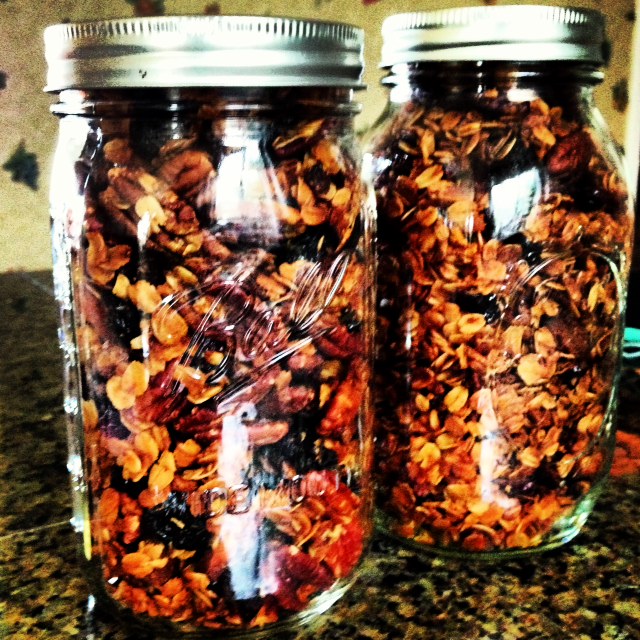 My family and I have been trying to cut down on processed foods since early March. We love granola for breakfast, but all the so-called healthy granola in the stores is full of processed ingredients and extra sugar. I found this recipe via the Hungry Girl Por Vida blog. I changed the nuts and dried fruit to suit my own tastes. This granola recipe is a winner! It tastes great and fills you up.
Coconut Oil Granola
Adapted slightly from Hungry Girl Por Vida
3 cups old fashioned oats
pinch salt
2 cups toasted pecans *see note!
zest of 1 lemon
1 tsp cinnamon
1/2 tsp nutmeg
1/2 tsp ginger
3/4 cup real honey (check the label!)
1/2 cup coconut oil (organic, cold pressed & extra virgin)
1 tsp vanilla
1 egg white
1/2 cup dried apricots, sliced
1/2 cup dried cranberries
1/2 cup dried cherries, halved
Mix oats, toasted pecans and spices together in a large bowl. Combine honey and coconut oil over low heat until coconut oil is melted. Add vanilla. Pour honey/coconut/vanilla mixture over oatmeal. Mix well. Add egg white and mix again. Place granola on lightly greased cookie sheet. Bake at 350 F for 15 minutes. Stir and check the granola after another 15 minutes. If it still hasn't browned enough, continue to bake and check the mix at 10-minute intervals. Mine took about 45 minutes.
*Note: if you toast your pecans before you make this granola, they will be extra crunchy.
When the granola is finished, remove from the oven. Now is the time to add the dried fruit. If you add it in the beginning and bake it along with the granola, it will turn rock hard. How do I know this? That's what happened the first time I made it.  Add the dried fruit on top of the warm granola and let it sit until the granola is cool.
Place granola in airtight container. It should keep for about two weeks (if it lasts that long!). My favorite ways to enjoy this treat are over Fage Greek yogurt with a tablespoon of honey drizzled on top or in a bowl with almond milk. This is good stuff!!