I made peach pie for a BBQ this weekend.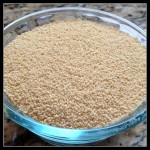 My "standard peach pie" recipe got an update:  swapping instant tapioca for cornstarch and granulated honey for white sugar.  If you haven't tried granulated honey yet, you should!  It can be switched into any recipe at equal parts for white sugar.  I found granulated honey in bulk at Winco.
I changed the cornstarch because it gives pie a funny flavor.  While no one seems to notice when it's piled with ice cream, it makes me crazy. If I'm making pie, it should taste like PIE (not cornstarch).
The updates were fantastic- the pie had a honey-peach flavor and the tapioca soaked up extra juice.  It was so good we updated my "standard peach pie" recipe in ink.
Honey Peach Pie
Your favorite double pie crust recipe
 6 large ripe peaches peeled and sliced into bite sized pieces
4 T instant tapioca pearls
1 1/4 C granulated honey (or white sugar)
3/4 t cinnamon
1/4 t salt
1 T fresh lemon juice
2 T butter sliced into small bits
Heat oven to 425
Place first half of pie crust in deep dish pie pan
Combine peaches, tapioca, granulated honey, cinnamon, salt and lemon juice in bowl.  Gently ladle into pie crust.  Dot with bits of butter.
Set second half of pie crust on top of peach mixture.  Seal edges.  Cut slits in top crust.
Bake 45 mins-1 hour.  The pie crust will be golden brown and bubbling.
You may need to place an old cookie sheet under the pie to catch juice drippings.
Recipe modified from Betty Crocker's New Cookbook, 1996, "Peach Pie" recipe, page 99