Rolled Oat Peanut Butter Cookies
Professionally I work with at-risk teens. While it can be equal parts fun and frustration, I love what I do.  This summer my program coordinated a range of activities to keep youth busy.
My favorite are cooking classes are through the Clark County Food Bank.  The wonderful and patient food bank staff are teaching us "Cooking Matters for Teens."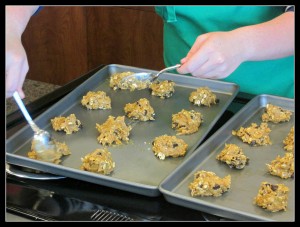 The "Cooking Matters" classes are nationally recognized curriculum about affordable and balanced meals.  Each week we have a nutrition lesson and make an entrée, side dish and dessert.  Students receive groceries to make a menu item at home. It's amazing to see teens discover healthy food can be the same thing as tasty food.
To date, the class's favorite recipe is Rolled Oat Peanut Butter Cookies. Although the youth were leery of "brown flour," vetoed raisins and griped about oatmeal, the cookies were GONE by the end of class.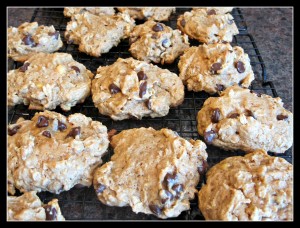 Rolled Oat Peanut Butter Cookies
Recipe from "Cooking Matters for Adults" by Chef Paulette Pashenee from Detroit, Michigan
Ingredients:
1 ripe banana
1/2 stick (4 tbsp.) softened butter
1/3 cup sugar
1/2 cup peanut butter
1/3 cup light brown sugar
1 egg
1/2 tsp. vanilla
1/2 cup flour
1/2 cup wheat flour (yes brown flour tastes good too… we had this debate in class)
2/3 cup rolled oats
1 cup chocolate chips
1/2 cup raisins (if your group will eat them)
Directions:
Heat oven to 375
Mash banana with a fork. Mix in butter, peanut butter and sugars. Continue mixing until combined.
Add eggs and vanilla. Mix until smooth.
Add flours and baking soda. Add oats. Add chocolate chips and raisins (if using).
Scoop dough into 1 inch balls, placing on ungreased cookie sheet. Flatten slightly.
Bake eight to 10 minutess until cookies are lightly browned. Remove from oven and cool slightly. Put on rack.
Now try to eat one before the teens steal them all!
Special THANK YOU to our class instructors:  Kristen, Audrey, Mikeila and Meredith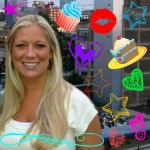 I'm a self-taught Betty Crocker. Food should be pretty, delicious and have sprinkles. Professionally I'm a clinical social worker. Follow me on Facebook and Pinterest- Sugar and Spice Baking Blog- for great recipes, amazing restaurants and culinary adventures.