Perfect Peanut Butter Cookies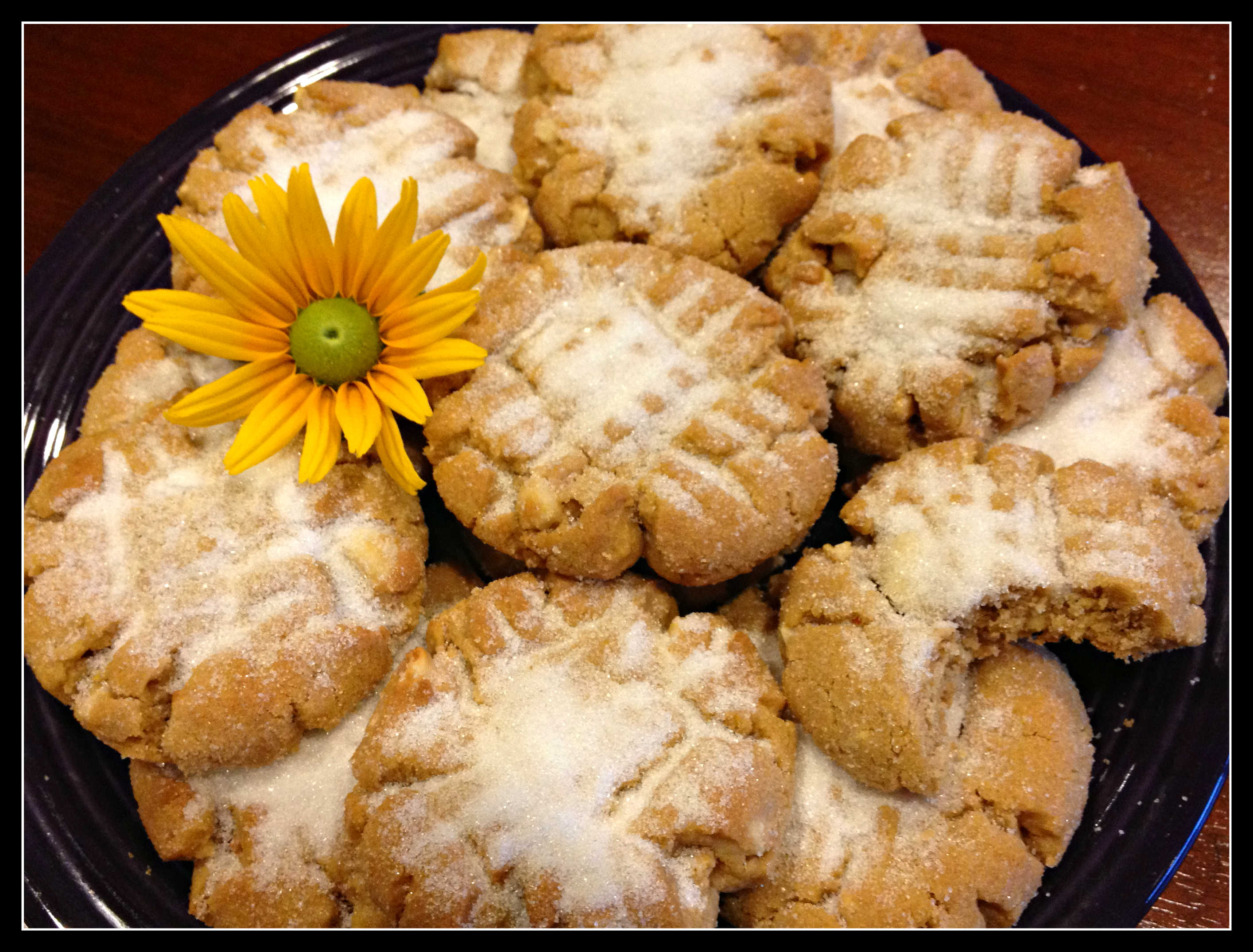 My favorite cookbook is Betty Crocker's red and white "New Cookbook," 1996 edition. All the recipes are delicious except for the harvest beef stew on page 365.  At our house, it's simply referred to as "The Cookbook" because everything is good.  Except for that stew.  Yuck.
Perfect Peanut Butter Cookies turn out every time. I modify slightly but it's pretty darn close to the original. Betty C is always right.  Enjoy!
Perfect Peanut Butter Cookies
Makes 48 cookies
Ingredients
1 C white sugar

1 C packed brown sugar

1 C chunky peanut butter

1/2 C shortening (Use the shortening sticks…  much easier)

1/2 C stick butter, softened

2 eggs

2 1/2 C flour

1 1/2 t baking soda

1 t baking powder

1 t salt

Optional: 2 C roasted, salted peanuts (if you use these, reduce salt to 1/2 t)

Optional: 2 C chocolate chips

White sugar for dusting
Directions
Heat oven to 375.  Line cookie sheets with parchment paper.
Combine sugar, grown sugar, peanut butter, shortening, butter and egg in large bowl.  I recommend using a stand mixer.
Add flour, baking soda, baking powder and salt.  Mix thoroughly.
Roll dough into balls.  Roll in sugar.  Place on cookie sheet and use fork to stamp a crisscross pattern.  Space evenly, they do spread some while baking.
Feeling creative?  Use a glass with a textured bottom, a cookie stamp or a potato masher.
Bake 9-12 mins until light brown.  Cook then remove from cookie sheet.  While hot, sprinkle more sugar on top.  Makes 36 ish cookies.
From Betty Crocker's New Cookbook, 1996 edition, page 121