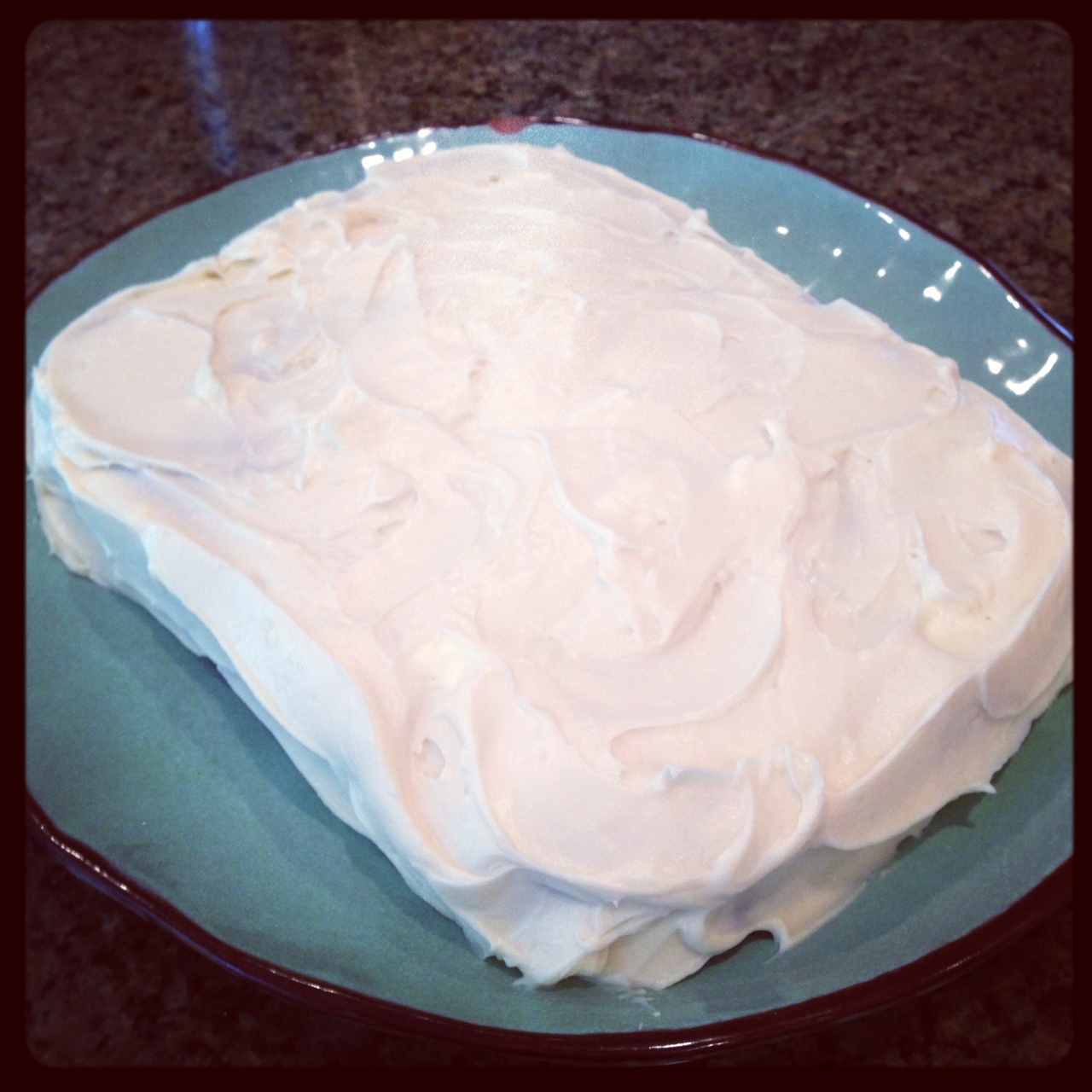 Have you jumped on the coconut oil bandwagon yet? I've used coconut oil in all sorts of dinner & dessert ideas.  I love a good carrot cake & decided to try baking one with coconut oil.  Ree Drummond, better known as The Pioneer Woman, has one of the best recipes for carrot cake that I've ever tasted on her blog.  In this recipe, I substituted coconut oil for the vegetable oil.  I also reduced the powdered sugar amount down from one pound to 1.5 cups in the frosting. In my family, we like our cream cheese frosting more tangy than sweet. In my opinion, nothing ruins a carrot cake than super sweet cream cheese frosting. Since only some of us like nuts on our cake, I opted to sprinkle pecans on top of individual slices, than mix the pecans in with the frosting.
Make this cake! It is a perfect dense carrot cake & will have your family or guests asking for seconds.
Sigrid's Carrot Cake adapted slightly from The Pioneer Woman
Cake Ingredients
2 cups Sugar
1 cup coconut oil, melted (make sure to use cold pressed, extra virgin coconut oil)
4 whole Eggs
2 cups All-purpose Flour
1/2 teaspoon Salt
1 teaspoon Baking Soda
1 teaspoon Baking Powder
1 teaspoon Ground Cinnamon
2 cups Grated Carrots (about two large sized carrots should do the trick)
Icing Ingredients
1 stick butter, softened
1 package (8 Oz) cream cheese, room temperature
1.5 cups powdered sugar (for a sweeter cream cheese frosting, use 1 pound of powdered sugar)
2 teaspoons vanilla
1 cup pecans, chopped finely – optional
Preparation Instructions
Cake: Preheat oven to 350F
Mix together the sugar, oil and eggs in a large bowl.  In another bowl sift together flour, salt, baking powder, baking soda and cinnamon.  Add to first mixture and combine.  Then add carrots and mix well.  Pour into a greased  pan 9 x 13 pan and bake at 350F until done, about  50 minutes, depending on your oven.
Cool completely.
Icing:
In larger bowl, cream butter and cream cheese.  Add sugar and vanilla and blend.  Spread on cooled carrot cake. If using nut, sprinkle on top of the iced cake.
Keep refrigerated.