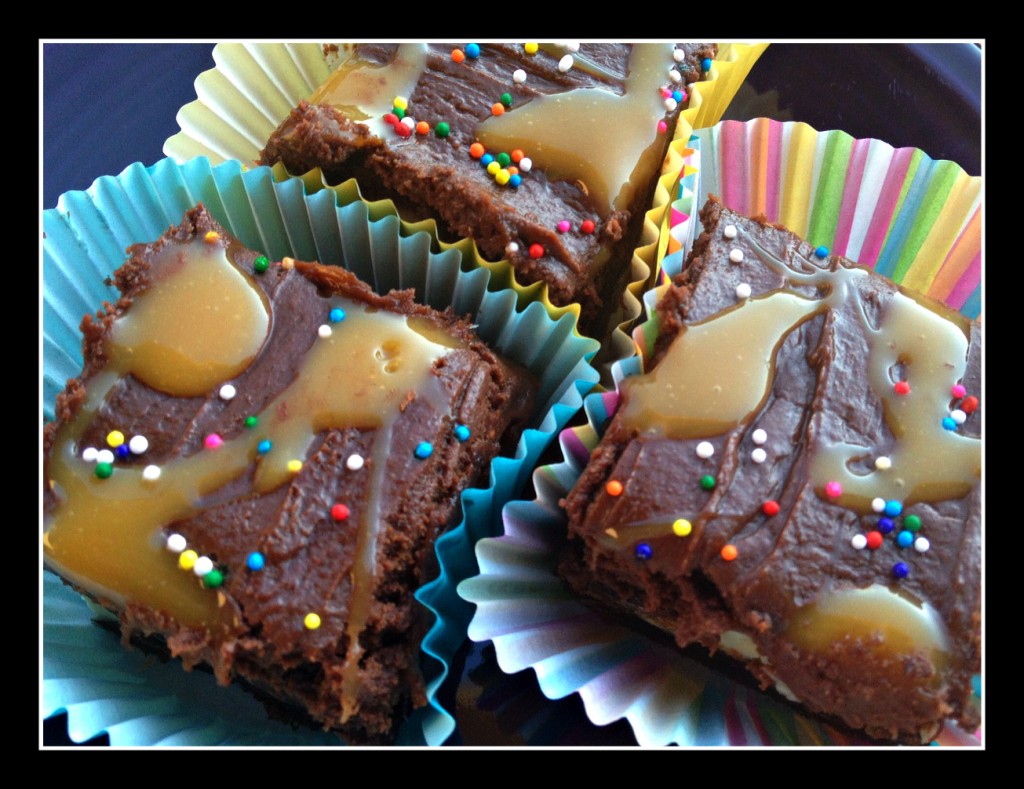 My coworkers (and everyone else) LOVE brownies.  We always know who sneaks more than two due to the sugar crash.  Be sure to eat these delicious, chocolatey wonders responsibly.
This is my go-to brownie recipe because it works perfectly with add-ins such as chocolate chips, peanut butter chips, toffee bits, melted wrapped caramels, chopped up candy bars, nuts etc. I recommend cutting small. Don't be afraid of the frosting, it turns out great!
Recipe update 2017- The frosting in this recipe is amazing, thick and gooey brownie frosting.  If you are looking for my Grandma's Boiled Icing (aka Fudge Frosting), that recipe is different…
Office Coma Brownies
1 C butter
2 C white sugar
4 eggs
3 t vanilla extract
2/3 C unsweetened cocoa powder (use a good brand like Ghirardelli)
1 C flour
¾ t salt
½ t baking powder
Add-in ingredients (2-3 C total volume):

Chocolate chips- I always add these
Caramels unwrapped and melted
Shredded coconut
Toffee bits
Chopped candy bars
Peanut butter, white or butterscotch chips
Be creative!
Frosting
6 T butter softened
6 T unsweetened cocoa powder
2 T honey
2 t vanilla extract
2 C powdered sugar
Any toppings or decorations
Heat oven to 350.  Line 9×13 pan with parchment paper.
Melt butter in large sauce pan over medium heat.  Remove and mix in sugar, eggs, vanilla.
Add cocoa, flour, salt and baking powder.  Mix well.
Incorporate any "add in" ingredients if using.
Bake in oven 25-30 mins until toothpick inserted in center comes out clean.  Don't overcook… the brownies continue baking after you remove them from the oven.
Combine frosting ingredients.  Frost while brownies are warm (but not hot).
Top with any additional ingredients.
Want to make a smaller pan?  (I have no idea why you would…)  Cut in half for an 8×8.
Recipe adapted from "Best Brownies" on Allrecipes.com