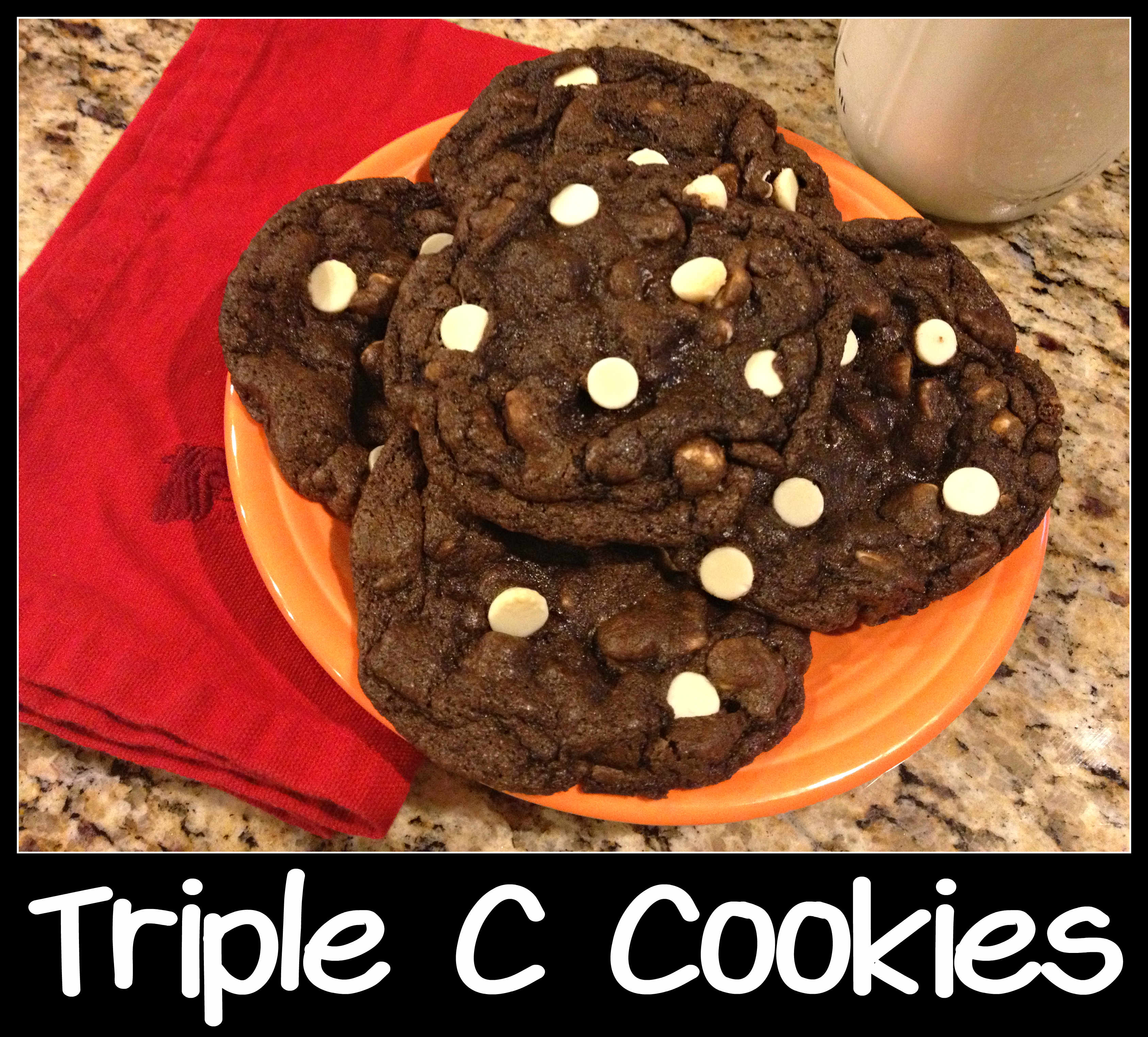 It's raining.  Rain is boring.
Triple C Cookies are NOT boring.  Triple C = chocolate chocolate chip white chocolate.
Not to be confused with "triple C" as in the coricidin cough medication some youth use to get high.  If you have teens, google "triple C" and read about it.  Otherwise, skip this and just make cookies.
Cookies are better.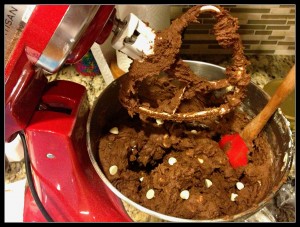 Triple C Cookies
2-1/2 sticks softened butter
1 ½ cups sugar
½ C brown sugar
2 whole Eggs
3 teaspoons vanilla extract
2 cups flour
3/4 cups unsweetened cocoa powder
2 teaspoons baking soda
1 teaspoon salt
1-1/2 cup semi-sweet chocolate chips
2 cups white chocolate chips
A few leftover white chocolate chips for decorating
Preheat oven to 350°F.  Line cookie sheets with parchment paper.
Using an electric mixer, cream butter and sugar, scraping the sides.
Add eggs one at a time.  Add vanilla.
Add dry ingredients to mixer.  Mixing until blended.
Add chocolate chips and white chocolate chips.  Mix again.  Quit sneaking bites of the dough.
Portion cookies into golf-ball sized lumps on cookie sheet.  They will spread so don't crowd them!  Put a few extra white chocolate chips on top of each lump for decoration.
Bake for 10-12 minutes or cookies are barely done.  This keeps them soft and chewy.  Leave on cookie sheet for 5 minutes and transfer to rack.  They will firm up as they cool.
Serve with milk.
Warning:  Eating more than 2 at once can make you a bit sick due to the richness of the chocolate.  I know this for a fact.  Cookie hangovers are my specialty!
Based on the Pioneer Woman's Chocolate Chocolate White Chocolate Chip cookie recipe.  Thanks Ree!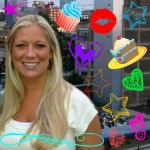 I'm a self-taught Betty Crocker. Food should be pretty, delicious and have sprinkles. Professionally I'm a clinical social worker. Follow me on Facebook and Pinterest- Sugar and Spice Baking Blog- for great recipes, amazing restaurants and culinary adventures.