Aroma of onions for soup brings up memories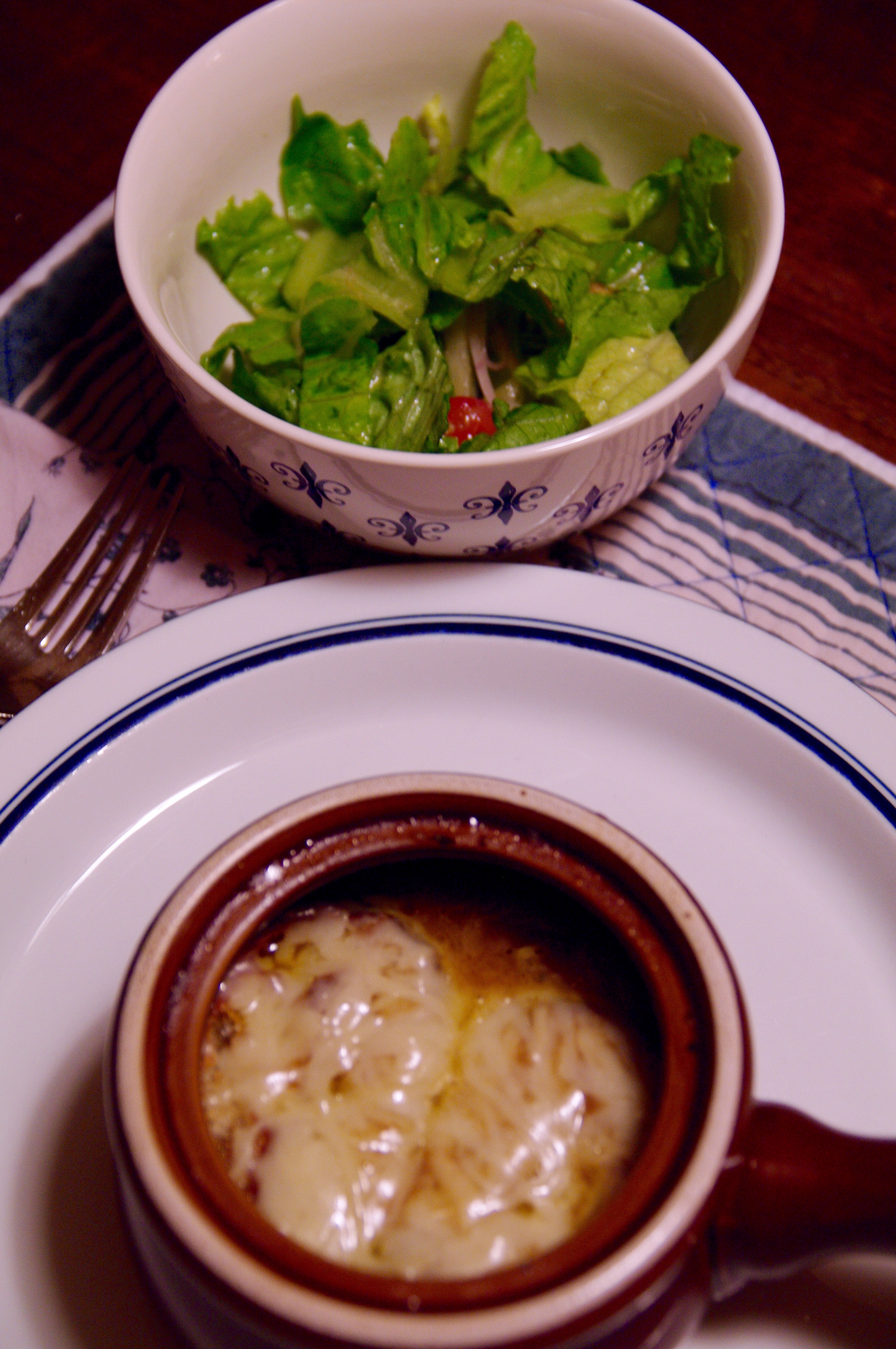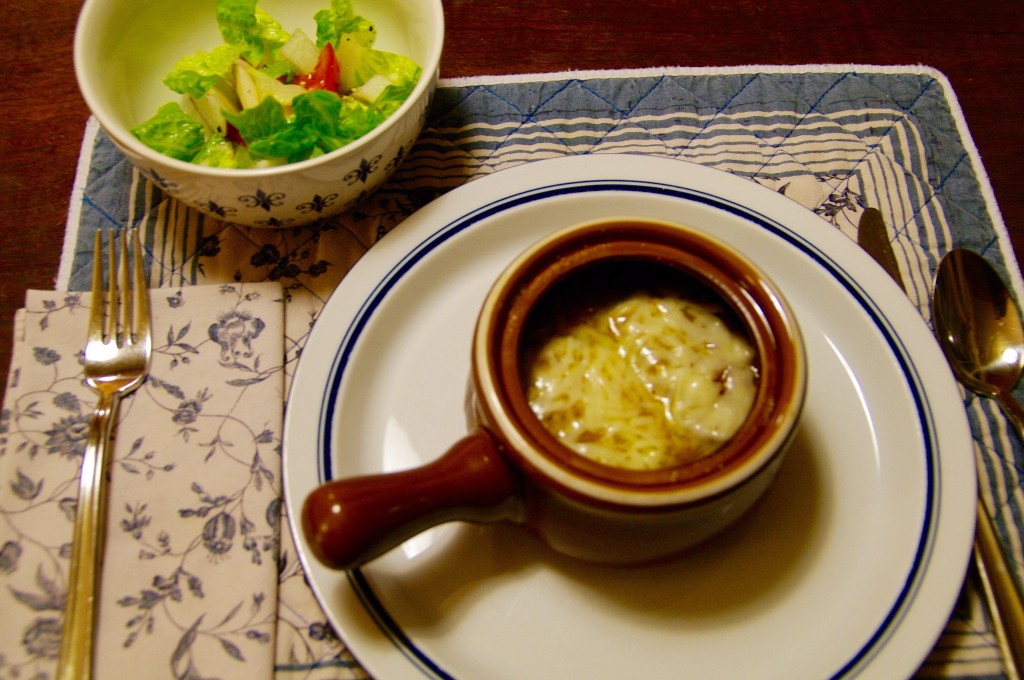 No. 3 son doesn't like onions, hasn't liked them from Day 1. So yesterday, as I was chopping sweet onions for French onion soup, I recalled how I used to make two versions of potato salad, two kinds of scalloped potatoes, meatballs without onions, and spaghetti sauce with lots of garlic and fresh basil.
I sharpened my knife before I started chopping, hoping that would minimize the sting to my eyes. Maybe it helped, but my eyes were watering just the same.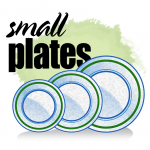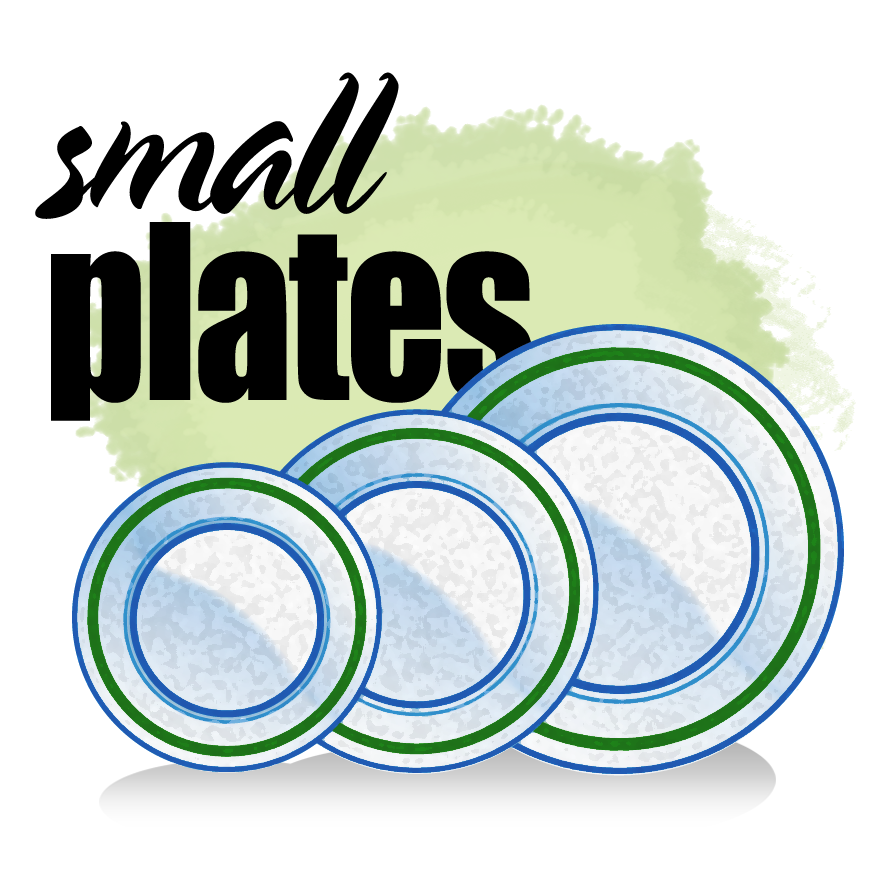 Part of my inspiration to make the soup was new ramekins. Another factor was thinking about Place Pigalle in Pike Place Market. Their onion soup in ramekins is superb — especially on a cold day when I'm with my Seattle pals and Kathleen and I split a dozen oysters.
I hadn't made onion soup for years, mostly because No. 2 son got away with the large oven-going dish that we used. The dish was old; it belonged to my mother-in-law. No. 2 son would fill it with the soup, pop on the toasted bread and cover it with Gruyère cheese. His concoction was outstanding, and I hoped the ramekins would work just as well, though they were for individual portions.
French onion soup
5 cups yellow onions, chopped
6 tablespoons unsalted buttyer
2 tablespoons olive oil
2 tablespoons sherry
salt and pepper
1 cup white wine
6 cups beef stock
Italian herbs or a bouquet garni
3 tablespoons flour
1/2 teaspoon sugar
8 slices french bread
olive oil
Gruyère cheese
Melt the butter over medium-low heat and add the cooking oil once the pot is hot. Stir the chopped onions into the mix. Cover the stock pot and cook for around 20 minutes. Stir them from time to time to make sure they aren't burning. Turn up the heat to medium-high, and add the sugar and salt. Continue cooking while stirring until onions are thoroughly browned.
Reduce heat to medium-low and stir in the flour. Cook 2 to 3 minutes until the flour forms a thick paste (add more butter if needed). Stir in 1 cup of beef stock.
Add the rest of the stock, wine and the herbs or bouquet garni. Bring to a boil, then reduce heat and simmer for 30 minutes.
Preheat oven to 325 degrees. Drizzle both sides of french bread slices (I used a loaf from Bleu Door Bakery on Main Street in Vancouver) with olive oil, and place on a baking sheet. Toast the bread in the oven turning once.
Add the sherry and remove the bouquet garni if you used one. Pour the soup into an oven-going pot or individual ramekins. Cover the soup mixture with the bread, forming a single layer top. Sprinkle on the Gruyère cheese. Bake until the cheese is melted, about 15-20 minutes.
Remove pot from oven and let stand to cool a bit before serving.
.