Shrimp fried rice Vietnamese style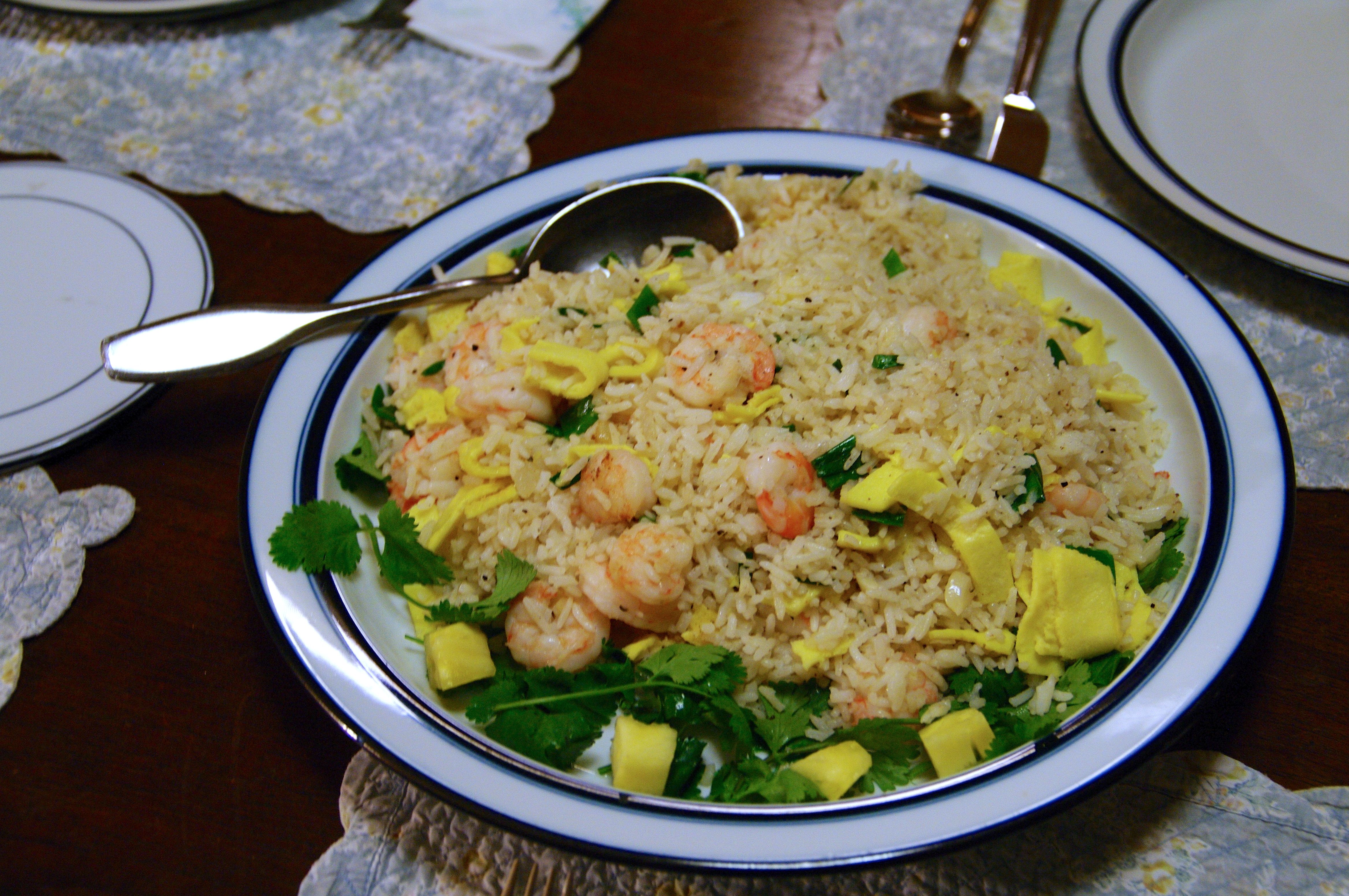 Let me say this right off: I have never copied a recipe and presented it as my own, and I have always tested the recipes that I've posted on this blog.
If you're wondering what that's all about, last week Martha Stewart created a firestorm among food bloggers by her offhanded remarks about unattributed and untested recipes. Fair enough, but I want Columbian readers to know that if I've used a Jane Hibler, Lidia Matticchio Bastianich or Nancie McDermott recipe, for example, it has been produced in my kitchen first. For more about the debate, see Rene Lynch's column ("Daily Dish") in the Oct. 17 Los Angles Times.
This post is about Nancie McDermott's version of shrimp fried rice in her book "Quick & Easy Vietnamese: 75 Everyday Recipes." (Note to Martha: I've corresponded with McDermott and received permission to blog about her recipes.) But first, let me tell you how shrimp fried rice came into the Cleaveland repertoire, evolving from a 1960s recipe that my mother-in-law came across while waiting for the dentist, long before I met the Intrepid One or the rest of his family. Dorothy Cleaveland copied the recipe straight out of a waiting-room magazine. It is pretty basic: rice, scrambled eggs, onion, shrimp and soy sauce, maybe a little salt and pepper. Good for the 60s, but not complex enough for today. She served it with pineapple and peas.
I hadn't made it in years, but flipping through "Quick & Easy Vietnamese" made me think about her faded handwritten recipe.
Now I'm sure Martha Stewart doesn't read Small Plates on The Columbian's website, and she has a point about attribution and honesty. I just want readers to know what they can expect as far as testing and giving credit. You'll know the recipe is tested because when I take a photo, it's in my kitchen or at my dining table.
So here is McDermott's recipe from "Quick & Easy Vietnamese." We served it with pineapple and garnished the plate with cilantro (extra for you, Carolyn Colvin Dufort.)
Shrimp fried rice
4 cups cold, cooked rice, preferably chilled
2 tablesp0ons vegetable oil
1 egg, well beaten
1 tablespoon coarsely chopped garlic
1/2 cup coarsely chopped onion
12 medium shrimp, peeled and deveined (I think we used more)
2 tablespoons fish sauce
1/2 teaspoon salt
1/4 teaspoon black pepper
3 tablespoons coarsely chopped green onion (the Intrepid One likes more)
Crumble the rice with your fingers to break up any big lumps, and place a serving platter and table knife by the stove. Heat a large, deep skillet or a wok over medium high heat. Add about 2 teaspoons of the oil and swirl to coat the pan lightly. Add the beaten egg and tilt the pan to make a thin egg pancake. Cook until set, about 1 minute, and then turn it out onto the serving platter.
Add the remaining oil to the pan, along with the garlic and onion, and cook until sizzling and fragrant, 1 to 2 minutes. Scatter the shrimp in the pan and cook, tossing once or twice, until they are pink, 1 to 2 minutes. Add the rice and cook, tossing now and then, until shiny and heated through, 3 to 5 minutes.
Meanwhile, roll up the egg pancake into a cylinder, cut it crosswise into thin ribbons with the table knife, and keep them handy on the platter near the stove. Add the fish sauce, salt, pepper and green onion to the rice and toss. Add the egg ribbons and cook, tossing well, for 1 more minute. Mound the fried rice on a serving platter and serve hot or warm.
— Nancie McDermott
P.S.: Thanks, Nancie. I'm giving a luncheon for old friends in November, and I'm serving my favorite from your book: Grilled pork patties with lettuce, noodles, peanuts and mint, Hanoi style. Maybe I should get your  "Southern Cakes" book so I can figure out dessert.