Blueberry cobbler with peach accent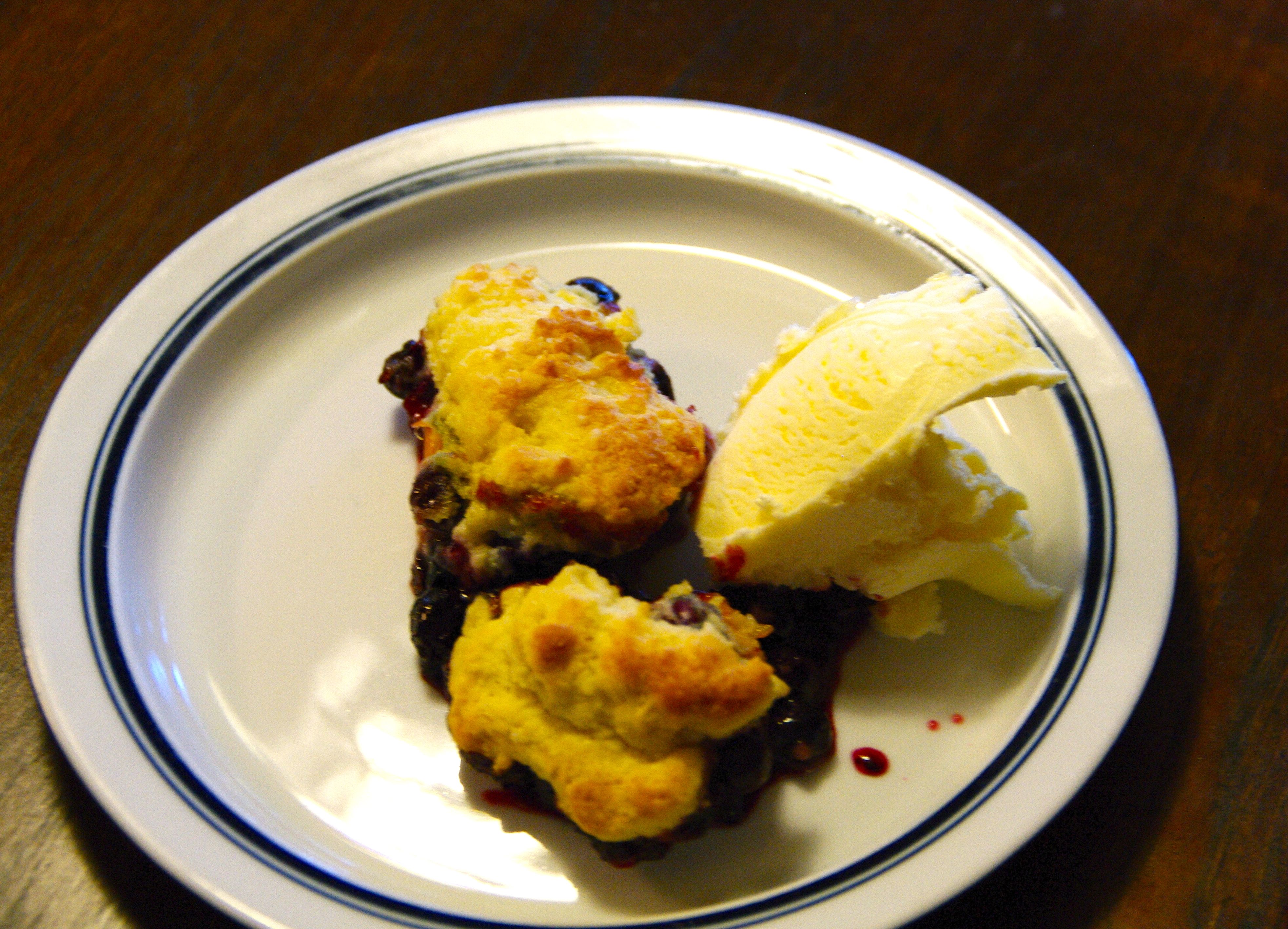 End of summer and I was short on the blueberries, which were awaiting their fate in the fridge. I was also short on peaches, which were getting riper by the minute in the fruit bowl. So I combined them in a cobbler.
As I was putting it together, I recalled that my cousin Brett Fariss is crazy about cobblers. So this is for you, Brett. You got the cobbler bug from those that your Grandma Junge (and my Aunt Lucille) made especially for you, according to your sister Kim.
Serve this dessert with whipping cream, ice cream or just plain. But my Fariss cousins like it served warm, I've been told.
Blueberry cobbler with peach accent (adapted from Better Homes and Gardens New Cook Book)*
The biscuit topper: Sift together 1 cup of flour, 2 tablespoons sugar, 1-1/2 teaspoons baking powder and 1/4 teaspoon salt. Cut in 1/4 cup butter until mixture resembles coarse crumbs. Combine 1/4 cup of milk (I used half and half) and 1 slightly beaten egg. Add all at once to dry ingredients, stirring just to moisten. Set aside.
Prepare the filling: Combine 1-1/2 tablespoons cornstarch, 1/4 teaspoon ground mace, 1/2 cup brown sugar and 1/2 cup water in big pan. Cook and stir till thickened. Add the blueberries and peaches, about 4 cups, plus 1 tablespoon lemon juice and 1 tablespoon butter. Cook until the fruit is hot, about 5 minutes.
Pour the filling into a baking dish. I used one that's about 8 x 11 inches. Spoon on the biscuit topper so you have about 6 mounds, more or less. Bake at 375 for 15 minutes or so. The recipe says 20 minutes, but no way in my oven.
*Fariss family: That old reliable cookbook was a wedding present to me and the Intrepid One from Auntie Lucille.