Not done with basil: Bruschetta is up next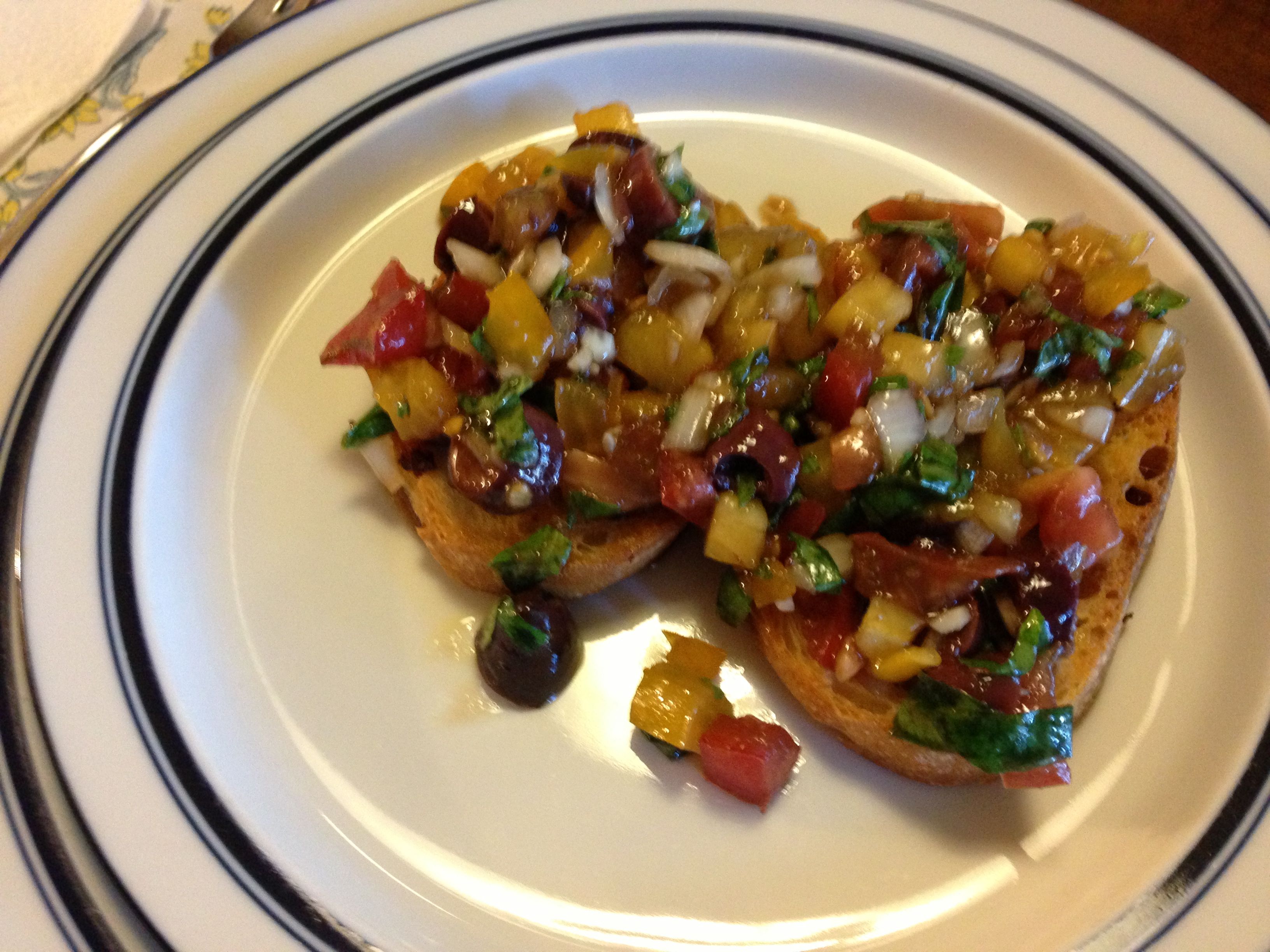 Bring on the basil.
We've done Insalata Caprese, tried the soup (last post), and now it's time for  bruschetta, a glorious tomato, basil, garlic and olive mixture that sits atop  bread and makes me glad it's summer.
According to Julee Rosso and Sheila Lukins, authors of "The New Basics" cookbook, olive oil and bread are sacred in Tuscany, and they should never be wasted. "The Tuscans say you add years to your time in purgatory with crumbs left on your plate," Rosso and Lukins write.
Well, that's a grave responsibility.
The recipe I'm offering has evolved from several, but I think I started with Rosso and Lukins. The first time I had bruschetta was at a friend's house, and wow, I couldn't get enough. It's messy to eat, so it doesn't work out very well if you're trying to have a cocktail and visit with people and consume the rather liquidy mixture perched atop dried peasant bread and cradled on a napkin. No, it's best served as an appetizer when people are sitting around the table or as a light lunch.
Choose perfectly ripe heirloom tomatoes in different colors. That way, you'll have a variety of hues for this gorgeous looking and delicious dish.
Bruschetta
3-4 large heirloom tomatoes
3 tablespoons minced garlic
2 tablespoons minced shallot
1 cup fresh basil leaves
15 pitted Kalamata olives, sliced
Sea salt and pepper to taste
Extra-virgin olive oil
Spashes of balsamic vinegar to taste (optional)
Slices from a baguette or ciabatta bread
3 cloves of garlic finely sliced (Remember Paulie slicing the garlic with a razor blade in "Goodfellas"?)
Dice the tomatoes in 1/4- to 1/2-inch cubes. Place them in a bowl with the minced garlic and shallot. Add the sliced Kalamata olives, then chop the basil coarsely. Season with the salt and pepper and then add about 1/4 cup of olive oil and maybe the spash or two of Basalmic. Let this mixture stew in its juices as you prepare the bread. It should be served at room temperature.
Saute the finely sliced garlic in 1/3 cup of olive oil. Scoop out the garlic but pour the now-flavored oil on a cookie sheet. Drag the bread through the oil, coating on both sides. I stick the cookie sheet on the middle rack of the oven and basically just dry out the bread at 250 degrees for about 10 minutes, turning once.
Place the toasted bread on a plate and then spoon the tomato mixture over the bread.