Returning to a NEW normal "love of food"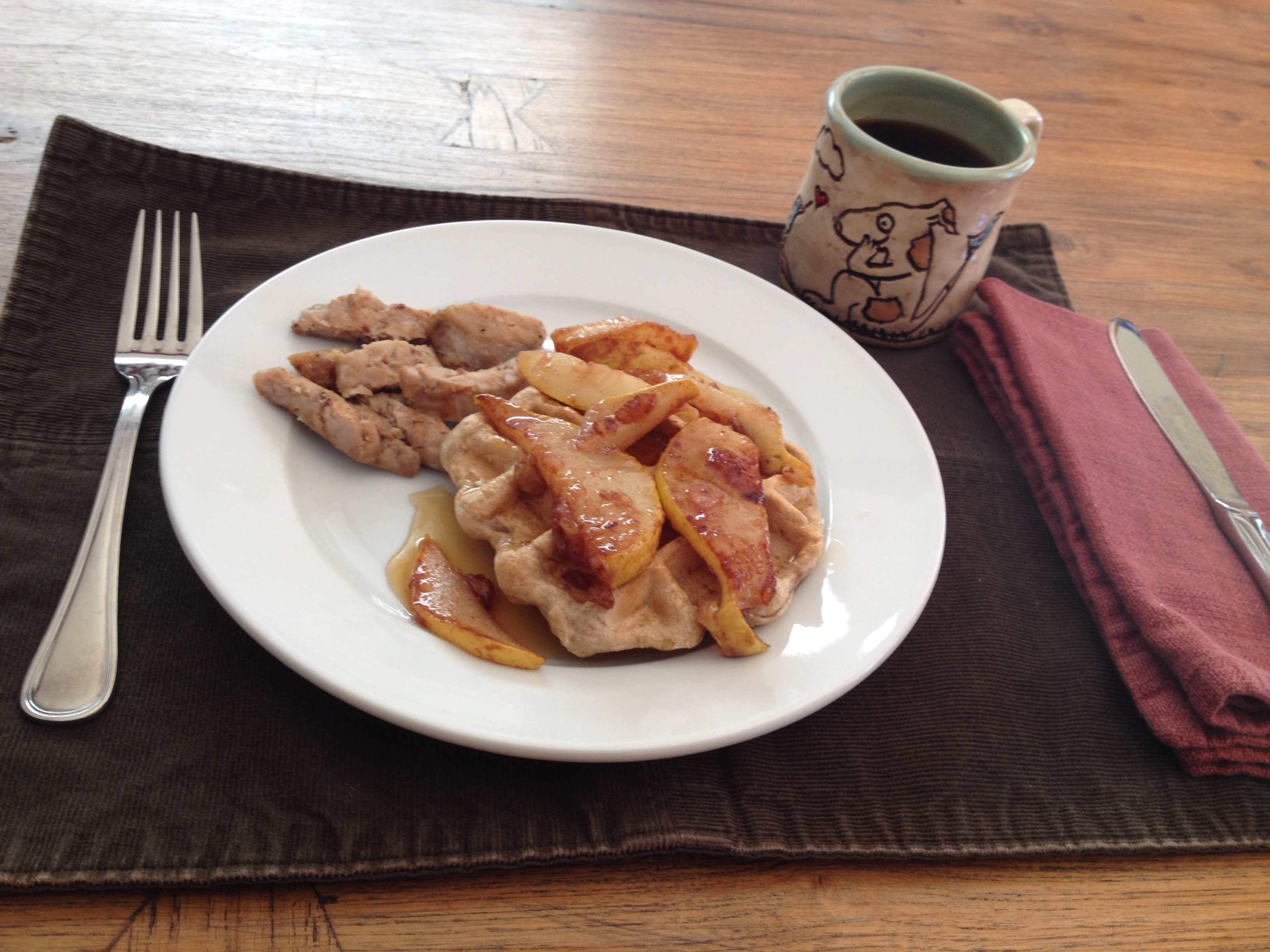 With the time conversion complete, today I slept in.  My husband's gone on a "man weekend."  I laid in bed a bit longer savoring the morning sun, the birds singing outside, the warmth of Ellie the cat curled up along side me and the quiet of the house without Mitty the 1.5-year-old chocolate lab. ABSOLUTELY DELIGHTFUL!
I mulled over the question – What do I want to eat for breakfast today?
Hmmmm… I could have my normal coffee and follow it on with a chaser of protein shake.  Then go about my business just like any other day. Nah! That's not it.  Is it an omelet kinda day?  Nah.
Then it came to me ~ I KNOW!  It's gonna be DECADENT WAFFLE DAY!  A lovely breakfast just for me lovingly prepared by me.  I roll out of bed full of energy to get cracking on this lovely breakfast of mine.
As the smell of good coffee fills the kitchen, I start assembling the ingredients for my gluten free waffle batter (gluten free all purpose mix, baking powder, ground cinnamon, ground ginger, egg, almond milk and coconut oil). Many thoughts and visions come into my head.  Maybe I could use one of those ripe Bartlett pears I purchased last night from the Battle Ground Local Produce company? I could add in some crystallized ginger, ground cinnamon, raw sugar and coconut oil to make a lovely compote to go on top of my gluten free waffle.  Maybe I could also sauté up one of those Painted Hills whiskey fennel chicken sausages as my protein accompaniment to my decadent breakfast delight?
This morning I feel so alive creating in the kitchen.  Cooking is my creative craft outlet.  My kitchen is my studio to blend foods, flavors and technique. Each food masterpiece tantalizing my five senses. I'm smiling outloud genuinely surprised on how happy I am on the inside with my healthy living focus.
I think back to 3 years ago when I received the news that I was sensitive to all sorts of foods. Goodbye bread, butter, cheese, tofu and many other ingredients I so adored.  I remember that day – the day the foodie part of me died inside.  I was sad inside as I pondered my creativity without access to all these essential cooking elements.
It's taken me a while to grieve and transition through this major food paradigm shift.  A little over a year ago my thoughts shifted from the "forever without" negative thoughts to embracing a more healthy positive "eat what I'm able to eat" outlook. Today I fully embrace a life without gluten, dairy and soy.  As I nourish myself with the right foods for my body, it nourishes my reawakening creative soul by seeing new possibilities.
Now that my masterpiece is framed on its plate, I sit down admiring my creation. I pour on one last missing element – just the right amount of pure maple syrup. As my fork cuts into my crispy soft gluten free waffle, smells of cinnamony ginger pear goodness waft over me. I have to say the combo of carmelized sweet pear compote with the waffle is the perfect taste this sunny Sunday. I am content deep in my sensitive food soul as my palate is sated.
Gluten Free Waffles (makes 3 regular sized waffles; 4 medium)
1 cup (gluten free all purpose flour – I use Namaste Foods Brand from Costco)
1 tsp baking powder
1/2 tsp ground cinnamon
1/4 tsp salt
1/2 cup almond milk (add additional almond milk if necessary to attain right batter consistency)
1 egg beaten
1 TBS coconut oil
1 tsp vanilla
Blend dry ingredients separately.  Blend wet ingredients separately.  Blend wet ingredients with dry.  Pour batter onto hot oiled waffle iron.  Cook to desired likeness.
Cinnamon Ginger Pear Compote
1 ripe bartlett pear, cored.  With skin remaining, cut into 1/2″ slices.
1 TBS coconut oil
2 TBS raw sugar
1/2 tsp cinnamon
2 TBS crystallized ginger, diced
Combine all ingredients in skillet.  Sauté until pears are carmelized and soft.
Enjoy!