Ahhhh… TORQUE almond milk cappuccino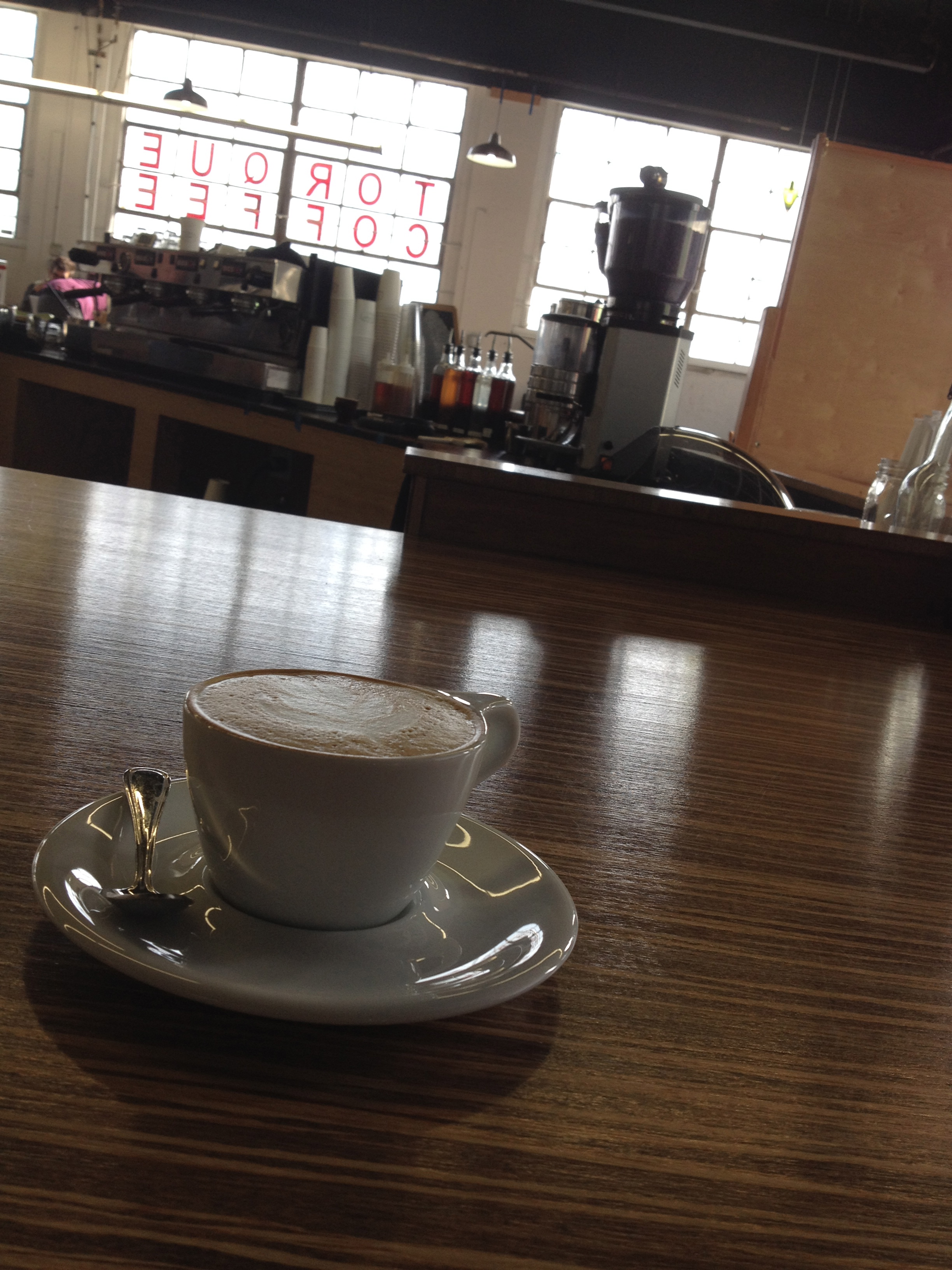 During the last 4 weeks I've had occasion to be in downtown Vancouver for a late afternoon Friday appointment.  One lovely sunny afternoon three weeks ago, I meandered around downtown checking out the sights looking for a coffee or tea shop to take a respite from my thoughts.
I stumbled upon a rolled up garage door located at 501 Columbia Street just across from the Hilton Hotel. Curiously, I walked inside to see a coffee shop with an open concept espresso brewing station, deep counter seating perfect for scattering work papers and project whatnots and a TON of couches and hip 1950's style tables and chairs.  What a cool nondescript renovated garage space. I was delighted on my unexpected TORQUE COFFEE ROASTERS treasure find!
As I stepped forward in line, helpful smiley full-of-life Barista Jared took my order.  I asked about milk alternatives and they willingly offered my food-sensitive substitute "go to" almond milk. Yeah! Apologetically I placed my order – "may I have an 8 oz almond milk cappuccino however the almond milk comes out?"  I order this way because more than 80% of the time the poor barista doesn't have the appropriate espresso steam wand, skills or the patience to steam almond milk to perfection. Once I ordered, Barista Jared kinda looked at me inquisitively.  I then felt awkward because I could tell Jared knew what he was doing and with any first rate quality coffee shop I shouldn't have to put the qualifier on how my almond milk comes out because they will just deliver. Jared assured me my cappuccino would be perfect.
Admittedly, I do have an almond milk pet peeve with cappuccinos – if the milk doesn't come out airy pillowy soft I am disappointed. Unfulfilled. When I order my drink I just want it the way I want it. I don't want to debate or hear excuses from the barista about why they can't give me what I want or that "almond milk doesn't steam well".   As a former Barista I know almond milk steams well. So just go make my drink already!
I'm also an empathetic kinda gal, so sometimes when I just have to have my afternoon caffeine pick me up I'm willing to lower my standards with runny less than perfect almond milk. Other times, if I'm all outta empathy or the coffee shop only offers soy milk as an alternative I'll just order up my sturdy Americano drink – who can mess that up – espresso shot and hot water.
What Barista Jared didn't now was that YES I have been known to throw away a crappy coffee drink after one sip and worse yet never return to the establishment ever again. So Barista Jared had some major pressure on him to deliver this perfect almond milk cappuccino.
As I was anxiously watching Barista Jared prepare my drink, we chatted. He informed me that TORQUE COFFE ROASTERS not only is a coffee shop – they also are a small batch coffee roaster too.   In business since 2011, TORQUE just expanded to a second location in Washougal, WA. I noticed TORQUE also offers a large variety of baked goodies and I even saw some enticing vegan chocolate! YUM! My kinda place.
In no time, my almond milk cappuccino was ready. It came out perfect – airy and pillowy delicious just the way I like it for my healthy living self. So so happy inside. BRAVO! TORQUE and THANK YOU BARISTA JARED!
I am happy to report that I have revisited TORQUE for the last 3 Friday's and I have no plans to stop visiting this amazing customer friendly coffee shop anytime soon. I now confidently hold my head high when I'm ordering my almond milk cappuccino at TORQUE confident that I'll receive an amazing perfectly crafted espresso drink delighting this girl's sated sensitive palate.
Be sure to stop in at either one of TORQUE's locations (Downtown Vancouver or Washougal) or check them on the web http://torquecoffeeroasters.com/