New Hat? or Old Tricks? Portland Timbers 2017 Preview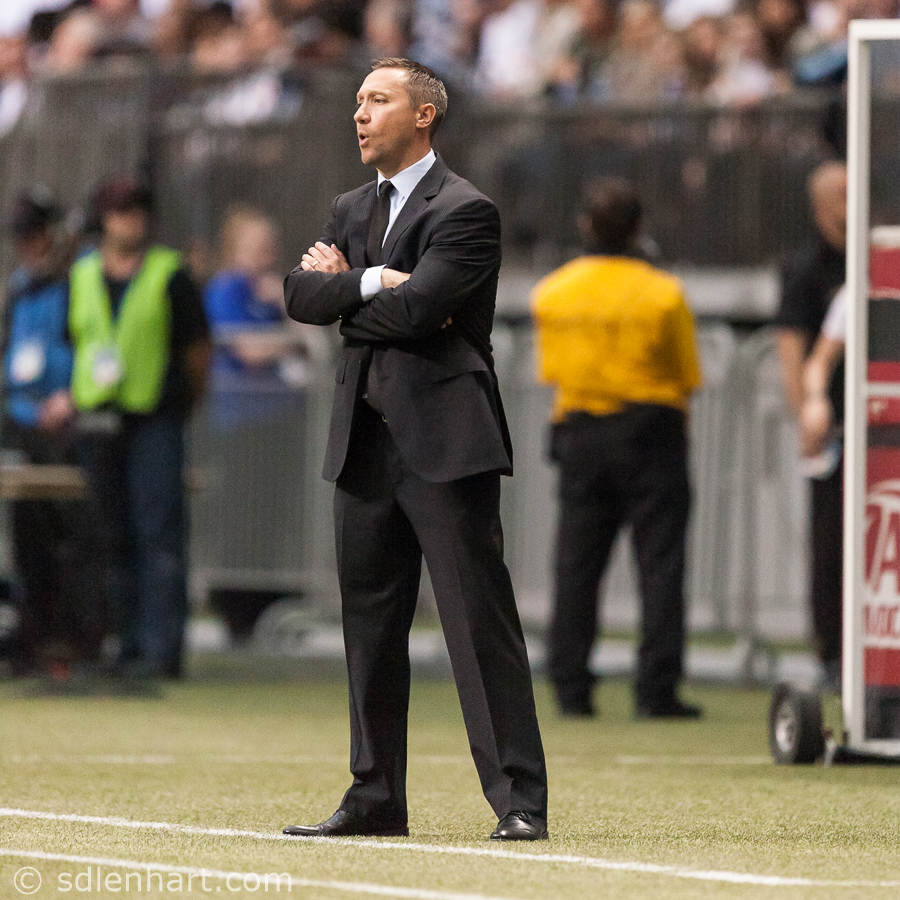 Last years' end state was horrible; the Portland Timbers, returning MLS Champions, missed the playoffs.  Not good; especially when 60% of  the teams in your Conference make the playoffs.
Clearly changes needed to be made.
Notable midfield additions include David Guzman, Sebastian Blanco, and the return of Dairon Asprilla.
On the defensive side, where the Timbers had their biggest weakness, new faces are more scarce.
Gbenga Arokoyo, who saw no appreciable time last year, was expected to start at right center-back.
Roy Miller and Lawrence Olum have also been signed.  Miller is not yet available while Olum appears to hold the center-back spot until Miller shows value or another new signing occurs.
It is rumored that Banana Yaya may be added soon – he's a center-back (with two caps for Cameroon) who has played 69 games in the last two years for Plantanias (Greece); that volume of games played should indicate he's a starter who's offered consistency and quality.
So… changes have been made – but signing a player is just the first step…
READ HERE for a track record of previous Portland Timbers signings:  Making the Most of the Much Maligned Melano.
As follow up to the first step here's my list of "next steps" (of equal importance) I sense/submit need to happen (on the pitch) to reduce goals against this year:
David Guzman needs to show better than Jack Jewsbury or Ben Zemanski – in pre-season – I would offer he has.  Some wonder if Ben Zemanski remains with the squad this year; I do too.
Liam Ridgewell needs to pull his socks up and LEAD by example.
The days of cynical fouls (anywhere) on the pitch must be stopped.  There are worthy fouls, like the one he had the other night to stop play while Fenando Adi was down on the pitch, and then there are just plain cynical, stupid fouls, that are more about 'men behaving badly' than anything else… more leadership and less 'men behaving badly'…
Diego Chara needs to follow the leadership example expected of Liam Ridgewell; limit his misplaced, men behaving badly fouls, and show aggression where timely – not untimely.
Vytas needs to continue to show abilities in playing a shut-down fullback role so sorely missed with the departure of a (then) VERY under-rated Jorge Villafana.
With another year under his belt Alvas Powell not only needs to continue offering grist and speed on the right (improve his outlook as a shutdown fullback) but he also needs to show better positional play and (wait for it) try to stay on his feet more.  The more sliding tackles you make the more often you're out of position to begin with.  Fewer sliding tackles would be a great individual statistic to track for Alvas.
Caleb needs to show a bit more patience with the younger players and give them opportunities to fail.
It's failure – and learning from failure – that makes players better.  If a player DOESN'T learn from failure, then move 'em… and make room for the next man up.
Here's my list of younger players who should get more minutes…  with hindsight  being 20-20 I'm sure Caleb would have played more younger players last year if he'd known the Timbers were going to yield 53 goals against AND still have a reasonable shot at the playoffs…
Marco Farfan:  He's shown a great first touch and considerable ability (at least in pre-season) in making space for himself and others.  I would offer he needs positional work playing against players (and passes) off his left shoulder; i.e. win more one-v-ones.  More meaningful minutes should add value there.
Victor Arboleda:  Like Marco Farfan, Victor has shown considerable grist and energy – albeit its young energy – but… he too has shown superb ability with his first touch as well as making space for himself and others…  never mind his flat-out speed.  I'd offer he's shown more (to me) in the few games I've seen him play than Lucas Melano did for almost two years.
Rennico Clarke shows solid possession skills.  What lacks is playing the physical side of first team football.  With time, like Farfan and Arboleda he should improve.  And a 6'4″ frame isn't shabby either.  I'd submit (if he's patient, puts on some more upper body strength, and learns from his mistakes) he'll offer great presence as a center-back…
In the interim (while Clarke grows and the Timbers perhaps sign Banana Yoyo – great name!) Lawrence Olum needs to offer better defensive play than Jermaine Taylor or Stephen Taylor… Is it cynical to offer that Olum already shows greater lateral speed than either one of those guys?
Part of better defending includes improved attacking. 
Jorge Villafana added great positional awareness and penetrating skills when in attack – Vytas and Alvas need to show the same grist in being able to play both sides of the ball – while thinking defense first.  That's a hard order to follow – but if David Guzman adds value as a true #6 then those two SHOULD be able to push a tad bit higher up the pitch.
Is Sebastian Blanco the answer in lieu of the much maligned Melano?  I think so… Blanco has shown good possession skills, measured awareness and the ability to make space for himself and others WHILE also showing a great 1st touch…  a considerable improvement.
Darlington Nagbe needs to show his "inverted" attacking prowess improves productivity while also showing his improved abilities to play on both sides of the ball.  Caleb and I spoke about Darlington playing inverted over two years ago.  Caleb confirmed with me that both he and Gavin Wilkinson knew this was a productive area for Darlington… what got "in the way" was not having a worthy player to suit up on the right.  With Blanco in the fold that gap should be closed.
Diego Chara needs to push forward a bit more – we've seen his penetrating ability in the past, and his speed adds great value as a trailing midfielder.  But what adds more value is seeing Diego slightly higher up the pitch where he can press and use his ball-winning skills to manage the midfield better.  Quicker pressure can lead to turnovers, which can lead to quick counterattacks for the likes of Diego Valeri and Fenando Adi.
Speaking of which; the Maestro is simply one of the best players in MLS.
Most offer Diego Valeri is an attacking midfielder – I'm a bit old-fashioned – for me he's earned the worthy title of Striker…
There are forwards, there are midfielders, and then there are strikers – Diego is a striker… Diego needs to continue to provide a great first touch, vision, penetrating passes, and striking ability; those four ingredients enhance Portland possession and keep the ball from the opponent.
Diego's striking partner is Fenando Adi.
Fenando, a forward, is a true #9 striker… (perhaps?) the best in MLS.  Anytime he's on the pitch this team has a chance, and with his size/strength he also adds great value in defending set-pieces…
If these things occur the Portland Timbers should be better in defending – and hopefully they'll return to 2013 form where they yielded just 33 goals against…  the last time this team spent a good portion of the game in possession of the ball.
So how about the substitutes this year?  A key part to any team, and a weakness cited by Porter this year, are the next seven off the bench. 
In looking at the most recent pre-season game I think things are taking shape on Porter's first in (if you will).
We saw Dairon Asprilla replace Sebastian Blanco (helping his missus move to Portland).   It's great to see Dairon back with Portland.  He's always added value playing both ways.  And his presence should only serve to keep Sebastian Blanco on his toes.  And with Darlington Nagbe finally getting the national team recognition he deserves it's likely Dairon gets plenty of minutes this year.
Next up we saw Darren Mattocks, Victor Arboleda, and Rennico Clarke, followed by Jack Barmby when Diego Valeri took a knock.
I saw value in all those players coming onto the pitch – yes Clarke got a bit cross-wise in defending atop the 18 yard box – but as Porter indicated after the game – he has confidence Rennico will learn from that.  And… the more opportunities he has to learn from failure (early on) the better prepared he'll be for regular season – if needed.
Darren has been shifted up top – a good thing in my view.  He still can leverage his pace and high pressure abilities – but he won't have to find himself losing energy in having to play both sides of the ball all game long.
In thinking about the placement of Jack Barmby.  In the few games I've seen Jack has taken up the central attacking midfielder position.  I like this – Barmby has shown good awareness, first touch and playing on both sides of the ball.
What sticks out to me the most, however, have been some of his unsuccessful (penetrating passes).  Those passes are the same types of passes we see with Diego Valeri – some don't find a teammate (usually because the teammate isn't thinking fast enough) but some do…
It's those (unsuccessful penetrating) passes that remind me of Diego Valeri.  A good individual statistic this year for Jack Barmby – in showing growth – are the number of unsuccessful penetrating passes…  the more playing time he gets I'd offer, the fewer of those we see as his teammates will begin to expect the unexpected.
I'd offer those are the first five players off the bench…  leaving Jeff Attinella (goal keeper) and one additional player.
My preferred choice is Marco Farfan.  I don't watch training all that often and it's hard to say whether or not Caleb would go with another central midfielder.  But… in the past Caleb has usually had a fullback on the bench.  I sense that slot is filled by Marco Farfan.
In all, I'd submit that's a pretty strong first 18.
Who do you think makes the subs bench this year?
Best, Chris
For those who like a bit of nostalgia – here's what I offered to begin the 2016 season.  Old Hat?  New Tricks?
COPYRIGHT: All Rights Reserved.  Trademark PWP