Feast or Famine… Timbers win – Timbers lose.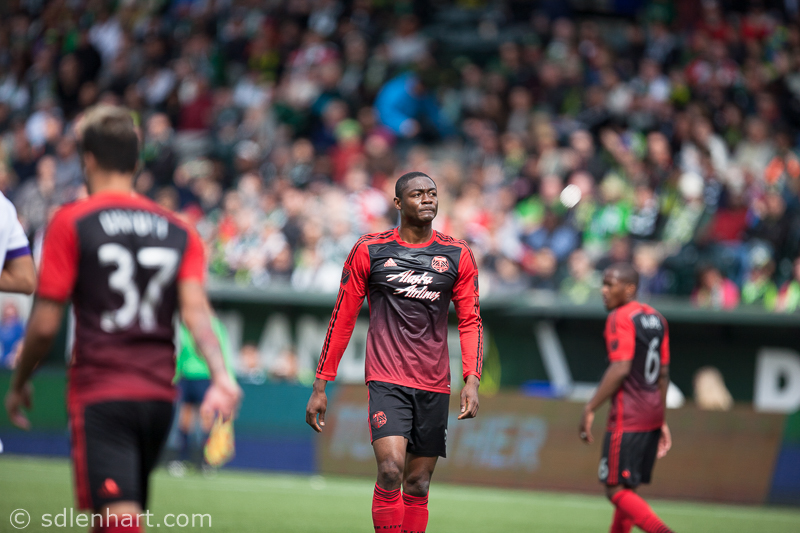 In the past two weeks the ride has been wicked… good then bad.  
Here's some pictures reflecting the good…
Man mountain, left completely unmarked, on a set-piece corner, headed in his first goal – the bearded one has certainly endeared himself to the Timbers supporters and their lumberjack kinda feel.
A bit later, in the second half…
And much deeper into the game Chara also gets his first… while
On that note Caleb Porter confirmed his team was turning the corner and looking to prepare for the next one against Orlando.
Now intermixed into the week of preparation for that game you can bet the team is studying video and trying to get a sense of Kaka as well as Orlando City in general.
They are a new club in MLS and very little is probably known.
In other words the pedigree and history of time in seeing Orlando play is nowhere near what the Timbers might normally know given an opponent like some other Western Conference team.
For me, and perhaps others, it's this bit of mystery that creates havoc in preparation – yes there is danger from Kaka – but like any team – there are nine other field players on the pitch – so yes there is Kaka but a team never-ever is simply one player.
In preparation you hope that the Timbers had gone through cycles of how to manage Kaka but you also hope they've taken time out to figure out what may occur where Kaka-is-not… on the flip side the Timbers, in order to take three points, need to score.
The fact that they didn't score drives home the loss even more.
If you watched the game it's pretty clear a couple of Timbers were caught ball-watching – an excuse I can understand (almost) when it comes to the young George Fochive – but for Rodney Wallace to get caught ball-watching – well… what do you think?
Perhaps of greater, long term interest, is the potential of an underlying issue given the addition Yartey to the team – a potential left winger – or even right winger who can (supposedly) take on players one-v-one…
If you add Yartey as a starter that means someone isn't going to start (probably?) – and my thoughts drift towards Rodney Wallace being pushed out to make room. 
As painful as it is to say this… it's not about what you've done for me in the past it's all about what you are doing for me now… and while others may disagree a lack of being mentally prepared – on the pitch – is not something that will bode well for Rodney, nor is it something that is going to be fixed in training on the pitch…
But moving on… the nail in the coffin on Sunday probably came down to the encroachment of Diego Chara on the Kaka PK…
Wow – that really reflected just how un-engaged some players were… and again, that isn't the type of issue that can be fixed on a training pitch – that one, like the ball watching issues (or even the childish retribution foul by Powell) need to be fixed elsewhere.
And for me, I'd like to think those mistakes by Fochive, Wallace, and even Chara, were one-off's – but the foul by Powell was not!
There is a clear indication that he continuously loses his emotional control – and that impacts others – and it wasn't two minutes later – after that inane foul (yellow card) by Powell – that Orlando scored…
And yes, it was on the other side of the pitch, but it was also a great example of misplaced mentality.
In the end – what we are left with is the usually (defensively) stout-minded Wallace is caught ball-watching (misplaced mentality) and Chara is caught encroaching – more misplaced mentality…
This is not to say Alvas didn't show some grit and grist in his penetration against Brek Shea – he did -but his lack of discipline is getting in the way…
All that said I must offer up that I thought Darlington Nagbe was good – he had space, he made space, and he used space – he simply wasn't good enough, on his own, to win the game for the Timbers…
In closing:
The pressure to earn points builds, and with Valeri still recovering from injury the games are beginning to slide by where the points lost are potentially detrimental to a team pushing to make sixth place; a target most everyone agrees should be a reasonable expectation given the talent on this squad.
Best, Chris