In looking back on Sunday's game a few things come to mind – the first of which was how well the midfield engine worked with the return of Diego Chara.
You don't need to be an expert in footy to see how he influences the game – and the statistics he generates can't begin to tell the story about his presence – for me he's simply one of the best all-around central midfielders in Major League Soccer.
To give you an idea – here's two diagrams showing the areas Jack Jewsbury and Diego Chara patrolled versus LA Galaxy and then two more showing the areas that George Fochive and Jack Jewsbury patrolled versus Real Salt Lake: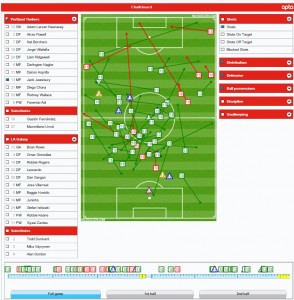 Jack Jewsbury playing the left-sided portion of the Midfield versus LA Galaxy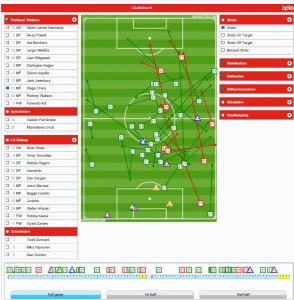 Diego Chara playing the right-sided portion of the Midfield versus LA Galaxy
The Timbers had balance in their midfield this game!
Jack Jewsbury playing the right-sided portion of the Midfield versus Real Salt Lake
 George Fochive playing the right-sided portion of the Midfield versus Real Salt Lake
The Timbers clearly had no balance in this game against Real Salt Lake – and no – Rodney Wallace and Darlington Nagbe did not fill the gap on the left – no-one did…
So that's my Midfield thoughts on Diego Chara for the game – in considering the overall MotM – my vote was already cast with Stumptownfooty yesterday – it was – you guessed it: Darlington Nagbe
While the scoreline will only show 1 assist on Sunday it was clearly his vision and deft / sublime touch that freed Rodney Wallace down the left side – and that movement enabled Rodney to connect with Fenando Adi who scored his first of two.
Of course everything wasn't all roses in the City on Sunday – some players probably preferred to forget this game.  In my view the defender who left the most wanting on the pitch was Alvas Powell.
It – just simply – was not a good night for him – of the four starting defenders his passing skills lack the most.  He (according to whoscored.com) has the lowest passing accuracy of the starting back-four (59%) compared to Villafana (75%), Ridgewell (71%), and Borchers (82%).
When you consider he's playing a fullback position – he should probably be up there with Villafana – or at least somewhere near Liam Ridgewell given the volume of long balls that Liam plays.  If you ask me Alvas Powell should be working hard on his first touch and passing skills this week!
As for one player being directly accountable for goals scored against – I don't like to do that – for me it's about spacing and timing and area marked for all concerned – not just one player…
In Closing:
Next weekend we see the Timbers traveling to Sporting KC – who have had a rude awakening out west – it's hard to imagine them at the bottom of the table but there they are!
I reckon Peter Vermes will be pretty livid about his teams defending – and giving up three goals against FC Dallas.
If you wish to see how Possession with Purpose showed for this week in MLS read here:  Through the Looking Glass – Same as it ever was…
Best, Chris