Portland Timbers – Setting the stage for 2015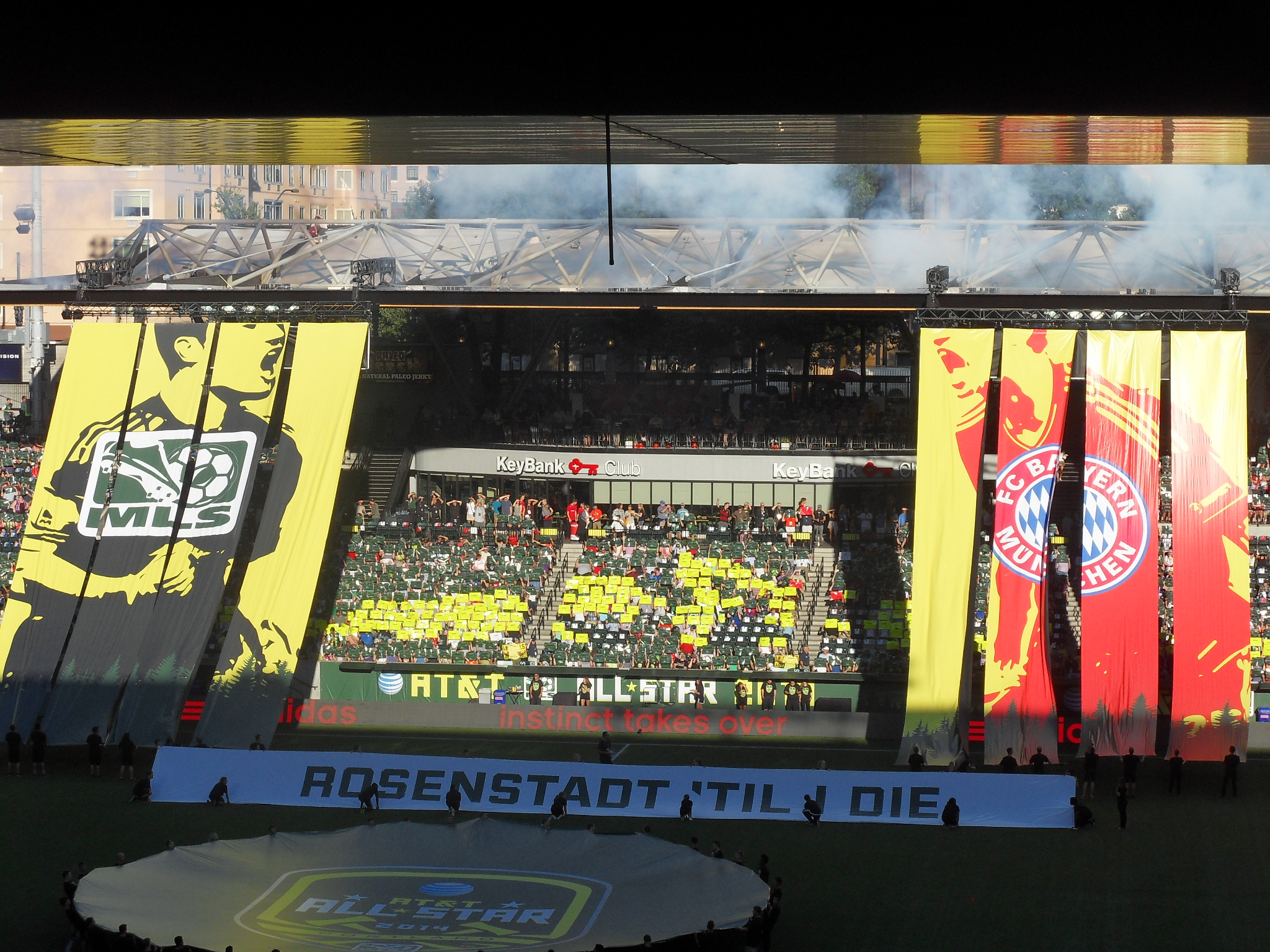 With just about a month to go the Portland Timbers continue to prepare for Major League Soccer. Whether we actually see the team take to the pitch (free agency issues within the Collective Bargaining Agreement) is another story for another day.
Instead here's what I would offer…
For starters I think this year is the year for Darlington Nagbe. 
He's had two years to mature under the direction of Caleb Porter and an opportunity looms on the horizon, sometime later this year, when he gets full citizenship and becomes eligible for the US Mens National Team.
But that being said this sport is a team sport and unless your name is Messi it is likely the heroics, of the one, will not overcome the steady play of many.  So how do things stack up with the supporting cast for Nagbe?
First off, Diego Valeri and Will Johnson are sidelined to start this year so others will need to step up.
First out of the box – or should I say first 'within the box-to-box' – is Ben Zemanski.  Like Nagbe he's a Porter veteran and he knows the system and style that Caleb likes.  His stepping in for Will Johnson will be critical to how well the midfield links with the attackers and defenders…
The other likely starter in lieu of Valeri – at least very early on – is Gaston Fernandez.
There is no question Gaston has goal scoring pedigree and from last year we know that Caleb favors him as a partner to Fenando Adi in lieu of Maxi Urruti.  I don't say that as a dig to Maxi – it's not – it's more about using a player's strengths where it best suits the team.
And for Porter I think he thinks Maxi is best suited as a direct counter to Adi – meaning it's more likely we see them separately as opposed to together…  but times change and players develop and perhaps Maxi does fill that 'false #10 role' that Gaston is expected to fill?
A wrinkle if you will is the addition of Dairon Asprilla.
In the very short amount of time I've been able to watch him he seems suited for the wing given his speed (pace), exemplary tackling skills, and passing ability.
In training the other day there were three attacking combinations offered in equal measures of time:
Nagbe on the left with Asprilla on the right, Gaston in the middle with Adi up top,
Nagbe on the right with Wallace on the left and Gaston in the middle with Adi up top, and
(if memory serves) Nagbe on the right, Wallace on the left and Urruti in the middle with Adi up top.
So it's pretty evident that Caleb is evaluating a number of options in how the front four will look –   consistent throughout that effort was the pairing of Diego Chara alongside Ben Zemanski.
In considering the back-four:
I'd offer it's relatively clear that both Borchers and Ridgewell will pair up while Paparatto provides strong depth.  In seeing Peay this year he could be fourth man in the center-back middle as well as third man behind Alvas Powell and Jack Jewsbury on the right.
I see Jorge Villafana in the starting role on the left with Alvas taking his slot on the right – Jeanderson may be first choice in backing up Villafana while it's likely Jack is first choice backing up Alvas on the right.
I can also see Jack filling in the central midfield role as a first option and Fochive still getting the head nod over a very young Nick Besler – who – for me – has yet to show that physical hip and shoulder movement we see so often from others playing in the central mdifield role…   as in the hips and shoulders play a critical part in being able to separate the opponent from the ball while on the dribble.
Backing up in the attacking half I can see Michael Nanchoff being first up now that Kalif is gone.  This of course doesn't include what options Caleb takes in the front four outside of Nanchoff.
The greatest mystery to me is the Goal Keeper position:
Gleeson is injured (sprained ankle according to Will Conwell on Stumptownfooty) and Kwarasey continues, as I have seen, to work the sidelines (along with Valeri and Johnson) out of direct-play harms way…
If those two are not match-fit then the starting role falls to Weber – a bit concerning really given that gaffer he had late last year – hopefully he's more clued in (mentally) and can hold his own in the back…
All told – I would submit that the Timbers are as ready as they will be for this run of friendlies – in listening to Caleb the other day he indicated it is likely all his 'starters' will get at least two games of 90 minutes each – or thereabouts – meaning kickoff come Sunday we are likely to see:
Weber, Powell, Borchers, Ridgewell, Vallafana, Nagbe, Chara, Zemanski, Fernandez, Wallace, and Adi – and then perhaps the second game we see Asprilla and Urruti slotting in and maybe Nanchoff along with Jeanderson, Jewsbury, and Paparatto…
Whether or not other players get a look in is hard to tell.  Peay may be first in the queue of the younger group and who else might squeak in some minutes is difficult to say…  for now I don't expect any player, who's not in the first 18, to get minutes that doesn't really- really deserve it given training…
In closing:
In my view I think Caleb Porter has a solid team of many to support Darlington Nagbe – and when Valeri and Johnson return that's a many-many…  strong enough in my view to make a solid run at the MLS Cup, the Western Conference Championship, and the US Open Cup – is it too early to think a banner year?  Probably but I like what I see in how this team is taking shape.
So it's all to play for —> provided the players will play – I hope they get some form of free agency…
Editorial:
The growth of soccer in this country has been "inordinately large" these last few years – and while I understand the business case that the league owners have I can't help but recall what Commissioner Peterson (NASL) offered up in our podcast last night…
To paraphrase – the NASL is all about competition and the supporters and winning – the supporters want to see their team win.  Team owners understand that if they spend too much money they will put themselves out of business; so they don't.

Soccer is a global market – we don't have a college draft for players leaving college – if a team sees a player they like and that player and their agent can agree to terms in signing a contract then a contract is signed; simple —> it's a free market.

If a team wants to get a player from overseas they go out and get that player.  What holds us back is the limitation US Soccer has on our ability to have more international players.
Sounds like a capitalistic business model for a capitalistic country…  and news to me was that US Soccer is the one who is limiting international players and not MLS or NASL!
You can follow me on twitter @chrisgluckpwp – or read my work elsewhere on SB Nation's Stumptownfooty or my own site at www.possessionwithpurpose.com.
And if you like to listen to podcasts I pair up with Stephen Brandt (New York) and do weekly shows on the YellowcardedPodcast.
Our latest guests have included NASL Commissioner Bill Peterson, John Galas, Jamie Clark, and coming up in the near future we have Simon Borg (next week) and Rod Underwood (March – now working with Preki at Sacramento) joining us.
Also, my thanks to Steven Lenhart (Nevets) who will be providing photographs for this blog sight again this year…
"Rosenstadt 'til I die"
Best, Chris