If there was ever a game where the Timbers needed to win it is this one; of course that phrase pretty much has had relevance for every game this year (to some extent) but the stakes are clear…
If Portland loses and Vancouver wins (a very likely scenario given they're playing an Earthquakes team that probably doesn't hit 1.0 on the Richter scale) it's curtains for the Playoffs.
So what, in my opinion, is the most critical part of this game – in a nutshell Portland must score at least one goal and Real Salt Lake must not score any goals…  a hill to climb for sure given the season long pedigree of the Timbers defense.
No rocket science here and Caleb, in as much admitted that yesterday in the press scrum, when he clearly ignored any discussion about the Timbers defense and focused specifically on the Timbers attack…
Rightly so given it's one of the most potent attacks in Major League Soccer…
To reinforce that fact here's the Possession with Purpose Strategic Attacking Index after Week 31: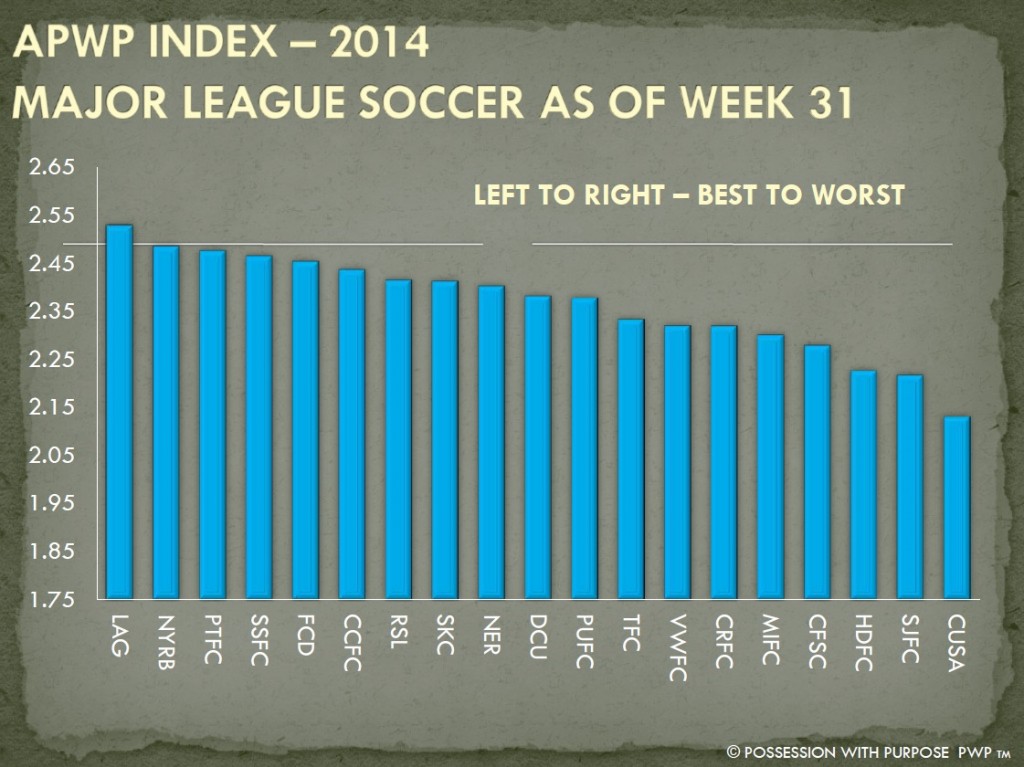 Third best in MLS across all aspects of possession – from gaining possession, to passing and moving, through to penetration (into the final third), creating shots, putting them on goal and scoring goals… only New York and LA Galaxy have been more consistent.
In considering defending though; it's not been about being unlucky – it's the whole concept – from game one through to the last few games.
The most troubling aspect of the Timbers defending has been the volume of fouls in their own defending final third – poor positional play and being to anxious in attack; leading to a goals against only Chivas, Colorado, and Montreal would be proud of — and Caleb knows it.
More to follow in the off-season for sure.  For now it's a dead horse and the appropriate action when encountering a dead horse is to dismount and find another…  not continue to ride it and hope the dead-ness goes away!
As far as the critical parts of this game tonight – win the battle in the midfield (as always) – stay focused, stay positionally (is that a word?) attuned and score goals… the more the better in my view!
Best, Chris
COPYRIGHT, All Rights Reserved.  PWP – Trademark