A stunner this weekend in Portland as the Timbers fall 4-3 to Vancouver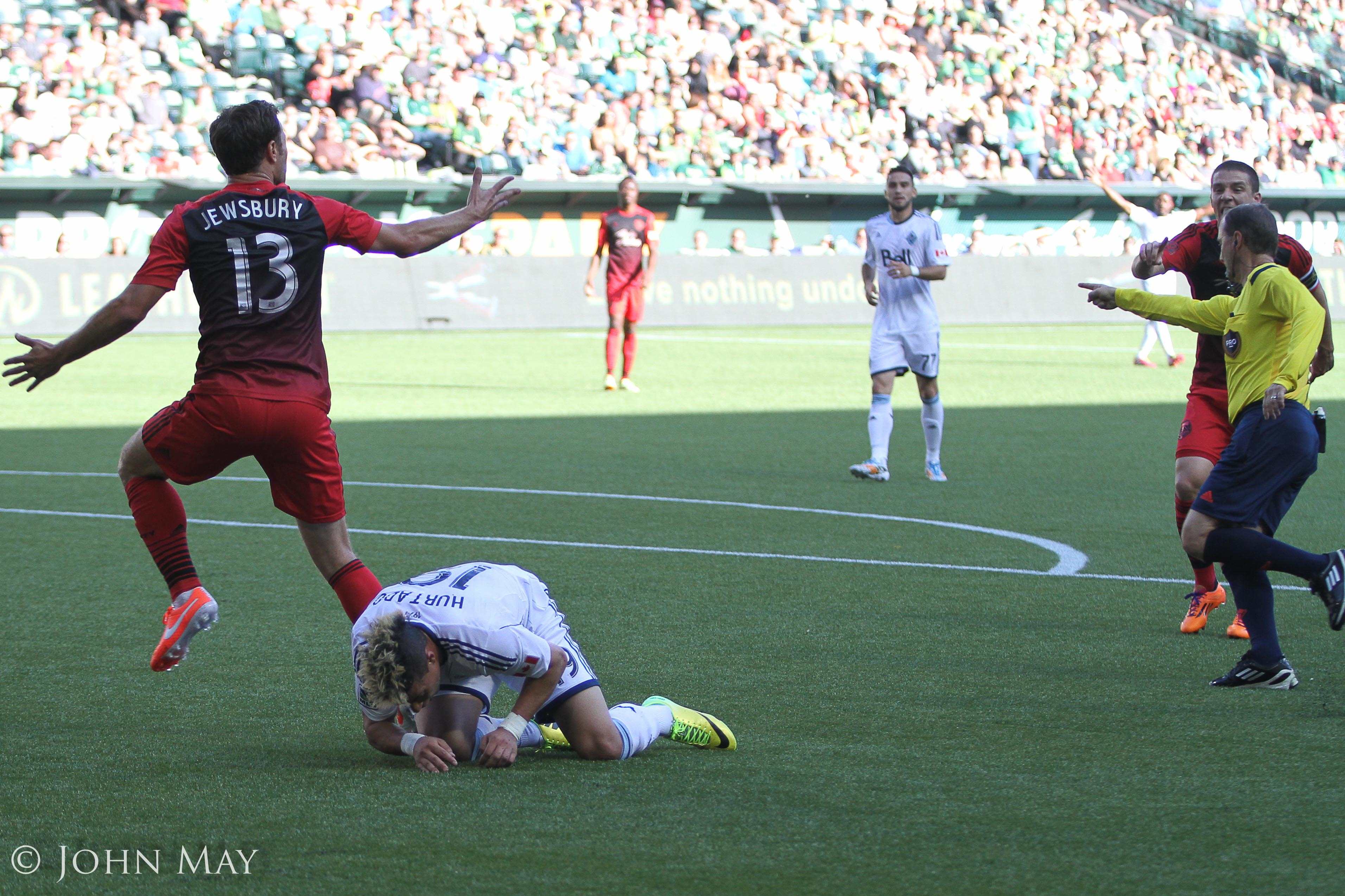 First off – It didn't take long for the Timbers to score goal number one last night, but on the other hand it didn't take long for Vancouver to score goal #1, #2, #3 and #4 before the Timbers clawed back two goals later in the game.
A number of interesting events in this game outside of the Capt. Obvious, two Penalty kicks, awarded Vancouver.
First and foremost to me was the wealth of space and time Morales was provided in this match.
Allowing that much space to top players really isn't that unusual for the Timbers this year lest we forget the open header that Keane had, the huge space Dempsey had or the same amount of huge space Higuain had.
Here's a way to put all that space in context…  
In 2013 the average amount of penetration the opponent had into the Timbers defending Final Third was 24.07%.  What that means is that 24.07% of all passes completed by Timbers opponents last year were within the Timbers defending Final Third.
That number was pretty high last year – fourth highest to be exact; only FC Dallas, Montreal and the Red Bulls allowed more penetration percentage per pass completed than Portland.
This year, however, is a bit different – now Portland leads the league in penetration allowed into their own defending final third per pass completed.
The only other team to have over 23% is Toronto, and most know that Toronto knowingly cedes possession (opponents have over 58% of the possession in their games).
So Portland does not knowingly cede possession (Timbers have ~51% possession this year) yet they are the worst team in MLS in yielding penetration per pass completed.
For me that speaks to future changes – what they are is not my call nor does my opinion in that matter.  Caleb Porter has a great handle on how to win in MLS; he led this team to the Western Conference Championship last year and there remains plenty of time to work through the issues presenting themselves now.
Bottom line at the bottom; what really matters is how well the Timbers respond in their training sessions this week as they prepare for a trip to Rio Tinto.
This next road game will be a huge challenge; not only does the defense need to respond but the Timbers will need to score to get those three points.
The corrective action on not ceding Penalty Kicks is pretty obvious; a right bollocking by the Head Coach and his staff reminding players about positional play and getting behind the ball; not always finding themselves getting caught chasing the ball.
As for the attack… an interesting turn of events in my opinion.  The Timbers have been pretty successful since Adi joined the squad in running a bit more direct in attack; the best indicator there is the increase in crossing.
The Timbers offered up 32 crosses yesterday – exceeding their average of 21 per game at home by 11.  Eight of those successful and the most obvious one being goal #2 scored by Gaston from Diego Valeri.
Later on, another direct attack, via the long ball, saw Will Johnson (below) score one of the most spectacular goals I've seen this year – thanks in part to the deft touches and flick-on by Adi before Will stuffed that rocket volley past Ousted.
Having Adi and another forward on the pitch (not counting Zakuani or Nagbe as forwards) has added great value to this team…  perhaps, just perhaps, there is a twist this next weekend and we see the Timbers open up in a Diamond or Bucket 4-4-2?
In closing…
Futty Danso has been traded to Montreal and it's likely he will get playing time there – the Impact are hurting in a ton of different ways and he should provide good support.
With respect to Joleon Lescott and the potential for his signing on with the Timbers – that would be superb! His leadership and veteran presence would help this team in a big-big way!
Finally, some exciting news for me this past week; I have been asked to present my Major League Soccer Possession with Purpose Indices and research at the World Conference on Science and Soccer.
Pretty jazzed about that and hope all goes well; the event is being held for the first time ever in the United States; the Conference host is the University of Portland and Jeff Agoos is the keynote speaker.
Finally, my thanks to Hazel and John May for offering up some superb photo's! Ta very much…
Best, Chris