Tough one for Timbers in Rio Tinto…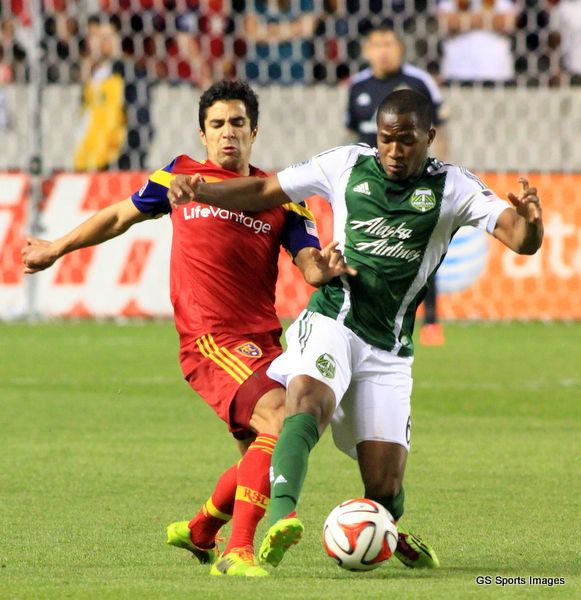 It's hard to summarize a game like this in a positive light but I'll try…
Passing accuracy has not been the best for the Timbers this year with their lowest overall accuracy coming against Chicago at ~63% and their previous high against FC Dallas (~76%) three weeks ago.
Yesterday their overall accuracy was slightly over 77%.  An improvement and a solid indicator that the chemistry is beginning to return.
Is that too hopeful as something for consideration?  I don't think so and here's why; passing accuracy is one of the strongest team indicators relative to wins, losses and draws.
And when higher passing accuracy is combined with shots on goal the teams who do both those things better average 2.19 goals per game versus .58 goals per game.
So how about passing accuracy within the three thirds of the pitch for the Timbers yesterday and with that who were the best passers and those that need to get better.
Defending Third Passing information (76.8% Passing Accuracy)  Key Player Percentages Excluding Ricketts
Kah 19 / 27 = 70%
Danso 15/16 = 94%
Jewsbury 9/13 = 69%
Harrington 14/19 = 73.6%
Johnson 11/14 = 78.6%
Chara 9/9 = 100%
Middle Third Passing information (84.4% Passing Accuracy) Key Player Percentages (excluding subs)
Jewsbury 29/36 = 80.5%
Harrington 36/42 = 85.7%
Johnson 30/31= 96.7%
Alhassan 21/24 = 87.5%
Nagbe 18/21 = 85.7%
Valeri 12/17 = 70.5%
Chara 24/31 = 77.4%
Urruti 5/6 = 83.3%
Final Third Passing information. (67% Passing Accuracy to include 3 Successful and 15 Unsuccessful Crosses); not excluding subs given the game state required a goal to gain a draw:
Urruti 4/5 = 80%
Fernandez 6/10 = 60%
Valeri 4/9 = 44.4%
Nanchoff 4/6 = 66.7%
Nagbe 11/11 = 100%
Alhassan 3/6 = 50%
Johnson 1/2 = 50%
Chara 0/0
Powell 0/3 = 0%
Harrington 9/14 = 64%
Jewsbury 8/9 = 88.8%
So while Possession was the same and Passing Accuracy averaged ~77% (their best to date this year) there were some key players who simply could have been better.
In Closing…
I'd expect striking drills and passing drills to be the prime focus this next week in preparation for Houston – Horst returned to their back-four and they got another clean sheet, even with a Red Card to Sarkodie.
Rimando is simply one of THE best Goal Keepers in MLS – his reaction time is superb – no doubt he won Real Salt Lake three points in this game.
That said better passing opens up more opportunities for creating and using space to get that clean shot on goal – Grabavoy got a superb pass from Velazquez and Plata helped by pulling Jewsbury wide while Nagbe couldn't match the penetration.
Some might argue man-marking needs to be better there but with the clear attacking options offered by Darlington Nagbe this game, a tired Nagbe is not the culprit here.
More likely a better placed Chara or Danso needs to stop that shot on goal; especially when viewing that Chara offered no passes in the Final Third.
Did anybody notice that Chara was slightly less aggressive this game – no doubt the threat of yellow cards and a skyrocketing average number of fouls per game is toning down his play somewhat…
Funny that the guy with the most effective passing in the back-four is the guy who wasn't a first choice player earlier this year…  I wonder what a Paparatto and Danso Center-back pairing works like?
Nanchoff finally got a head nod to come in as a sub this game – he showed well and I think he's a worthy mate to partner Nagbe on the opposite side of the pitch (as a starter)…
I sense his role as an inverted winger on the right side while Nagbe continues that role on the left side, gives some great options and strength to the attack while not losing any ground on the defensive end of the midfield.
To wrap it up for this week – Rimando wins three points for Real Salt Lake – Ricketts got Portland three points a number of times last year from his saves so it's not a surprise to see Rimando do the same – give credit where credit is due…. wow!
Best, Chris