Portland Timbers – 2014; Could it be six pieces of Silver?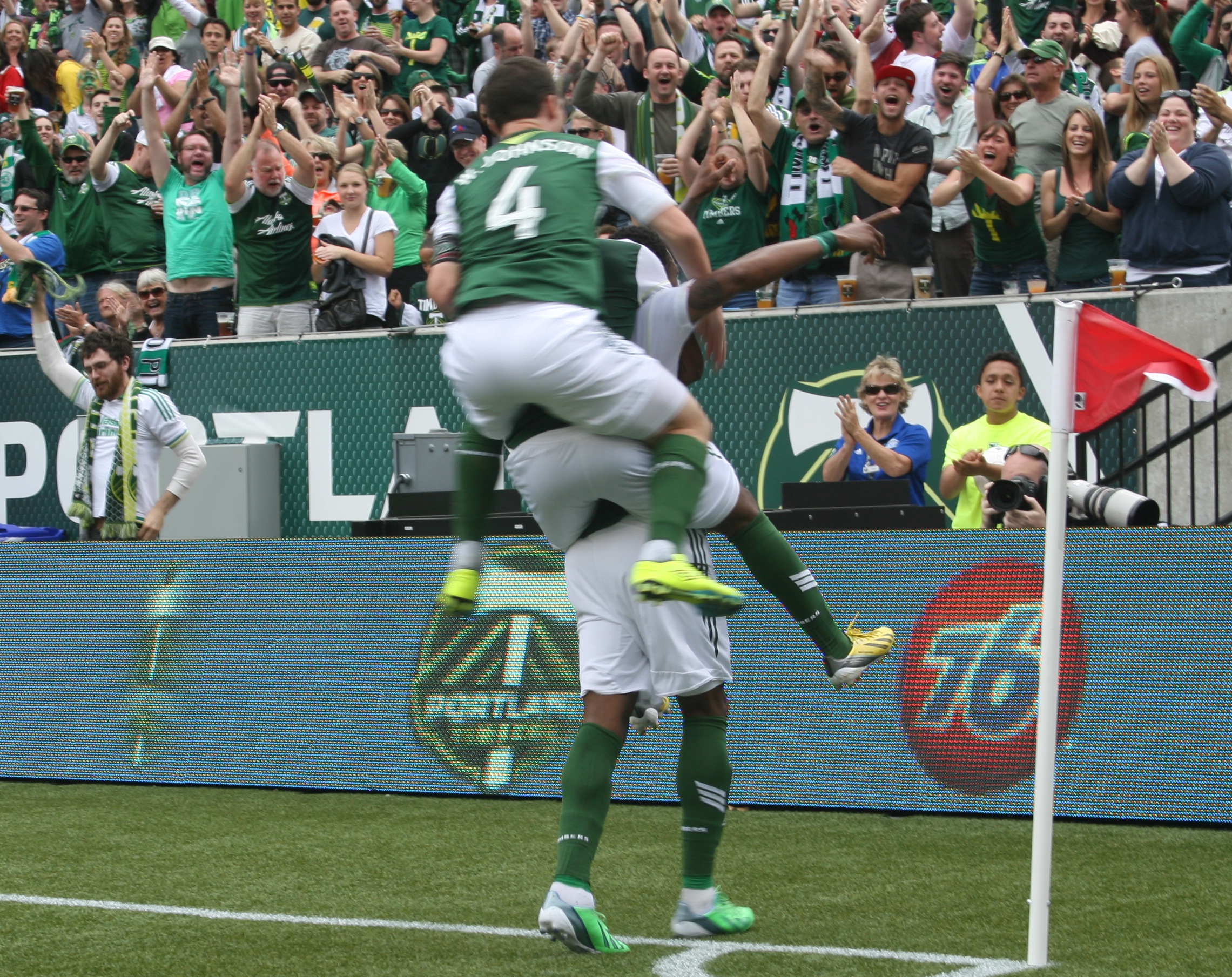 I'd like to begin by saying I think Portland will finish at or near top of the table this year like last year… so I will – and it appears many pundits feel that way as well.
But that being said there remain 34 regular season games and championships aren't won or lost on paper – it's a cliche but it's accurate.
Bottom line is every team has made what they think, feel or sense are the right moves to make themselves better – history has some pedigree as some people/organizations are simply better than others.
LA Galaxy comes to mind as does our historical rival Seattle and newly developed rival Real Salt Lake; I do wonder though if that rivalry with Real Salt Lake will be the same now that Cassar has taken over for Kreis?
As for Portland, no doubt their penchant and passion for possession with purpose that includes penetration and putting goals past the opponents keeper won't change – if all goes well might we see the Timbers exceed their number of goals from last year?
As a reminder, perhaps sobering one at that, here's a diagram I offered up before last season started that included how Portland performed in some statistics under Spencer/Wilkinson as well as what my projections were for 2013 and now my projections for 2014.
Observations:
While possession doesn't directly translate to goals scored and goals against it does influence those outcomes – in looking at 2012, compared to 2013 there is a clear difference in how this team controlled the ball.
After my research last year I know that high numbers of shots taken (in the MLS 2013 regular season) do not translate to more shots on goal and more goals scored; the teams who did that didn't make the playoffs last year like those who had lower shots taken but higher goals scored.
This speaks directly to 'quality versus quantity'.  So shots taken, if relative to points in the league table is more of an inverse (opposite relationship) to goals scored; counter intuitive but it is what it is.  If you read this article , published on American Soccer Analysis, there is more detail there for you to go through and consider.
Not much is between success in failure when it comes to goals scored; it's goals against that seem to carry more weight – in 2012 the GA for PTFC was 56, in 2013 it was 33 – quite a significant difference and part of that difference is about increased possession for Portland and less possession for the opponent.
Finally, coming from near last in 2012 to top of the table in 2013 is a huge leap – staying there will be just as difficult, if not more, than getting there last year.
But this game isn't all about scoring goals; it's also about defending and preventing goals.
Last year the Timbers goal differential was +21, the best margin by 4 compared to New York and all others.  A noted nemisis by many was how they needed to get better this year in defending set-pieces.
I would agree, and with the inclusion of Gaston Fernandez in lieu of Rodney Wallace, and the more continued presence of Max Urutti in lieu of Ryan Johnson or Freddie Piquionne, that means the average height has gotten shorter – not taller – will that mean less leverage in defending set-pieces?
Hard to say but with that move I would offer their 'run-of-play' defense should be even better and their possession based attack should show increased minutes as well.  And part of defending, like it or not, is defending with the ball.
Hopefully we see reduced goals against even more – Porter was known for having a stingy defense at Akron and that puny goals against last year in MLS clearly showed he's carried that pedigree forward into MLS.
For me that goals against statistic is the single greatest indicator on how this team is performing – goals will occur fro Portland- given the attacking players on this squad it would be rude not to score goals.
What matters is keeping clean sheets – Papa & Pa have started a good pairing in the pre-season and while Jack is a year older it almost seems like he's gained a step?!?; maybe not.  But  Michael is solid in defending and his practice time with the USMNT should have helped him better gauge his positioning against faster or slower players on his wing.
What will get in the way of clean sheets this year will be set-pieces and over-commitment in attack.
A potent attack usually means the opponent will settle back a bit and play for the counter or more direct ball movements.  Keeping that in the back of the mind means thinking defense first before final third penetration on the wings – that's a good thing for fullbacks.
Always a chess match with footy though and tactics seem to change almost every 10 to 15 minutes.
As for last year compared to this year statistics wise.
To be frank last years statistics have little bearing on this year in looking to predict a future outcome.
All games against Western Conference teams are flipped where two games away last year now become two games at home.  And of course the Eastern Conference teams we played at home last year will now be games played on the road.
To really get a good understanding on how this year will take shape we must be patient and wait for at least 15-22 games before offering up a strong indicator on how this team will finish.  By then the bottom feeders may be seen as well as who the regular teams are that are performing better in defending and attack.
History seems to indicate LA Galaxy, Seattle and Real Salt Lake will be top competitors out West but lest it's forgotten San Jose, direct attack and all, have a very good system that works… they almost squeaked in last year and if one of the five playoffs teams from last year falters it's my guess that Colorado gets replaced by San Jose.
That is not to discount Vancouver – they had a great attacking team last year and it clearly appears they've bolstered their midfield with more flexibility – what remains in attack is who replaces Sanvezzo – is it like Portland where the Whitecaps have multiple goal scorers near 10 or does one guy fill that role?
What really got in the way of Vancouver was their defense and goals against; if improved there might be a Cascadia sweep in the Western Conference where the Cascadia Cup Champion also ends up being the Western Conference Champion.
Three games come to mind late in the season; the first being the final match with Seattle (in ProPark)on 24 September, the second, also a final match against Vancouver (in Propark) 20 September (both games televised on National TV and the third being the final match between Seattle and Vancouver October 10.
It all begins anew this Saturday – can't wait. 
Many goals should come from multiple sources; 7 goals or more from 5 players last year but is that enough?
I'm not sure given the 'apparent' increase in firepower for some other teams. Is NOW, or soon from now, the time that Portland sinks into the pockets of Merritt Paulson and purchases an out-and-out striker?
I don't know but by midseason that question could be answered – and given the many play-makers and skilled ball handlers, with vision, that the Timbers have, a pedigree striker (like my favorite #9 – Alan Shearer) might be the final piece needed to push this team to the very top.
There are six targets this year; the Cascadia Cup, MLS Cup, The Western Conference Championship (which should yield Silveware but it doesn't YET!), the Supporters Shield, MLS League Champion and CONCACAF Champions League Winner.
Is winning all of those too much to hope for?  Perhaps – it places an extremely high level of expectation of this team – but having a vision to win it all is what these guys play for.
All of these challenges to play and the passion of footy in a City, within America, that absolutely embraces this game!   Wow – never woulda thought it'd be like that 15 years ago living in the UK!
As for my approach in the press-box this year…
My intent is to offer tweets this year – and YES, they will be live tweets and not those offered up while watching the game being streamed (ty @ptownEric) – bloody nuisance how streaming appears to be slightly off on time as pointed out to me after the match against Vancouver last Saturday.
In covering the Timbers this year I will offer up my normal blog here and will also offer up articles about once a week with my friends at @analysisevolved – American Soccer Analysis, to cover other MLS teams and the Timbers on occasion.
Also on my plate this year will be articles covering Lane United FC, the new PDL team in Eugene where Thorns previous Assistant Coach, John Galas, has now taken up his Head Coaching position.
All the best, Chris