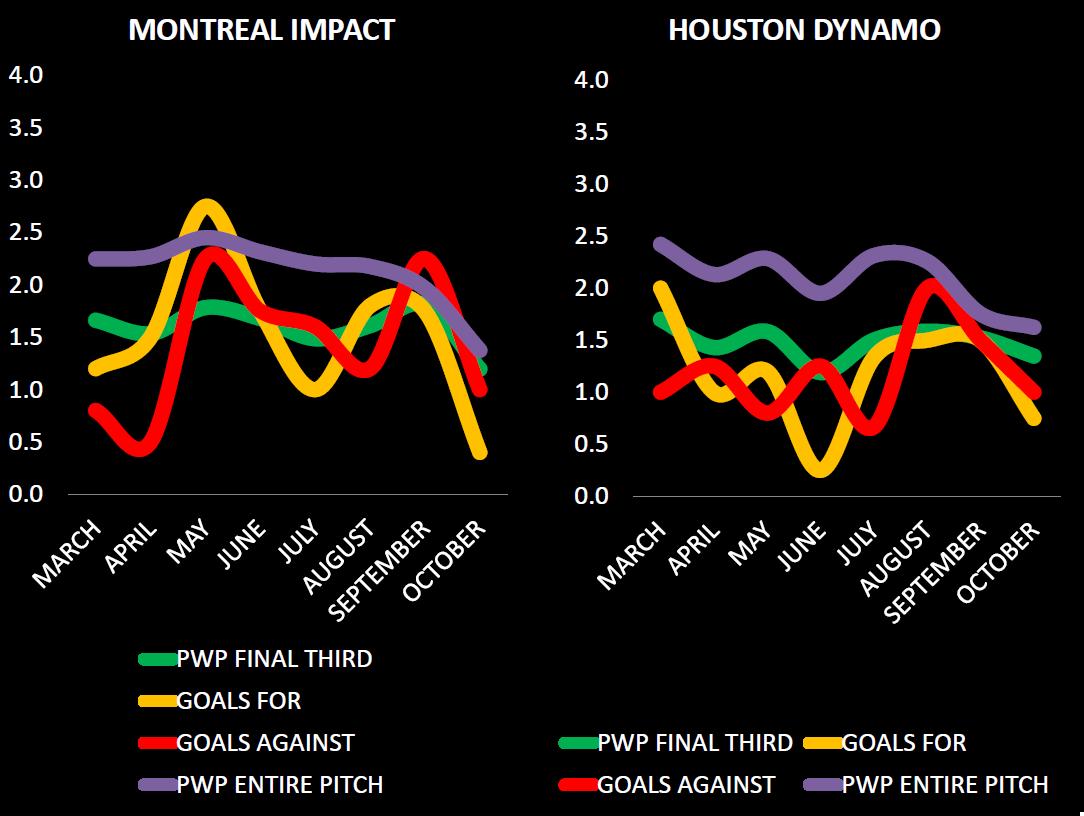 Tonight night kicks off the MLS Playoffs this year with two intriguing matches. Before offering up some thoughts on those two games, and my picks, here's the final tally on the MLS Rankings at the end of this year. The number in (#) indicates where that team finished overall in the Ranking compared to the other teams.
Eastern Conference:
In case you missed it this ranking system is based on how each team compares to the other teams in three categories; Goals For, Goals Against and Possession with Purpose in the Final Third.
To refresh your memory on those you can read my last article describing how this Ranking System was developed here…
Color code: Teams in green made the Playoffs; team in Red didn't.
In this case the Ranking System was five for five…
Western Conference:
Same color code applies; what is interesting here is that Vancouver didn't get in even though their data indicators pointed to a very successful season. Much of why they rated so high, compared to others, had to do with one player; Sanvezzo; the top goal scorer this year with 22.
Anytime one player puts that many goals in the net a team will do well; Wondolowski and the Earthquakes were a great example of that last year.
As for FC Dallas; their second half of the season pretty much went pear-shaped; like other Direct Attacking teams they took a hit this year from other teams getting better at possession based soccer.
One other offering is that Perez did score a number of goals this year, more than Eddie Johnson and that may also have some impact on why FC Dallas rated higher than Seattle. So what about the first two games of the Playoffs this week…
Now for the mid-week games, what the team's form has been leading up to this game, some additional thoughts for your consideration and my picks…
First up is Seattle at home to Colorado; here's a diagram to highlight the three data points with the highest correlation to Points in the League Table plus a wild-card for each team on another data point that had a high correlation in how that team finished this year.
Observations…
Goals Against (red line) for Colorado is trending upward towards the end of this year as is Goals For, Possession with Purpose in the Final Third as well as their wild-card; Possession with Purpose across the Entire Pitch.
Throughout this year Colorado has been pretty consistent in Possession with Purpose in the Final Third while conversely, Seattle hasn't been as consistent.
In addition, Seattle has given up a large number of goals of late and their wild-card, Dispossession with Purpose Final Third (A defensive Index) has declined since peaking in June; the lower this Index the less effective their overall team defense is.
As for scoring goals; the Rapids are trending up while Seattle is trending down (Orange line) – it would appear that the addition of Dempsey hasn't really helped Seattle in the bottom line at all.
So how have these two teams fared against each other this year?
Colorado drew one-one with Seattle away this year so they've proven they can score goals in Century Link Field but their most recent head to head game saw Colorado (home) paste the Sounders 5-nil; I'm betting that loss for Seattle will not be forgotten when they take the pitch tomorrow night.
All said and done I'm offering up that Colorado, being in better form, will win tomorrow night – it might not be pretty but I sense the defense for Seattle is much worse than the defense for Colorado and, for me, defense wins games in the Playoffs.
A couple of other thoughts here relative to the Timbers; it really doesn't matter who Portland plays – I would offer that if Seattle wins I'd expect a very disjointed game with plenty of stop-starts and fouls (an ugly home and away leg). If Colorado wins I'd expect more of a possession-based controlled game played more on the ground and with a little less 'grist' (a purist game of possession).
How about Montreal vs Houston…
Observations…
By the looks of things both teams are in a downward trend; all three attacking indicators (Purple, Green and Orange) point to less productivity in the final months leading up to the Playoffs with Montreal having the edge with better performances in September.
Interesting to note is that while productivity in both teams attacking form has decreased their Goals Against has improved.
A sacrifice of sorts that I sense a number of teams have gone through as well this year; sacrifice some attack in order to reduce some Goals Against.
So maybe this game comes down to a few other things; Montreal has played a turtle defense for much of the season and relied on Di Vaio to get them goals with minimal possession; in other words they've been pretty good at not wasting possession.
On the other hand Houston has been known to be very strong in possession and even led the league in passing attempts for quite some time. But their approach changed somewhat when Moffat was moved to Seattle.
It now appears Houston has spun up a more defensive posture and their peak in passing (July of this year at around 450 per game) has dropped down to about 380 per game.
This reduction in passing has been matched by an increase in Defending across the Entire Pitch as well as within their Final Third. In July Houston had a 1.40 Dispossession with Purpose (Entire Pitch) and now it has steadily increased up to 2.33. Their Final Third defense has also steadily increased from 1.27 in July to 1.41 in October.
A supporting indicator of this Defensive posture might be the Attacking Possession Indicator (Purple line); if you notice around the July time-frame Houston's overall Possession with Purpose (Entire Pitch) has steadily decreased… in other words they are sacrificing (statistically) their attack to become a more productive defensive team…
Does this move, of Moffat, indicate a weakness with Adam that Seattle has now inherited? Finally, while the Playoff games are one-off's Houston did defeat Montreal 1-nil at home this year and they've seen that Turtle defense three times now…
Bottom line for me is that Houston is the likely winner of this game, not just because of pedigree in winning playoff games but because Kinnear has simply shown his team can adjust and win big games and their tactical changes as the season has progressed have made them better..
Who do you think or feel will advance in these mid-week games?
Next up Match Preview Portland Timbers vs……???