Playing catch-up with the Timbers…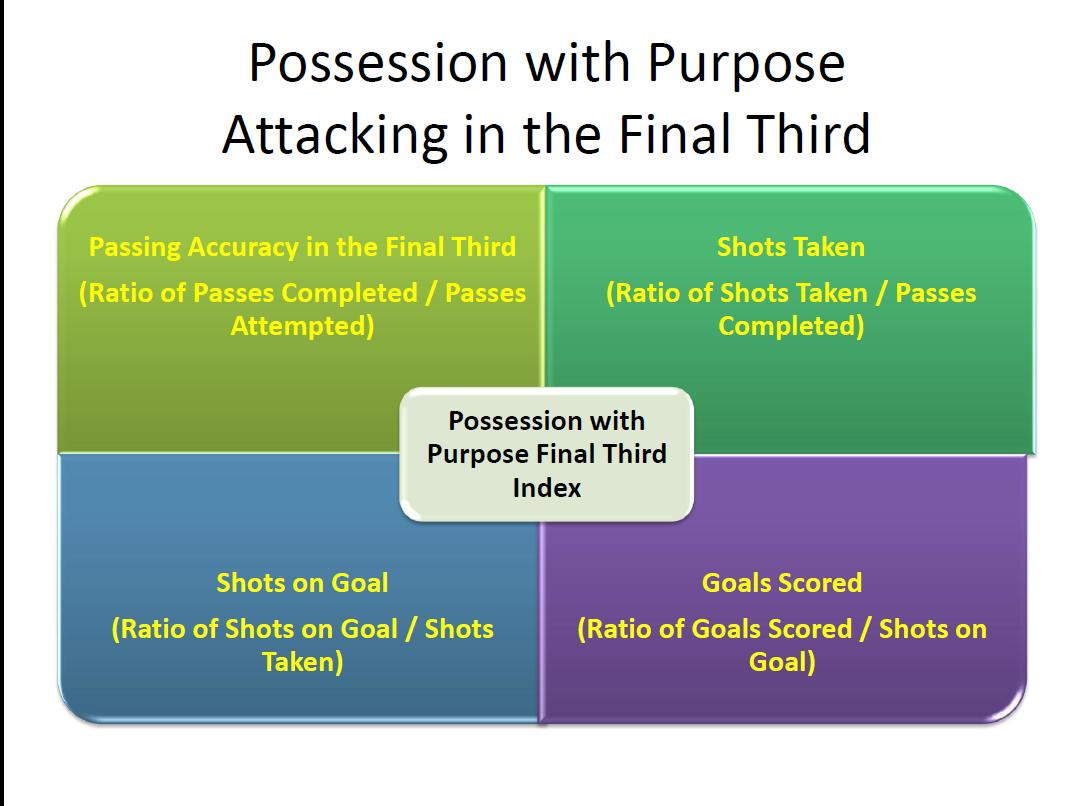 Hard slog these last few days trying to catch-up from being away but I'll do my best.
First off – if you like statistics and follow the EPL I really encourage you to visit Statsbomb.com – a superb site with topnotch analysis and writers who have a firm grip on measuring the EPL and other European Leagues.
Next out of the gate is a quick update on my Possession with Purpose diagram.
I'm offering this up as the approach has slightly changed since the beginning of the season given the difficulties in collecting my original data for all teams in the MLS.  I stand true to my original approach but this approach has great value as well.
If you want the specific details on this Index and how it relates to measuring all the teams in the MLS I suggest you read my latest article on Stumptownfooty; who have been kind enough to allow me to expand my statistical analysis to their SB Nation site.
Some tidbits to consider about the game last weekend that may have relevance if this two teams meet again in the playoff…
Possession with Purpose (Entire Pitch) PWPEP.  RSL are an extremely difficult team to possess and penetrate against and whether worthy or not (perhaps more related to scoring no goals) the Timbers simply have been out possessed across the entire pitch in both the 4-3-3 scheme as well as the 3-6-1 scheme.
The only game this year where Portland were in with a shout was the unlucky 3-3 goal fest in Game 1.
With respect to Possession with Purpose (Final Third) PWPFT.  This one is, for sure, more influenced by goals than the other.  In the last game the Portland Timbers Final Third execution lacked and we all know why – no goals – this doesn't mean they weren't effective in getting the ball in great positions; they were.  But the only game where Portland had less overall efficiency in the attacking Final Third was the loss away to Columbus when they played with 10 men for 90% of the game.
Perhaps that gives you an idea on how effective Rimando was in goal and how crucial a superb keeper is to a team – they need to be team leaders and be vocal and be able to back it up – kinda like Ricketts…  why on earth he doesn't garner the Comeback Player of the Year (GAA from 1.64 I think – down to GAA of 1.00) and NINE MLS Saves of the Week!
Dispossession with Purpose (Entire Pitch) DWPEP.  Overall, that was the 6th best display of team defense across the entire pitch for Portland this year; tops have been the crushing victory against Colorado (3-nil); the most recent 1-nil thriller against LA and the 1-nil filleting of the Flounders.
Dispossession with Purpose (Final Third) DWPFT.   There have been many a game this year where the Timbers performed better in closing down the Final Third than this most recent one but heartening in all this is the decided improvement the Timbers showed in comparison to their other two games against RSL.  In the 3-3 game the Portland DWPFT was the 30th worst defensive performance of the team and the 2-4 loss in RSL was the worst defensive performance by Portland this year.
Before getting into the So-What here's a breakdown on RSL in comparison…
Possession with Purpose (Entire Pitch) PWPEP.  Whether you like it or not the 4-2 loss to RSL in Rio Tinto Stadium was the second most productive game, across the Entire Pitch for Salt Lake this year.  Conversely; the 3-3 draw was their 17th most productive attacking game while the game last weekend was their worst overall possession based game this year.
A lot can be learned from that and how it went and with RSL having no shots on goal it seems reasonable that game was their worst overall output in possession; it's no wonder the 4-2 win against PTFC was so successful – Caleb tried a 3-6-1 that game and clearly he was not happy how that approach played out.
With respect to Possession with Purpose (Final Third) PWPFT.  Capt. Obvious here – the 4-2 win in Rio was the best attacking performance RSL had all year against anyone. As for the other games?  The 3-3 draw in Portland was their third most productive game in the attacking Final Third all year but as time passed, and Portland has adjusted, the final game against Portland netted RSL their worst attacking performance in the Final Third all year!
Call it what you will but there was considerable improvement in the Portland defense from game 1 at JELD-WEN to game 2 at JELD-WEN; more later…
Dispossession with Purpose (Entire Pitch) DWPEP.   Here's where it gets intriguing.  One of the best overall defensive performances for RSL this year were both the last game in JELD-WEN and the 4-2 win in Rio Tinto.  Oddly enough the worst defensive performance across the entire pitch, this year, was against Portland in that 3-3 draw.
Dispossession with Purpose (Final Third) DWPFT.   It would stand to reason that one of the worst defensive performances for RSL this year would be the 3-3 match in game 1; it was – it ranks number 31 out of 33 for worst performances in their defending Final Third.  The 2 goals they yielded in Rio ranked 9th worst while the most recent match was high up on the defensive listing like it was for Portland – great thanks should be thrown Rimando's way for saving that game like Ricketts has done quite often for Portland.
Now the so-what…
Much to learn from these three games and top of the list should be that the approach taken in the last game provided the best tactical, on-field, approach by Caleb, and the Timbers this year – – – learning from mistakes…
Next up is from the attacking side – while Portland didn't score any goals the last game they had three clear chances with a fourth coming on that free kick by Will Johnson.  What's the takeaway?
As much as I hate to say it the takeaway is simply this – if you need to score goals and you have to score goals the players who get the ball to score goals need to be the goal scorers.  I have nothing against Kalif or Sal – very good players… but the goal scorers on this team are not those guys.
Next time the opportunities need to find (majority wise) guys like Valeri, Nagbe, Will Johnson, Rodney Wallace or Ryan Johnson…
Finally, and (perhaps?) not unreasonable is what type of approach Caleb might offer if Portland meets RSL again in the playoffs at Rio Tinto.  I'm not a betting guy but I doubt it will be the unsuccessful 3-6-1; a more tenable approach may look something like a 4-4-2 given how well RSL simply possess and penetrate in their home stadium… defense first, defense second and attack the third….
Next up – Match preparation for Chivas USA – if there was ever a must win this year, apart from all those other must wins, this one is it.  
I, for one, would be gutted if Portland ended up in 4th or 5th place…  WOW – WHO"DA thought that at the beginning of this season?  Well played to their entire Portland Timbers organization!