Match Analysis – Portland Timbers (1) San Jose Earthquakes (2)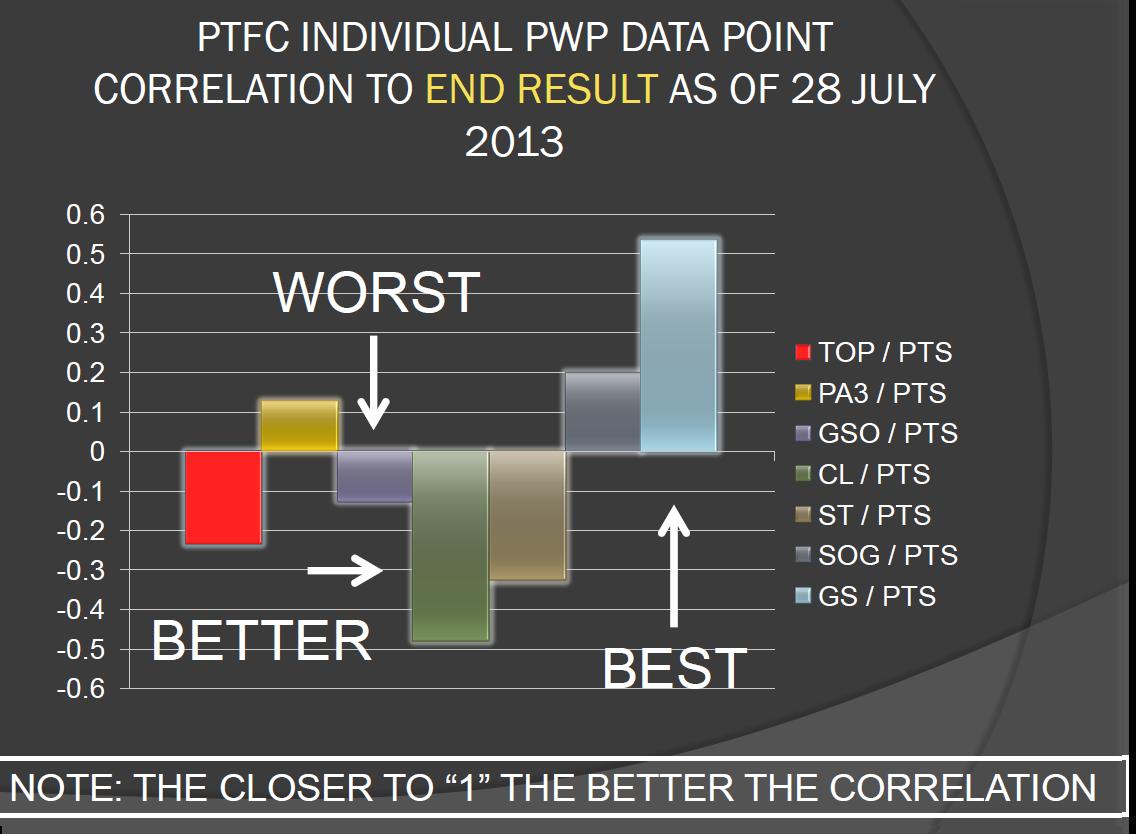 Valiant effort to try and steal one point from San Jose last night as Caleb Porter and the Timbers pulled out all the stops in the final 30 to try and get two goals…
Not to be; even when adding the full force of the bench to include Piquionne, Valencia and Alhassan.
So is this result an indicator that needs to be addressed, in the bigger picture, as the season moves closer to playoff conditions?  
For me, Yes… and it isn't about some lax play on set-pieces of late; it's down to Time of Possession.
Somewhere, in the last nine games, there has been a turning point in Time of Possession.
From 18 May, going back, Time of Possession has always had a positive relationship (however small) to points in the league table.  Not now…
Note the green bar to the far left; that represents the correlation on Time of Possession to Points in the League Table as of 18 May, 2013…
As of today however, that positive relationship (however small) no longer exists; now there is a negative correlation between points in the league table and Time of Possession; note the red bar in the diagram below.
What does that mean?  It means the less Portland possesses the ball, compared to the opponent, the more likely Portland are to gain points in the league table.
I'm not sure what game was the turning point; but since the 18th of May Portland have played 9 games, of which 6 have been on the road.  One win (DC United), 3 draws (Philly, LA and Chicago) and 2 losses (Columbus and San Jose).
In that same time span Portland have missed the services of Will Johnson, Ryan Johnson, Freddie Piquionne and Rodney Wallace.
So prior to that point Portland had 4 wins, 1 loss and 7 draws – and – Portland had always had a positive correlation between Time of Possession and points in the League Table.  Not huge but a positive correlation nonetheless.
Clearly times have changed for Portland.  I'm not sure of which game this transition occurred but will look into it a bit more later this week…
For now the data points indicate… Portland's relationship between possessing the ball and gaining points in the League Table no longer applies…
Now the hard part – trying to translate that reality to play on the pitch and overall results… and… does it really matter?
Might it all be down to those four guys being out-of-pocket for awhile: I don't know – if so then does it speak to a shorter bench than what we might think we have?
Perhaps, and with Diego Chara out last night maybe that impacted possession time as well?
In retrospect, there are two basic types of possession, possession with the intent to penetrate and score and possession with the intent to possess and keep the opponent off the ball.
Last night the second of those two possession types failed when Jack Jewsbury played a lazy ball forward that Salinas intercepted, took off with, and created a PK as he penetrated the 18 yard box.  In the other instance San Jose scored from a set-piece.
In the game against Columbus, Kah played a terrible ball in the box and the opponent got onto it and generated a PK, where, again, the second type of possession (possess with the intent to possess) failed.  The PK was missed but Portland went a man down after giving up an earlier set piece.
So in those two instances it wasn't 'defense' that lost the game and lost the chance to win the game it was failure to possess with the intent to possess…
That might be splitting hairs but so you know.  In all games prior to playing DC United, PTFC averaged 53 minutes of possession per game.
In the nine games since (DC United onward) PTFC have average ~ 48 minutes per game.  That is a huge difference in time of possession – (5 minutes).
So when considering that the entire team has possessed the ball less than 5 minutes per game more (now chasing instead of controlling the game) it's no wonder fatigue (tired legs and tired minds) may be beginning to impact play.
Others may have a different view on that but for me, ball possession needs to be better and that is not all about fixing an individual mistake, that is a team issue.
Why?  Because these guys don't win, lose or draw games as individuals; they win, lose or draw as a team…  if possession is a key to Caleb Porter for winning games then possession needs to get better; across the board.
So what about last night???
I won't to go into a whole lot of detail here; I'll just offer up that San Jose was expected to foul and disrupt a lot and they did.
They had 18 fouls last night and that's the most fouls they've conceded at home in any game this year.
As for Curved Air; San Jose won the battle of possession in the Air; they won more flick-ons (10 compared to 3 for PTFC) and their overall ratio of Headers played to successful passes made was 15% compared to Portland's 12%.
Bottom line here is that San Jose had quality and Portland had quantity – quality usually beats quantity and it did last night.
For those keeping track here's the attacking efficiency ratings for both teams.
San Jose, in attack, have only been outdone this year (against Portland) by Chicago, Vancouver, and Colorado – they played an efficient game and leveraged their top assist man (Salinas).
In looking at overall possession in 15 minute increments this may be obvious to most, but in case you missed it, Portland simply went wild in the last 30 trying to get those equalizers; plenty of chances and all told Portland created 32 goal scoring opportunities in the final 30 minutes; that's 11 GSO's more than the entire first 60 minutes.
In Closing – Portland still have one slot open on the roster with Nanchoff overseas, the transfer window closes after the first week of August (I think).
I have touted Bedoya as a great target given he is out of contract with Helsingborg at the end of July, I still believe he'd be a great addition, even with some fatigue setting in for the back four.
And yes, he's an attacking player, not a fullback – as we've seen many times this year sometimes a good attack is a good defense and with possession with the intent to possess perhaps dropping off of late, might an attacker with his pedigree help get those possession based numbers up again?
I also believe there is more to offer from Ryan Miller; he has fresh legs and has done considerably better in working towards the type of system Caleb runs… he has pace, much better pace than Jack, and can give this team some quality on the right back.
Powell looked out of place in the first 30 minutes or so against Norwich City; especially with those rash tackles.  It might have been nerves more than anything so it's hard to say how he will react in a proper MLS match.
All for now…
You can follow me on twitter @chrisgluckptfc and you are welcome to join my Possession with Purpose facebook group.
Next Up Match Preview – Portland Timbers host Vancouver Whitecaps (Cascadia Cup Clash number 2 for these teams!)