Match Preview – Portland Timbers v LA Galaxy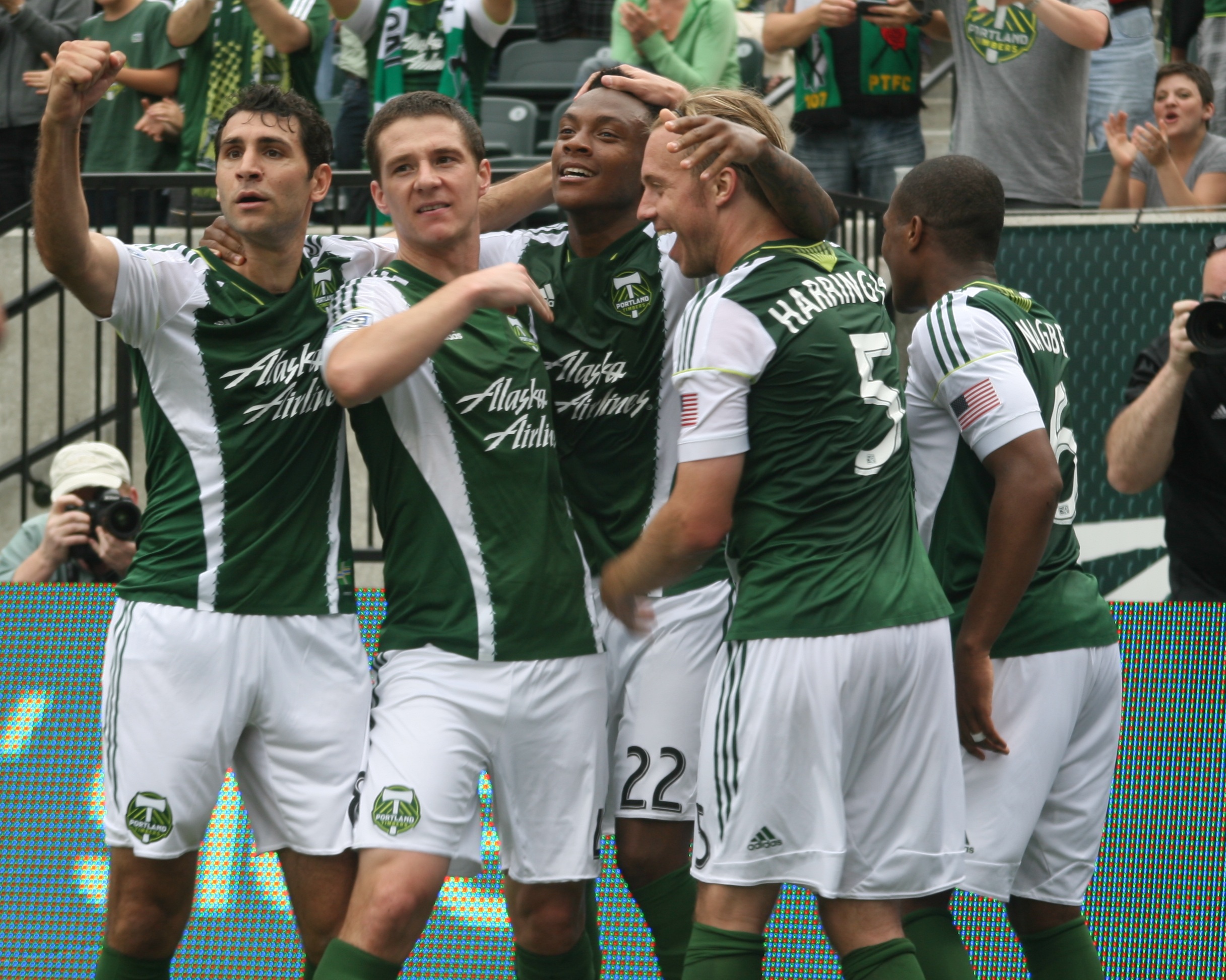 Ninety minutes gone and Timbers walked away with one point in their last match against LA; that was a classic match where both teams went toe-to-toe and I expect this one to be no different.
Are there two teams more evenly matched in MLS this year than the Galaxy and Timbers?  I don't think so and when attempting to read the tea leaves this game I'm not sure a solution leans towards green or white tea.  For me I'm hoping it's a green tea kinda night.
For now though a walk through on some data to set the conditions for this match-up followed by some statistics that "might?" have relevance leading into this game.
JELD-WEN – No sticky pitch expected Saturday night even with a bit of heat or humidity…  the smaller confines should suit the Timbers and help minimize space for LA.  As for the atmosphere – hard to imagine this game not selling out nor even seeing an empty seat anywhere.
Once again NBC Sports will be televising this huge, if not inordinately large, match-up for the nation and with Portland getting recognition on MLSSoccer.com as "Soccer City USA" I will find it hard to believe any MLS fan, from any team, will miss this one. — let the game begin…
Weather – No impact…  should be a wee bit hot but not much humidity; good footy weather.
Standings – Officially LA are ahead of Portland in the League Standings, though at this stage, with a couple of teams having games in hand the critical piece is how things stand afterwards.  A three point outcome for Portland will see them maintain pace with the winner of the FC Dallas – Real Salt Lake match-up kicking off 2 hours earlier.
Formation – Arena pretty much runs the same system home or away; his bog standard 4-4-2 with Keane rotating up high, left or right depending upon game conditions.  With respect to Portland (4-3-3) most everyone will figure the same guys who started last game will get the head nod this game – with one exception.
Pa Modou Kah sits this one out and considering he got booked at the 7′ minute mark the last time these two teams went toe-to-toe it's probably a good thing.
Some food for thought – the last time these guys played, Portland came off a disappointing draw against Chicago where they had some late game fouling issues – the Timbers responded well in garnering that draw at STUBHUB.
So the set up for this game isn't that much different.  The Timbers had a rough go on the road with some early game fouling issues and I'm sure Caleb Porter is looking for some on field leadership to sustain a tough match where fouling in the defensive third (at anytime) is pretty much unacceptable.
Goals Scored –  Robbie Keane clearly leads the Galaxy in goals scored (7) while Sarvas and Jimenez are next up with 3 apiece with Zardes just one behind at 2.  However this plays out it is likely that if LA score Keane (with 8 assists as well) will have some involvement.
With that said here's a gentle reminder, brought to you by Timber Kart, on how AJ Baptiste dealt with Robbie Keane last game…  I think the Benny Hill background music is brilliant!
As for Portland; the Capt. Obvious here is that to take three points someone needs to find the back of the net.  That's no easy task but teams playing at home, who've beaten LA this year, (6 of them) the average goals scored is well over 2.
That's deceptive, somewhat, given Gonzalez absence in the back four a few games and it's unlikely that anyone will score 5 on them again like New England did.
Curved Air – The juice… LA have been consistently inconsistent in their attacking approaches through the air; but… their opponents haven't been.  First up LA Galaxy info and then when moving on to Possession some tidbits that may have value in attacking them – for now the crosses…
10 away games this year, and regardless of win or loss, there is simply no strong pattern to their attack down the wings with respect to crosses; it would appear they adjust based upon the opponents and their average number of crosses in wins vs losses, on the road, is separated by less than 2 total.
One could offer that the more crosses they offer up the less likely they are to win; that might be a reflection (when behind) that LA will take any steps necessary to get the ball in the box.  Probably true as most teams will do that.
Given Arena is the head coach it should come as no surpirse that variation and flexibility in how his team attacks will make patterns hard to find.
Distribution of Balls from square 1…
Same here; regardless of win or loss there has been no real pattern that has stood out that may indicate a habit in one direction or another.
So after 10 away games their average percentage of long balls from square one, in wins, is slightly higher than in losses; while their average percentage of short balls from square one, in wins, is slightly lower.
That logic doesn't really follow if you feel that a team will tend to launch the ball in a direct attack, when trailing, to push the ball forward.
I'd offer it may be more of a reflection that the opponent is yielding space, and to sustain possession, LA uses the short ball.  If Arena perfers using the short ball when trailing then higher pressure may be the defensive approach we see from Portland if they succeed in getting a 1-nil lead.
As for headers; no diagrams on this one; they seem to have more headers (per game) when they've lost than when they've won.  And while not strong there is a positive correlation (.4439) between headers played and crosses offered.
In my view that reinforces that the long ball approach from square one is not a primary path forward for LA when trailing.  To substantiate I checked the correlation on headers to long balls from square one and it's -.4221.
This means the more long balls from square one the fewer the headers LA plays – again supporting that when LA attacks they will offer up crosses more often than flick-ons via the direct ball.
Oddly enough it's just the opposite for LA opponents; there is a stronger correlation between headers and long balls from square one (.5343) and absolutely no correlation (.0721) between headers and crosses.
In other words opponents of LA appear to choose direct attacking from square one as opposed to possession based from square one.
With Portland having the capability to go in any direction the options are wide open for how Caleb might look to penetrate LA.
Possession – By the way; I'm not ignoring the LA data with respect to their tie in Toronto.   By all indications that game looked an odd one.
LA had to clear the ball out of their defending third 48 times and Toronto launched 34 direct balls from square one with only 2 balls played short.
Those numbers are higher than the overall average for most teams this year and reflect more of a direct attacking approach than any other.  The bottom line is that approach worked up until stoppage time when Villarreal equalized.
So are there any other away games that might be singled out like the draw with Toronto?
In the game against Vancouver, a 3-1 loss,  LA also had to clear the ball 48 times out of their defending third and by all accounts the Whitecaps played counterattacking football as opposed to direct.  In the match Vancouver had just 290 passes and less than 40% possession; Toronto had 388 passes and 50% possession.
Likewise, in the game against New England, a 5-nil loss, the Revolution also played counterattacking football.  Overall they completed just 306 passes while having just 36 minutes of possession.
So that's two games where the opponent has played counterattacking football and come out with a result against LA.  And the Toronto game indicates that a direct attacking team can also come away with at least a point.  What about a possession based team like Real?
In their two games at home against LA, Real have lost (2-nil) and won (3-1).  In their loss Real had 65 minutes of possession with 615 passes while LA cleared 56 of their penetrations and faced 20 shots with 8 on goal and no goals scored.
In the 3-1 win against LA, Real had less possession (54 minutes), less shots (17) less shots on goal (5) and fewer passes (507) but three goals scored.
Bottom line here is that less output got Real more points; in other words quality and not quantity got them three points.  We have seen that with Portland possession based attack this year as well; less quantity and more quality has gotten Portland three points as opposed to that loss against Montreal where quantity exceeded quality.
The takeaway for me on this is that LA have been defeated on the road via direct, via counter and via possession based attacking.
Porter can run using any of those three weapons and a flexible team of players who can work in any fashion on putting the ball into the back of the net… what remains is defense.
Defense – No fouls in the defending third and pressure on the ball at the earliest opportunity (without getting to stretched) should be the approach taken against LA.
Whether that works with a two-pivot (what I call a bucket middle) or a one-pivot (what I call a forward sweeper) scheme doesn't matter; execution will be the critical thing.
My guess is LA will work the same way; if the forward sweeper works, great, if not they'll revert to the bucket.
Both teams have players capable of running in either scheme, with a flat back four, so in this case the names of who play where won't make that much of a difference.
Wild Things – No Kah and Diego Chara had already got one yellow knocked off for good behavior prior to the game in Columbus that means he and Zemanski both sit on three; two suspensions to go before having to sit out a game.
This gives Caleb a bit of flexibility in who might take on the forward sweeper (single pivot) role as the game progresses.
Sarvas leads LA in fouls conceded and even after a one game suspension he's right back into getting yellow cards now that he has six.  No other player on LA is close to suspension for accumulated yellows so if things get chippy the Galaxy can pretty much call on anyone to take a yellow for the team.
Editorial – It appears MLS show Ben Zemanski on 4 fouls yet the Portland Timbers site indicates three.  Further confusing the issue is that both Diego Chara and Darlington, on the Timbers web site, indicate they've played 18 games, with the 18th being the match against Columbus.
Chances are the MLS site is accurate and not all updates have been made to the Timbers web site.  My thanks to Kip Kesgard for catching this and letting me know!
Substitutes – With Nanchoff off to Europe that opens up a slot most likely occupied by Rincon.  So that's Seba, Valencia, Miller, McKenzie, Zizzo, Kocic and maybe? Evans on the bench.
As for LA, I'm not sure who will be on the substitutes bench apart from Mastroeni given Donovan's absence and Rogers now starting.  Like Porter though, I would expect a variety of players who can provide attacking or defending support as needed.
Late update – According to Kip Kesgard based on a tweet by Geoffrey Arnold, Freddie Piquionne has returned to Portland and will not continue playing in the Gold Cup; with that news perhaps we see Piq on the bench as opposed to Steve Evans?
Timbers Army – It was very disappointing to see that FoxSports didn't show the display created by the TA for the Gold Cup game in JELD-WEN field the other night but in listening and watching their telecast in the Canada-Mexico game last night it's no surprise.
It's good that NBC Sports is taking on the EPL and other major soccer events next year.
Barton and the others had nothing to offer of substance in that game last night and the two guys calling the match had no clue on how ineffective Canada really were in executing any part of a systematic defense.
But back to the TA – National TV, Soccer City USA, Timbers Army, Marquee matchup between two top teams in MLS, PRICELESS!
In closing – In recalling game one; LA looked to penetrate down their right (our left) 46% of the time while looking to enter our defending third from the left 30% and down the middle 24%.
As for creating goal scoring opportunities; again LA showed the tendency to create opportunities from their right (our left) 42% of the time while offering up opportunities down their left 34% of the game and down the middle 24% of the game.
Rogers didn't get a full run in that game but I expect he will this game; he's a dangerous player from either side of the pitch – not like Jackson, with speed, but more like Donovan with vision and some pedigree in crisp passing that won't be as rusty this game as he was in LA.
LA are a very dangerous team and, like Portland, they've got many weapons to go with variation and flexibility.
I'd offer that this game will resemble a three-dimensional chess game more than anything else; just a ton of different angles that either team can leverage in looking to garner three points.
One last tidbit… In considering other opponents recently faced; you'll recall that both Colorado (.2xxx) and Columbus (.2xxx) appeared a bit disjointed when viewing their possession with purpose indicators; this is not the case with LA.
Like Portland (.9867), LA have shown a strong relationship (.9633) relative to Time of Possession, the opponent defensive clearances, their own shots taken, shots on goal and goals scored.
And…. as expected, they are in the top half of the table; again reinforcing that those teams who show relationship in these attacking efficiency points are simply better teams.
You can follow me on twitter @chrisgluckptfc and if interested feel free to join my new facebook group called Possession with Purpose – Portland Timbers
Next up Match Analysis – Portland Timbes v LA Galaxy.