Match Preview – Portland Timbers vs Columbus Crew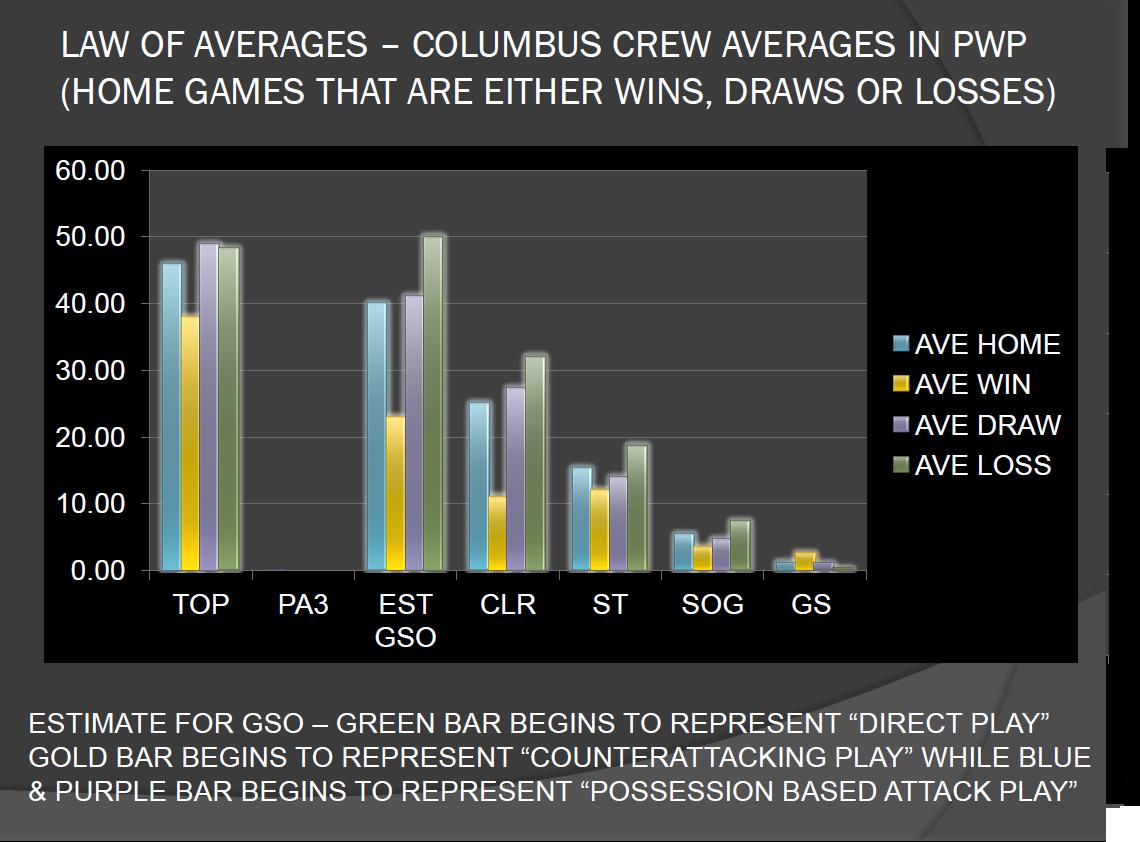 Let the games begin anew…  With a slight break to include a 'not-so-friendly' against Monarcus, the Portland Timbers kick off game 18 of their, one game at a time, journey this Sunday afternoon against Columbus.  
Plenty of off-pitch story-lines of late but you'll see none of them here; I will stick with my routine and walk through the paces on some items / topics that might influence the outcome of this game… on the pitch…
Stadium – Crew Stadium; pitch size is  115 x 75 with a  capacity of 20,455.  The surface is Kentucky Bluegrass.  And while I'm not an expert in sod I seem to remember when growing up in Ohio, that the Kentucky Bluegrass blades were quite thick and 'catchy' on the skin / jeans.  Not sure if that was true for others playing fumble-ball and the like but it definitely was slippery when wet.
With respect to the pitch size; 5 yards longer then JELD-WEN so box-to-box players will need to be in fine fettle to keep pace as the game wears on.  With Crew Stadium being just a yard wider that shouldn't be much change for those hanging about on the wings.
Weather – Extended forecast – highs in the 80's with possible thunderstorms.  The humidity we've had here in Portland for a couple of days is pretty standard for Ohio throughout the entire summer – having grown up 20 miles south of Akron (North Canton) I can draw on personal experience to confirm that…
So even if the pitch surface plays a bit sticky that could change quickly given humidity, rain or even thunderstorms.
Standings – Columbus are coming off two straight losses on the road; the 3-2 loss to Sporting KC, at Sporting Park, and their latest loss late last night (2-1) against LA at StubHub Center.  I don't think those guys will be in a cheery mood; especially since both those goals scored by LA came from the PK spot.
As for tired legs; I don't see it happening and that's a trap best not fallen into – more later on that when looking at the trends at home, for Columbus, and a blurb or two about their recent road loss to LA.
Out west the standings remain tight and with games in hand for some, and not others, there really isn't anything of substance to offer other than Portland are near top and continue to battle on getting points one game at a time.
Formation – Columbus have pretty much run a 4-4-1-1 throughout the season, at home, and that probably won't change.  With Arrieta out, Higuain played up top with Oduro against LA so it is likely he plays there as well against Portland; so the two primary danger guys will probably rotate off each other and work out of each others space.
No rocket science with Portland – expect a 4-3-3 with Harrington returning to partner Jewsbury at fullback while Kah and Baptiste slot into the middle; Zemanski, Valeri and Chara will take the middle while Alhassan, Johnson, and Nagbe will play their usual rotation (like the middle guys) in and around any part of the attacking half of the pitch to confuse and deceive Columbus.
Goals Scored – Portland have five guys who have scored four goals or more this year in MLS play and six through all play; three of those six are missing for the game against Columbus but that shouldn't stop the creativity, chances and goals from flowing Sunday afternoon.  The six guys starting up top all can put the ball into the back of the net in different ways, from any location, inside or outside the box.
The Columbus Crew will have their hands full and perhaps face an even more dangerous team than their recent away loss to LA, who were without Landon Donovan.
As noted Oduro and Higuain are dangerous and this diagram below pretty much confirms that Capt. Obvious…
Without following this team too closely I'd imagine that Speas and Anor (wings) with George and Sanchez (middle) will be called upon to support Higuain and Oduro up top.  Set pieces will always remain a danger and perhaps Josh Williams or Chad Marshall will have some influence there on free kicks/corners while Barson will surely be leveraged as a throw-in specialist for Columbus.
Curved Air – As usual for me the Curved Air portion of my preview begins to offer up some bones for the dogs of war to chew on.  Starting with crosses…
Nothing really pops out here other than there doesn't seem to be much consistency in their attacking pattern at home.  It would appear that Warzycha adjusts his system of play based upon who they go up against.  With only two wins at home (DC United 3-nil and Montreal Impact 2-nil) it doesn't appear that approach has worked out to well.
For the record there are three draws at home; San Jose (1-1), Philadelphia (1-1) and Houston (1-1), while their three losses were against New York (0-1), Colorado Rapids (0-2) and Chicago Fire (1-2).
Keep that in mind as some other tidbits and trends get offered…
On to goal kicks…

COLUMBUS CREW GOAL KICKS FROM SQUARE 1 AT HOME IN 2013
Note that in the games against DC United and Montreal (wins) there were far fewer balls played short than in the other matches.  And the most striking example of that is there 3-nil win against DC United.  Again some grist to offer that Warzycha runs a different approach against different teams at home.
In a game  they clearly controlled against DC United (goals scored at the 15′, 26′ and 45+2′ times) they played a significant amount of long balls as opposed to short…  for me that points to a team who may not be playing possession based football that includes defending with the ball.
One might offer that they were merely looking to kill time by clearing the ball out and letting the disruptive play of their midfield slow the opponent down.
Perhaps another tidbit of info, that has value, is that, in their wins at home this year, the opponents have averaged only 11 Defensive Clearances out of their defending third.  Whereas in draws, the Crew opponent has averaged 27 Defensive Clearances and when the Crew have lost the opponent has averaged 32 Defensive Clearances per game.
This diagram is offered to show averages at home that are wins, draws or losses; note that where the opponent has greater amounts of defending clearances Columbus have lost.
Another tidbit from this one is the estimated Goal Scoring Opportunities; given data collected to date there is a very strong relationship between shots taken + defensive clearances equaling goal scoring opportunities created (.7454 correlation).
So with this there remains a chance that a style of play (direct, possession based, or counterattacking based) can be narrowed based upon general output.  I'll be tracking that a bit more as the season continues.
Overall, it would seem less is better (so far) for Columbus and less usually means 'counterattacking' with no possession-based play out of the back-four on a consistent basis.
With respect to Portland – as already seen throughout this year Caleb Porter can come to the table using any approach from any side; to include the middle.
Portland will be an extremely difficult team for Columbus to defend against and depending upon ball movement, out of the back-four, it is likely Portland will look to minimize higher midfield pressure by merely playing more switches and crosses from on-high.
Possession – Portland have shown they can get points with large or small amounts of possession.  No additional data to offer here about Portland – we all know they operate a two phased approach to possession – possession with the intent to score and possession with the intent to defend that might lead to a goal scored;  score-line drives that…
Here's a diagram showing how Portland has worked through the stages of possession in away games this year.
The two games where Portland have taken three points are the green bars; the rest,  yellow bars, indicate one point; while the average is a white bar that also indicates the overall strength of the relationship between those points (R2 .9770).
By the way; I have removed all the Penetration into the Attacking Third (PA3) and Goal Scoring Opportunity (GSO) data points collected to ensure this diagram is an 'apples to apples' comparison to the one below for Columbus…
With respect to Columbus – as noted earlier Columbus win games at home when they lose the battle of possession and they lose or draw games at home when they have more possession…
Note that the green bars represent wins, yellow bars are draws and red bars are losses; the white bar represents the average (to date) and the R2 number (.2371) again indicates the strength of the relationship in how well Columbus leverages all the data points tracked relative to possession with purpose.
Look familiar, it should, Colorado had the same sort of relationship in away games before visiting JELD-WEN; might Portland net three goals in this game as well?  Hard to say but it's likely Columbus look to counterattack, like Colorado, and if the speed guys and set-pieces can be minimized the score-line could get past 1-nil…
However viewed perhaps this diagram helps explain why Columbus, like Colorado, are further down the table than some other teams?
Perhaps??? another view is that Warzycha jsut hasn't figured out what system of attack or defense works best against which opponent.
Defense – My guess is that the guys who start in this game are the same guys who started last night against LA; Columbus don't have a league match until the 20th of July and since they played a counterattacking style in LA they won't be as leg weary as some might think.
As for Portland, if match fit Harrington starts on the left; otherwise Miller will get the head nod and partner with Jewsbury.
Wild Things – Well, this isn't a friendly, and based upon what was seen against Monarcus it really doesn't matter either way.  Columbus is coming home after two gut wrenching losses and will be frustrated and anxious to defend their home pitch.
Provided below is their team track record on fouls conceded and yellow cards; no red cars at home this year for Columbus.
Recall that the two wins this year were against DC United and Montreal; while their three draws were against San Jose, Philadelphia, and Houston.  The Columbus average, when they win, is 16 fouls conceded per game with almost four (3.5) yellow cards per game.
That is almost 5 more fouls conceded (on average per game) and almost 2 more Yellow cards (on average per game) than when they have drawn.
That is also 2 more fouls conceded (on average per game) and over 2 Yellows more (on average per game) in games where they have lost.
This game will be chippy and Columbus will do their best to disrupt and delay the Portland attack.
The key here for Portland may be to minimize a wee bit of possession time in the middle third while looking to get Columbus to concede as many fouls as possible in their defending third.  Set-pieces win games and the latest loss to LA (two PK's conceded) may have Columbus on 'tender toes'?
Key helpers from Columbus, in this area, will be Sanchez (28 fouls); who just  returned after a yellow card accumulation suspension, Danny O'Rouke (second highest) with 27 and Tyson Wahl following up with 22.  Note O'Rouke and Wahl are defenders… and Sanchez plays in the central midfield area.
Higuain is currently on 4 yellows and with a key match-up coming up against New England he may tread a bit lightly to avoid missing that game while Arrieta is still out playing in the Gold Cup.
Late Editorial – Although both Higuain and Chara have 4 Yellow cards it appears that with a run of  (3?) clean games that wipes one Yellow card off the books for an 'accumulation of Yellow card suspension'…  Confirmation is 5 games based upon info received from Issac Lampner and Jim Siverson through the MLS web site – both Higuain and Chara now have a two card leeway as opposed to one card…
Substitutes – Hard to say with Columbus, Will Trapp is back and perhaps he's one of the first guys offered up in the second half?
As for Portland; Futty, Miller (Harrington), Valencia, Kocic, Rincon, Nanchoff and Zizzo seem the likely guys to be available on the bench with Zizzo and Nanchoff likely candidates as midfield defensive subs while Miller (Harrington) and Futty are their for the back-four with Valencia the most likely replacement for Johnson in the later stages of the game…
Timbers Army – (new category) – I hear that a larger than normal contingent of Timbers Army supporters (plus perhaps a mercenary brigade of Akron Zips supporters) will show for this game; superb!!!
In Closing – It will be hot and humid and Columbus will be chippy and disruptive against one of the better attacking teams in MLS; expect Yellow cards in this one.
Zemanski should be the tough guy this game; Diego Chara needs to show some strong discipline, given he is on four Yellow cards and Will Johnson is out for the Gold Cup, it wouldn't be of benefit to see both Chara and Johnson sit out the next match against LA.  Perhaps, perhaps… Diego Chara opens his MLS goal scoring account this game?
Here's hoping for more points on the road…
You can follow me on twitter @chrisgluckptfc
Next up Match Analysis Portland Timbers v Columbus Crew