Match Analysis – Portland Timbers (3) v Colorado Rapids (nil)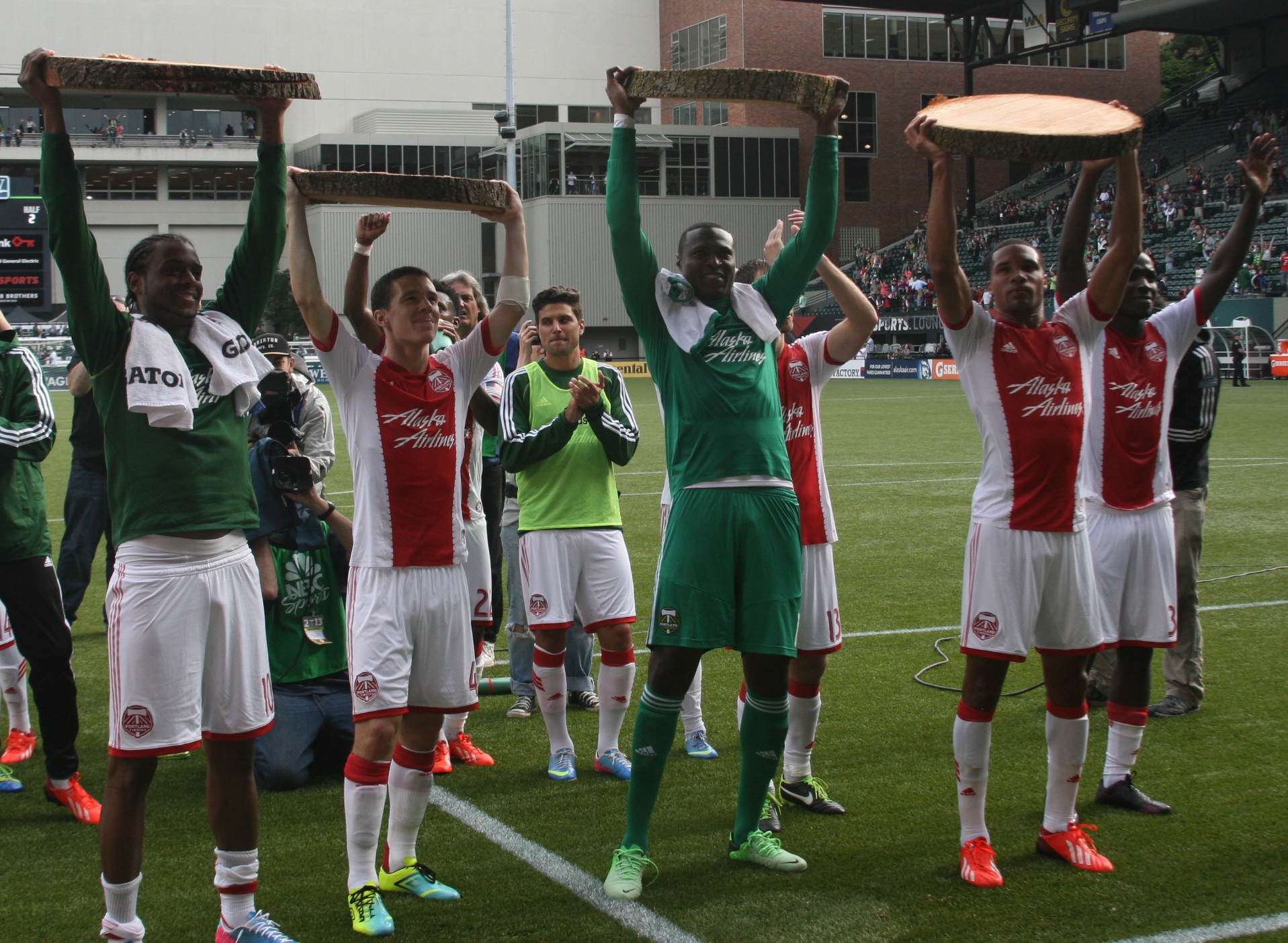 The bold headlines talk to the goals, who got'em and this being the 15th game in a row where Portland has gone unbeaten and surged to the top of the Standings…  
Worthy to note those  bits and pieces while offering the  counter on Colorado continuing their slide.
For me though there's some other grist to go with this game but before I get there some tidbits for your consideration as Portland hit the halfway point in the season. 
Two of the most effective and efficient games Portland have had this year have come against Colorado; both home and on the road.  Others may not agree with this but when it comes down to possession with purpose the indicators are real.
In eight games where Portland have been more efficient in overall Possession with Purpose they have taken three points seven times with the other game being a draw (the away match to Colorado).
Bottom line here is when Portland perform efficiently across the whole spectrum (time of possession, penetrating the attacking third, creating goal scoring opportunities, taking shots, putting those shots on goal and scoring goals) they win.
And to reinforce that it's not just about scoring goals here's a reminder on what the single data point correlations are to Points in the League Table.  Goals scored correlation is .5493 versus in the Diagram above 'the combined' correlation of all PWP data points to Points in the League Table is .7927.
So with that here's my final tidbit about 'halfway' point info on the Timbers and Possession with Purpose…
Note the blue bar diagram to the right.  This is a snapshot of the Timbers PWP at the nine game point this year (3 wins, 5 draws and one loss).
The green bar diagram to the left is how the data points flesh out after 17 games (7 wins, 9 draws and still one loss).
In case you missed it Portland have reduced their overall output for EVERY SINGLE Possession with Purpose statistic except for goals scored!   This is not a bad thing…
So in essence Portland are reducing 'wasted effort' and increasing 'purposeful time' where deliberate possession with purpose has a higher return in goals scored.
Of additional note is that during this run Portland still retain over 50 minutes of possession time per game.
In other words by virtue of Portland possessing the ball they are 1) possessing with intent to score in a deliberate or quick fashion and 2) possessing with intent to maintain possession of the ball.
And when we hear players and coaches offer air time that this team continues to get better and can improve it's not just anecdotal (simple words) – it's true and the data supports what they offer.
The challenge will remain, every single game, in sustaining that consistency of purpose while staying grounded… keep highs low and lows high… geez Porter and his staff are very – very good at preparing this team!
Now onto some topics or things that may have influenced or impacted the outcome of this game.
JELD-WEN – the FORTY-SECOND consecutive sellout with 20,674 again in attendance.  Duly noted, and as usual, the spine tingling feeling as the Anthem finished and kick-off approached… No matter how you slice it – it just has to be superb for players playing in front of the home crowd at JELD-WEN.
It's hard to sustain full energy throughout 90 minutes of play and the constant support from the Timbers Army has got to help boost tired legs and tired minds…
Weather – As expected a wee bit of rain to go with some tempered humidity – not a bad day for footy in Soccer City USA and with the sun shining towards the end it seemed timely as the Referee blew for full time.
Standings – I'm not sure why MLS doesn't list Portland first in the Western Conference Standings – perhaps others know better but it would seem to me fewer losses or a greater goal differential would make more sense than number of wins…
It is what it is and it really doesn't matter anyhow – TTUN has three games in hand and sits on 21 Points while FC Dallas also has a game in hand and sits just one Point back.   First place is relative to the now but not to all the teams equally.
In addition; Portland may be in front for the Supporters Shield at this time but that, too, is relative to Montreal having three games in hand while sitting just one Point behind Portland and Real.
The season for Portland is half over and that's all.  There is value and goodness in simply recognizing it for what it is…
Formation – As noted in my match preview Colorado opened in a 4-2-3-1 while Portland opted to run from the 4-3-3.  No real surprises here either way but given the end result, and Pareja experimenting with other formations, Colorado may soon convert to a 4-4-2 to simplify and try to stop the bleed.
Goals Scored – As noted in my match preview "it would be good to see Portland push across at least three goals"… they did and in fine fashion as well.
Against the run of play Piquionne got on board first.  Eventually followed by Johnson & Johnson near the end of each half.  All of them great finishes working from superbly placed opportunities created, in part, by Wallace.
My guess is that stunner from Will Johnson will be up for MLS Goal of the Week…  hard to imagine how low these guys are in stacking up votes for the MLS All-Star game.  It's a credit those six guys deserve and with the game being light-hearted as opposed to full-on it would be worthy to see all six of those guys on the pitch at the same time.
I still remain stunned that Rodney Wallace was not included; I've lost track on +/- for players this year but if I recall Wallace should be at +15 given he was on the pitch for all three goals (and assisted in each of them) on Sunday.
Curved Air – Here's where it kinda gets juicy…
With Portland starting on their back foot Colorado pushed forward in huge fashion.  And by the 8 minute mark they had already offered up 5 crosses and 7 goal scoring opportunities.
This game was not going to take the tone like games Colorado had played against Real Salt Lake and LA Galaxy.  And by full time the Rapids had offered up 24 Crosses; that's only one less than they took in their most recent away loss to Chicago.
So does that mean Colorado ignored the middle?
To some degree yes but a more compelling offering is that 35 of their 42 goal scoring opportunities created came from crosses, corners, free kicks or throw-ins – meaning only 7 opportunities created came from the run of play 'without' crossing the ball or working from a set-piece.
Hard not to get more direct in attack than that…  this Colorado team reminds me somewhat of the Timbers last year… a bit muddled and no clear direction or intent other than to bang the ball forward (anyway they can) and then bang the ball in the box (anyway they can).
With respect to offerings from Square 1…
The pattern matches that of Chicago, Houston and Dallas more than the others; and only the game in Houston ended in a draw; the other two were losses.
That's not to say there is a strong relationship here but in their wins against Chivas and Columbus they didn't muck about – they simply played long the whole game and even that game against LA they only lost 1-nil.
Did their attempt to try and possess the ball get in the way of them scoring goals?  Hard to say but it seems they do better when creating more quantity than quality.
As for their overall aerial attack – Colorado played more balls in the air (with headers) this game (56) than any other game (home or away) with the exception of their game at home against Seattle (59).
I haven't tracked this before but for Colorado that might equates to (14% of their ball movement was attempted through the air).  (59 headers) / (416 total passes).   That seems an awful lot compared to some other numbers on headers this year but I'll need to peel that onion back a bit deeper.
I'll start with San Jose and see how things look with them;  if an indicator I will look to roll it up into my Possession with Purpose info.
Possession – By 15 minute increments here's the lay of the land for Sunday afternoon…
The real takeaway here is to note that Portland scored three goals with fewer penetrations, fewer goal scoring opportunities created, fewer shots and fewer shots on goal.
I believe one goal came from direct play, one from a set-piece and one from a quick counterattack… variation and having a rigid flexibility in being able to leverage all different types of attacking approaches has value…
As noted earlier Portland had the better of possession… this diagram may also help reinforce that possession wasn't just about PA3 and GSO (scoring goals) it was also about preventing goals by virtue of controlling the ball.
Before moving on to Defense a few thoughts on 'fresh legs'…
I'm not sure how often this has happened in the past but a unique takeaway for me this game was the difference in participation levels of some players.
For example; here's an OPTA link showing  touches and ball distribution for Rodney Wallace and Jack Jewsbury this game.  Note that Rodney Wallace had the most touches (114) of any Timbers player while Jack Jewsbury was second with 110.
On the other side Darlington Nagbe had 72 touches while Miller had 90 (throw-ins increase touches).  I think this approach was by design and not a result of seeing weaker play in Wynne or Moor – I sense it had to do with leveraging Rodney and his fresh legs given his layoff this past month…
And when viewing Timbers PA3 this game, they worked from the left side 45% while being about equally split between the right and middle…  to me another indicator to go with the OPTA data that supports the intent to leverage Rodney's fresh legs this game…
For me this also speaks to some folks observations about some players having more or less touches when they do player evaluations.
Each player has a role and my guess is Nagbe's role was to support and help filter attacks down the left where possible – as such he has fewer touches and doesn't look as involved in the game as he really is.
Bottom line here is that Porter knows his guys, knows their strengths and weaknesses, and harnesses that energy as he looks to manage the players.
Defense – Aerial bombardment – Portland were pushed hard this game in the air and given the number of crosses and set-pieces they did extremely well in battling back the assault.  It seemed like every corner ball ended up being cleared with a defensive header by Piquionne.
As for Colorado – Wynne and Moor were pretty much hammered all day and each goal scored by Portland either got a start or went through the areas patrolled by Wynne and Moor…
In terms of the general play of our guys; Kah and Baptiste did well to manage some initial balls from Irwin and Miller had a very good game filling in for Harrington – nothing lost there and perhaps Ryan's performance might garner him even more playing time to spell Jack in the near future.
Wild Things – Quite tame this game – Petrescu pretty much controlled the pitch and seemed to make reasonable calls for/against both teams equally.
Substitutions – Reasonable substitutions for the most part but I felt Nanchoff might have been better served to be on the subs bench with the chance of being called on to spell Valeri if the scoreline dictated as opposed to seeing Kalif.
Piquionne did well in his start and R. Johnson did well in his subs role; my guess is RJ will start on Wednesday and Piquionne will sub… otherwise no change is my view given the time off in the near future.
As usual Zemanski came on and did his job and he really does add value on both sides of the ball; I just think it's his somewhat more aggressive approach to tackling that makes some think he's only a defensive minded box-to-box midfielder…
For Colorado the substitutions didn't really seem to matter – perhaps they were more geared to getting some players rest as opposed to getting some players a chance to bring the scoreline back even…
In closing – One game completed and the next one in the queue is a Cup match against FC Dallas.  With a good run these last four games I wouldn't be surprised to see a full time starting squad on Wednesday knowing that the next MLS game isn't till the 7th of July.
And with Morelia coming between those games it is likely top reserves will get minutes in that one as opposed to the game in Frisco.
All for now – Next Up depends on whether or not I will be able to catch the Cup game and where…  no match preview for that one either other than to offer —
1.  If you're out you're out. 
2. Porter wants to win this and that is the bottom line… 
3. Cup games are always odd ones to figure so expect both teams to bring the heat and Perez will surely be up top if healthy… 
You can follow me on twitter @chrisgluckptfc and if on Facebook you are welcome to join my new Facebook Group called "Possession with Purpose"…