Match Preview – Portland Timbers v FC Dallas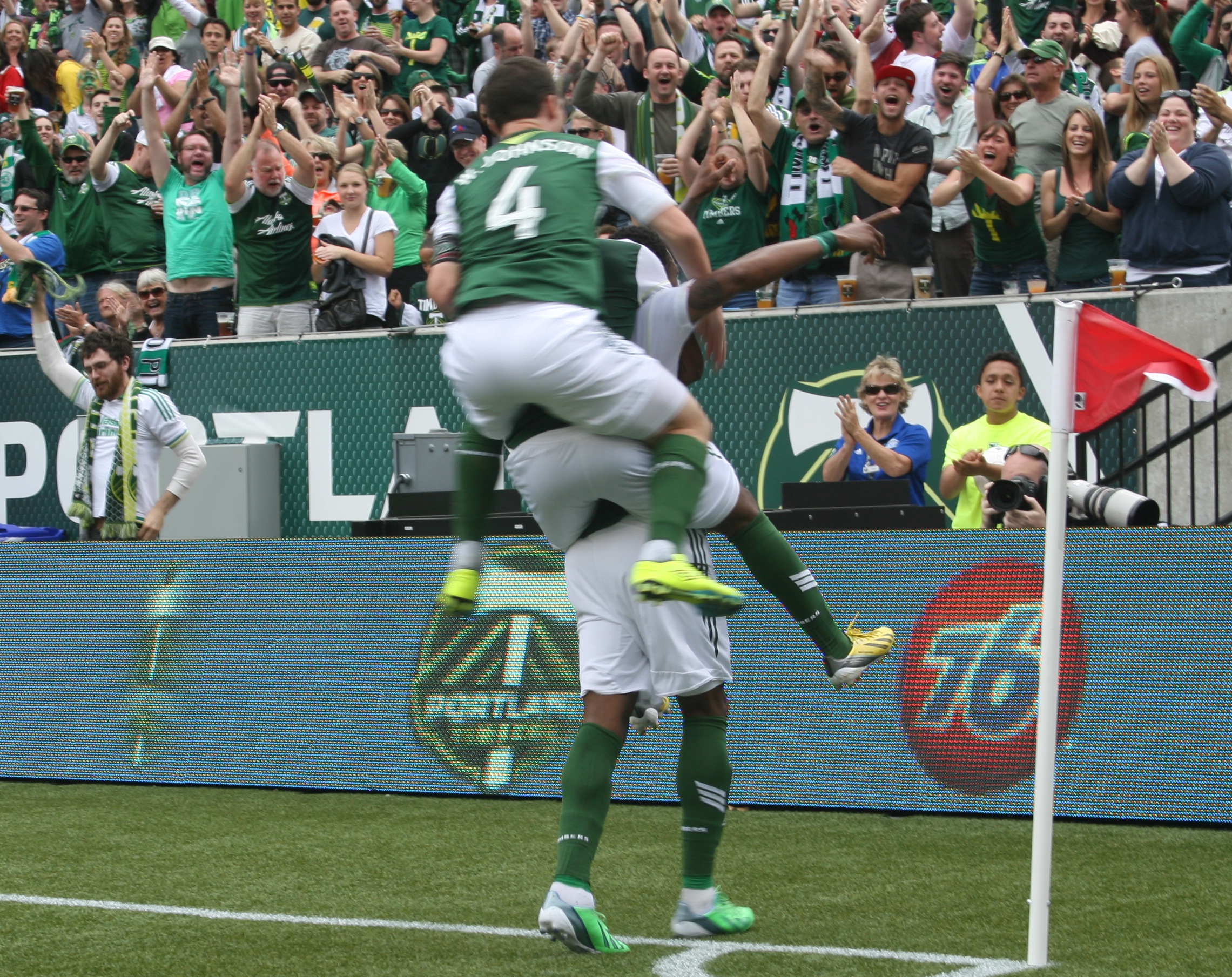 One game – just one game…  Keep the highs low and the lows high as Porter advocates on occasion…
But is that really enough to describe this match-up on a nationally televised game tomorrow afternoon?  For me, through all the hype, pomp, circumstance already being offered… No..
Bottom line up front — this is a marquee match-up between two of the top attacking teams in MLS in the Best Stadium in MLS.
But before I go OTT on the hyperbole about this game you may want to check out the tone-setting comments offered up by Caleb Porter, Jewsbury and Kah earlier today.  From the Timbers standpoint those words say it better than I can…
So with that to kick things off here's my run-down on factors or topics that might have influence in the outcome of the game tomorrow…
Stadium – To paraphrase Adrian Healey in a quick chat I had with him earlier today  …this is a great place to play soccer and perhaps the best place to play soccer in the United States…  Couldn't agree more and with the Timbers Army in full gear the atmosphere should be electric…
Weather – Partly sunny perhaps high 70's with a potential if the wind dies down to creep into the low 80's?  No rain in sight so a good chance of low humidity to go with that.  A great day for footy to go along with a great game of footy!
Standings – The Captain Obvious – Current first place team going head to head with the current third place team…  brilliant!  In my previous match analysis of the game in Frisco bottom line there was Portland remained unbeaten in 8 straight games – that's now 14 if you include Cup games…   For Dallas their only blip during that same time was a 4-2 loss to TTUN (that town up north)…
Goals Scored – No diagrams today; just some simple offerings.  Blas Perez is out with intestinal issues, apparently, so their top threats will be Jackson, Cooper, Jacobson?, Castillo and in my view Hassli.  George John will always remain a threat in set-pieces, so like Portland, Dallas have quite a few players who can put the ball into the back of the net.
The clinical types most relied upon to set those guys up are Michel and Ferreira.  To be clear this team has weapons and speed with Castillo and Jackson probably the most fleet of foot.
In the Timbers camp the bevy of attacking weapons is the same – if not slightly more dangerous.  And with a hot hand (Piquionne) starting in lieu of Johnson there is nothing lost given his recent form.  In the end I'm not sure you could find two teams that are better matched 'point for point' than Portland and Dallas.
Curved Air – In considering this match up and how things have played out for FC Dallas on the road this year I would expect them to push more long balls forward from Square 1 than they did in Frisco.  What does this mean?  Depends… If Hassli starts the game it is likely he will be the target player and with his entry, late in the last game, his presence could present issues for the back four.
If Cooper runs the top spot without Hassli then chances are the balls won't be played as far forward and Dallas will look to gain possession off the second chances as opposed to flick-ons that might be meant for Jackson and/or Castillo.
However played, second chances will be dangerous for both teams given their ability to counter.  As for Piquionne, he seems to have a knack for getting his head and chest to most balls and does a great job of visualizing and holding the ball up where appropriate.
Many modern purists might not like watching this game play out, but with a smaller pitch than most, many penetrations may come from 3-4 quick-pass combinations as opposed to longer, sustained, possession-based attacking.
If paying close attention to Portland these past few weeks the Timbers have improved this 'short-combo' type passing game considerably.
Penetrations – In the last match up Dallas looked to penetrate our right – their left 57% of the time… that's a huge disparity between the right and left and if this pattern holds true Jewsbury and Chara/Baptiste will be hard pressed.  But recall Jackson didn't play that game and the speed demon Castillo worked their left, out right.  With Jackson dressing chances are that same proportion of penetration might change.
So their wing attack should be dual sided tomorrow and both Valeri and Nagbe will need to stay engaged with the defending half of the pitch.
Let's not forget that if it wasn't for Chara's brilliantly placed tackle in the 18 yard box, slow-footed Ferreira would have smoked the back-four.  I'm sure that was offered up in the pre-match video analysis to remind the fullbacks and center-backs they need to stay home.
With respect to Portland – no real pattern on where Portland look to penetrate – the variation remains and is best described as being "rigidly flexible".  Porter leveraged Wallace and Nagbe equally and I would expect that same balance to continue with Valeri and Nagbe… with Zemanski slotting in as he did against Chicago; Defense first, defense second, attack the third…
Possession – I'm not anticipating long sequences of passes this game as I just don't think the pace of Castillo and Jackson on the wings will let that ride while Michel and Ferreira try to bottle up the middle.  Likewise I don't expect our three tackling terrors (Zemanski, Chara and Johnson) to allow Dallas much time on the ball either.
Chances are 'second chances' and deflections will drive this game and who is best at converting that quick counter with a turnover or who is best at converting an untimely tackle to a set-piece goal could win out.
Recall the last game against Chicago where Portland conceded 8 fouls in the defending third in the final 30 minutes of that game.  My guess is Porter will not want to see that type of poor positional play happen again.  And if noted in the interview with Jack Jewsbury, FC Dallas are very strong on set-pieces to include throw-ins.
Defense – In my view the trademark in this game will be which back four and combined defensive midfield will perform the best in shutting down the opponents attacking scheme.  Both teams are worthy and while Ricketts returns it does not appear that Fernandez will be available?  If Seitz gets the call it is likely they will play even more long ball from square 1 than usual for away games; others may have a different view?
Wild Things – Jackson, Jacobson and Castillo head the team as midfielders in fouls conceded with all three having Yellows and Jackson with his Red.  For the back-four Loyd leads them with 13 fouls while John has 2 Yellows.  The potential for set-pieces, given quick counters and deft passing/dribbling might yield that foul in an opportune spot.
We already know Baptiste had a rough go inside the 18 yard box in Frisco and that dubious foul just outside the 18 led to Paladini's wicked equalizer last week.  AJ will need to be in focus 100% this game and while I'm not suggesting this I wouldn't be surprised to see a more veteran pairing of Footy and Kah if Porter has concerns about loose play.  As for Chara, Johnson and Zemanski – Dallas should know they will get bruised and battered when entering the midfield area…
Substitutes – These selections could end up being the most critical tactical decisions made tomorrow; we saw a very effective Nanchoff perform against Tampa and we already know Ryan Johnson and Valencia can score goals.  So what about shoring up the back-four.  If Nanchoff isn't leveraged to fill in as a defensive midfield replacement then perhaps we see Sal Zizzo spell Jewsbury late in the game to increase the Portland pace down a wing in countering late game 'OTT' type tactics employed by Dallas?
For Dallas perhaps Jacobson or Watson are first in to the midfield while Hassli is a likely attacking substitution along with Castillo if Dallas decides to go with Jacobson to start with.
In Closing – To set the stage — simply stated – it should be a stunning, superb soccer match, on a sunny Saturday in Soccer City USA.
You can follow me on twitter @chrisgluckptfc
Next Up Match Analysis – Portland Timbers v FC Dallas