Match Preview – Portland Timbers vs Sporting KC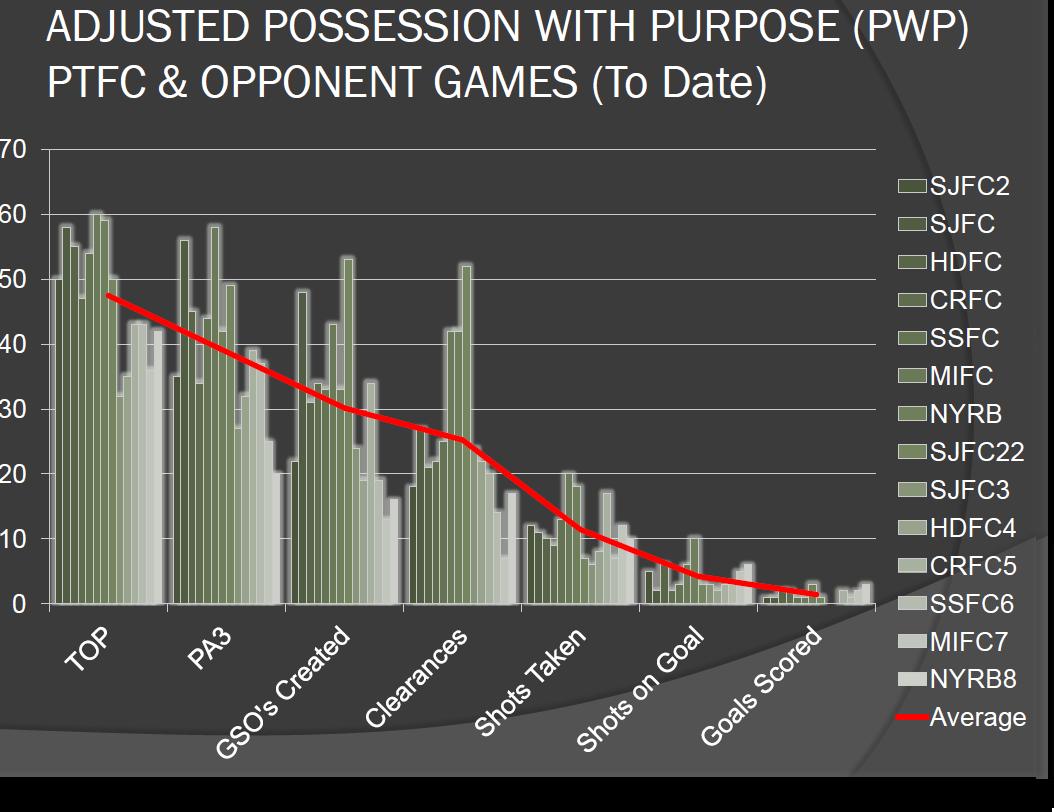 No rest for the wicked as the PTFC Road Show continues with a visit to KC this weekend.
I'm not sure we will see the same curved air approach in this one like the heart pounder in San Jose last week but the pace (on the ground) should be just as quick.  My early guess is this game takes a similar shape as the game in Seattle but more down our left on the defensive side then down our right.
Most know that Sporting are usually a possession based football club and for the better part of this year they have been on the plus side of 45 minutes; only three of eight games have seen them dip below 45 minutes and two of those games they won while drawing in the other.
In short order that pretty much means Sporting can win with or without overall control of the ball and with five shutouts a goal against will need to be a cracker…
SKC in Attack:
From what I can see their system of play sees their fullbacks pressing higher (kind of like how PTFC opened the season against New York and Montreal).  While their midfielders tend to pinch in to leave room up wide and high for Sapong and Zusi to roam. 
For me this is a typical "clog space to create space elsewhere" approach to free up the talented players 'to get on the ball' and take advantage of openings created in the defense.
Up top – Bieler is a more than capable front man – he has slightly more pace than RJ but is just a wee bit shorter; so far he leads their team in goals with 4 this year, coming from 22 shots taken with 7 of those on goal.
His partner in leading the team up front is the ever-hyped Graham Zusi; aye he has some very good ball skills and his dominance down the right should give Harrington quite a bit to handle.  Zusi is third in shots taken (15) and second in goals scored (2) while leading the team in assists with 3.
Balancing Zusi on the other side of the pitch is Sapong (16 shots taken and 1 goal scored).  Overall I would look for their fullbacks to penetrate the wings and deliver crosses or through balls into the middle for Beiler or a late running Zusi to latch on to.
To date SKC average 14 shots per game, 4 shots on goal, and at least one goal (average) scored per game; though they have been shutout three times and their three goal game was against Philadelphia in the first game of the season.
In their home two-goal outburst against Montreal Nesta did not dress so it's not the apples to apples comparison some might think when considering Montreal beat Portland (in JELD-WEN) earlier this year.
When shutout at home against Chicago Zusi primarily roamed the left side of the pitch while Sapong played right – oddly enough in that game there was no crossing activity from Myers or Sinovic (Zusi was the sole crosser that game based upon OPTA data available).
Another interesting consideration is that only two players for Chicago showed high heat level indexes in the attacking half of the pitch for the better part of the game; my guess (without seeing the film) is that Chicago did a great job of clogging the midfield and 18 yard box.
Their (Chicago) total of 46 clearances in the defending third pretty much support the approach they 'hunkered down' to weather the storm and play for counterattacks where appropriate; if that strategy worked for Chicago might we see Portland employ that same approach?
SKC in Defense:
Pedigree – Sporting already have 5 shut-outs this year; this is a top flight defense first, defense second and attack third team… none better at this time in the MLS.  Perhaps Portland catch them at the right time after a two nil loss to LA last week?
In that game (away to LA) it appeared that the primary pressure in penetrating the SKC defense came down their left and center with more crosses and throughballs/key passes coming from those areas than elsewhere.  Could this be an area for Portland to work in – Nagbe and Valeir play down their left and center…
Withtheir fullbacks pushing higher up the pitch there should be space down the wings (for Portland) if they can get early turnovers in the upper portion of the midfield. 
It also appears that both Collin and Besler will go wide and support/fill the voids left by Myers and Sinovic when they push up – we have seen this as an approach used by Portland earlier this season so their could be gaps down the middle if SKC are caught in transition; prime hunting ground for a trailing Will Johnson to pounce…
Portland Attack:
My offering is that Portland open up in the same formation that they did against San Jose; but the style and approach to penetrating the attacking third will probably not be the same type of curved air attack we saw against San Jose.
Aye, there might be early pressure from SKC to get an early goal and clearances may be the norm for the first 15-30 minutes or so but look for Portland to gradually settle in and try to dominate possession on the ground. 
Ball control in this game is as much of a defensive approach as it is to poke and prod for a quick attack like we saw in San Jose; 6 to 9 touches in a confined space that get the one-off goal.
Counterattack – Myers and Sinovic definately pinch high on a routine basis and garnering a turnover in the middle of the pitch could see great opportunities for Portland given their vision, athleticism and pace up top… 
Portland Defense:
Fullbacks – Harrington and Jewsbury will be busy guys this weekend and both Nagbe and Wallace will need to be 100% engaged in closing down the open space that might filter through for Zusi and Sapong as Myers and Sinovic press high; SKC are not Capt Obvious in their penetration all the time.. both sides will be poked and they will look for weaknesses… 
Central Midfielders – With Zusi showing signs of appearing on the left or right we might see Portland man-marking him at times with Chara or Johnson specifically focused on him as he moves from right to left…
With that both Chara and Johnson will also need to keep a keen eye out for players trailing into areas atop the 18 yard box; Feilhaber is one of those guys to pay attention to; he has pedigree and has superb vision.
Center-backs – I wouldn't be surprised to see Futty continue in his starting role – he has done well these last two games but the pace and style of this game might not suit his strengths until we see set-pieces come into play with Collin and Besler trotting forward.
Possession – clearances – lots of them are usually a sign of panic and 'less thinking' and 'more hoofing it'… more controlled exits from the defending half to the attacking half are key for Portland – especially late on with a one goal lead; I am hopeful if PTFC are leading in the final 10 minutes we don't see the same deep drop-back and high level of clearances…
In closing…
It's a very long season and it's unlikely Portland will stay undefeated on the road – three points is superb – giving away late goals is not.  I would offer that if Portland does have a 1 goal lead we don't see Alhassan come on late – once bitten twice shy in my opinion. 
More likely we will see Zemanski and perhaps Miller with Piq rotating in and staying up high.   Just curious – we have yet to see Portland open up with a two-striker formation… I wonder when we see that especially since Caleb has indicated he's not a 4-3-3 guy through and through???
I'm not sure on the status of Sal Zizzo but if ready to play after the Reserve match this week we could see him return to the bench and provide solid substitution support in both attack and/or defense.  Having Sal back increases variation and flexibility in a big way for Portland!
If Portland is trailing in the final 20 minutes or so Valencia and Piq and Alhassan are there to add attacking value – Valencia is plus 3 when coming on the pitch in the late stages and with a game coming up on Thursday of next week he may be someone we see anyway given any circumstances.
Backstop – Ricketts continues to pay dividends and the postive media attention these past few weeks is worthy; he made another Mister Fanstistic save last weekend against Wondo and a great leg-kick save against Lenhart – there is downright goodness in his size and the guy really is 'switched-on' to the fluid motion of the game.
Nuance and deception as opposed to cold hearted blasts is my hope in this really tough road match…  I would not prefer to see a wide-open game – I'm not sure I see Portland taking three points in that type of game; a really boring game would be good with a set-piece winner by Portland.
Next up Match Analysis…