Portland Timbers battle San Jose to 3-3 draw in maiden game at JELD-WEN Field this season

Finally… the long wait is over!  PTFC opened the pre-season at home with a hard fought 3-3 draw against San Jose.
No rest for the wicked that night – that's for sure.  Brutal in it's opening 3 minutes and redemption quickly to follow.  I'm not sure how this season will play out for PTFC this year but the Possession with Purpose (PWP) game is 'afoot'.
On a slightly chilled evening the temperature and atmosphere were electric – new faces for the Timbers and a long awaited return to JELD-WEN for the TA and many other Portland Timbers fans.
It didn't take long to see how this game would take shape – control with lots of pace, space and in your face football.  There were plenty of nuggets to pull from this game; first of which is the clinical like precision of Ryan Johnson in his home debut.  Hat Tricks are special – no matter when they occur!
But before I go further, as usual, my slight nudge that there may be value and benefit in you grabbing a cup or pint of your favorite bevvy.
So on to the grist as Portland prepares for todays game against FC Dallas…
For those tracking PWP I am adding two new diagrams for your consideration; one that is intended to show what basic areas of the pitch both San Jose and Portland leveraged in penetrating the attacking 1/3rd while the other will offer up a time sensitive (bar chart) display of info on data collected to date.
As the regular season begins I will work to expand on that bar chart so that trends and progress can be tracked.
Here's a reminder of the PWP Pyramid: Note the "Penetrating the Attacking 1/3rd" (PA3) has a color change to indicate a different focus.
In the diagram above the areas shaded in green are those areas that will be referenced in the next two diagrams; PWP for Portland versus San Jose and PWP of San Jose versus Portland.
What these diagrams do not show is where the Goal scoring opportunities (GSO's) originated from.  Most who watched the game may have noticed that all three San Jose goals originated from penetration down our right wing side.  For Portland, two of the three GSO's that generated goals (1st and 3rd) originated down our right wing side.  If memory serves the 2nd scored by Portland came after Valeri played in a wicked throughball to Johnson as he penetrated down the middle.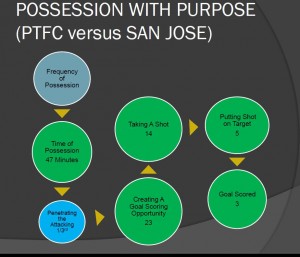 As previously talked to; the color of green indicates where Portland was more productive or at least was tied by San Jose in Shots on Goal and Goals Scored.  I did track Possession time this game and Portland ended up having 47 minutes of possession while San Jose ended with 46.
Not much difference there really – and other folks devoted to just keeping time may have had a different result.  However you paint it, my sensing is that both teams had controlled possession and both teams did very well in moving the ball from back to front without relying on too much direct play.
As a side note; in watching the FC Dallas v AIK game and then the follow on game with PTFC v SJ many might have seen a great contrast in how teams looked to penetrate the attacking third.  Both FC Dallas and AIK played more to the Direct Attacking style while both PTFC and SJ played more to the PWP style.
On to the diagram for San Jose versus Portland Timbers…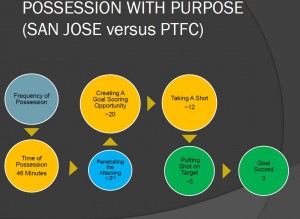 Note that there are a few ~'s used here; I had to rely on some quick judgment, at times, given the pace of the game – when the regular season rolls around I will be able to confirm these numbers more accurately with use of my DVR.
Some might offer that OPTA can provide some of this information – fair dues but here's a reason or two why I prefer not to rely on it.
I have no idea who enters the data in OPTA during game day.  In asking around some have indicated media interns or perhaps young soccer players enter the data.  It remains unclear to me so I would prefer to rely on what data I can capture.
Another reason and perhaps the underlying reason why I don't totally rely on (trust) OPTA has to do with two data points they attempt to capture and analyze (Key Passes and Big Chances) and offer them up as key considerations/data points.
As explained in their fantasy rules Key Passes are a judgment call based upon the analyst collecting data and determining whether or not that pass was a 'key pass' (after the fact).  In other words they use their judgment after a pass has occured to determine whether or not something 'of value' resulted from that pass.
For me this is simply not true based upon my training; all passes are key – to differeniate and create hyperbole that one pass is more key than another pass is unclear.  If anything, in my view, it diminishes the importance of passing (in some areas versus others) and for younger players this approach may? take away from the import to learn about teamwork and ball control/possession.
For example; in the defending third, if any pass is intercepted it can lead to a quick counterattack and goal for the opponent – hence all passes in the defending third are key.  In the middle third any pass is a key pass; why? Because if any pass is intercepted it can also lead to a quick, penetrating switch, that leads to a GSO.  And from an attacking point; the same can be said as well; given proper angles, communication, and good movement by forwards any pass can lead to a GSO and a goal.  Therefore, in my view all passes are key passes.
A more realistic statistic to track and trend are passing completion percentages; OPTA does track that but completion percentages are relative to individual statistics added up over a game; there are not relative to a teams ability to collectively possess and control ball movement (in a single stream of events) that leads to a GSO, Shot Taken, Shot on Goal and Goal Scored.
The other one I have heartburn with is "Big Chances".  This one to me also doesn't make sense; perhaps other can help me understand the wisdom of judging something as a Big Chance when there aren't decisions that also judge things on whether or not they are Large Chances, Good Chances, Minor Chances, Small Chances or No Chances?
If a forward (striker) misses a shot it doesn't matter if it was a Big Chance or Little Chance.  A more realistic statistic to measure productivity for forwards is conversion rate; the percentage rate of the number of goals scored versus the number of shots taken.
What would be intriguing to me is to see OPTA highlight in red the collective stream of passes that occured in generating a GSO, that leads to a shot taken and a goal scored/not scored.  That might? provide a much better analytical tool to analyze some good passing statistics that have relevance in the outcome of a game; thoughts?
So with that said I would just prefer not to rely on OPTA; others may have a different view.
With that off my chest on to PA3…
The two diagrams below are not intended to indicate whether or not a PA3 generated a GSO; I've not got there yet in how I will capture that accurately.  For the purposes of these two diagrams the percentages indicated in the pie charts are trying to represent what amount of PA3's occured in the three different areas; Down the right wing, down the middle or down the left wing; note in reference to our opponents data it is referenced with respect to 'our right wing' not theirs.
For Portland, there appeared to be much more variation in where they penetrated; two goals did originate from our right wing while the third seemed to originate from the middle.  For me variation is good here and the more variation the better and the harder it is for teams to defend against the Timbers.
What to look for in the future are increases in one area versus another – those swings might indicate an increased focus based upon a weakness PTFC sees or, they might indicate that the defending team is having more success in stopping penetrations in one area or another.  For now balance is good (33%, 34%, 33% would be a stretch target I suppose).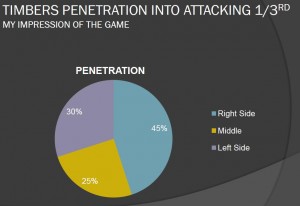 For San Jose (below).  Their PA3 approach didn't take long to see; early indications showed their intent to penetrate down our right wing and they pretty much stayed the course throughout the game.  In their first goal (3′?) San Jose penetrated down our right and delivered a cross into Fucito near the penalty spot; he turned, struck and got the handball call against Baptiste. PK awarded / one – nil.
For the second goal, in the 39th minute, San Jose delivered a free kick from about 10 yards inside the midfield side on our right wing – free kick was on target / near post / and Bernardez deflected home.  Note: in case you missed it I would submit that in the last (10 minutes) of the first half San Jose had better than 70% (~ 7 minutes) possession of the ball; it's no wonder they scored an equalizer in that time.
For the third goal a poorly cleared ball out of our deep right wing resulted in a scramble in the middle part of the 18 yard box; after an initial save San Jose scored the equalizer.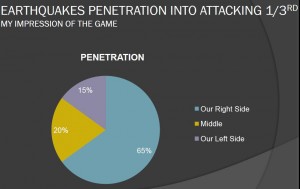 In closing some submittals on this diagram; as the season progresses I will try to capture and retain this information to track and trend our western conference opponents.
Without having more data to consider it is difficult to interpret whether or not PTFC purposefully channeled San Jose down our right wing or whether San Jose purposefully channeled their attack down our right wing; more to follow.
With respect to the regular season opener against New York in a couple of weeks.  Something to consider might be what approach PTFC could take to channel the ball away from Thierry Henry.  That is a difficult task for any defense but his tendencies in the past seem to indicate he likes rotating back a bit higher on the defending teams right wing.
Like Wondolowski, Henry was a top player in MLS last year – their presence on the pitch isn't necessarily the value they bring with being on the ball; they also create value by creating space for others (with their presence elsewhere) on the pitch.
For the game tonight… Jackson was quite productive for FC Dallas against AIK the other day and it is likely we may see him pop up on either the left or right wing of our defense.
Knowing his productivity and that Michal played a bit higher as a defensive mid it may be reasonable to expect that when FC Dallas attacks they will look to combine Michal with Ferriera and Jackson down either wing in order to try and open up some space for Cooper or Perez; that is if they don't result to kick ball like they did against AIK.
Now on to my last diagram and perhaps the most important one as the regular season progresses.  Caleb Porter has made it a point to indicate that controlled possession leads to greater opportunities in winning games; which would mean more goals scored than the opponent.  I'm in support of that approach but executing that style will not be easy.
In considering that here are the rough data points shown below in relationship to each other.  As more games occur these points can be viewed individually or collectively.
It's my hope that the initial pattern of relationship between possession minutes and the other graphic points will show a relationship; at first glance it does appear there may be a 'curvelinear' relationship; but more data and inclusion of total posssessions and PA3 #';s should help flesh that out a bit better.
Some technical notes about the graph.  The sharper light blue is what I will offer up as stretch targets (something perhaps achievable but very difficult and above average for MLS in most cases.  The yellow bar indicates an average expectation going into a game given previous data (FY MLS 12 statistics or an average expectation/goal relative to 'possession time' for team moving from Direct Attacking Football to PWP).
The light blue bar represents some data points I collected when PTFC played Seattle a week or so ago and the green bar represents outcomes from the game against San Jose.  Since I didn't track possession time in the Seattle game I left it at 45 minutes.  When the regular season starts only last years average and the stretch target will carry over; data from pre-season games will be deleted.
In closing…
Both teams did well and fought hard to control possession; neither had to resort to 'direct attacking football' so PWP was alive and kicking this whole game.  A draw was a worthy result for both teams and it is just pre-season; a win would have been great but it is what it is.
I would submit that a bit more work in tightening up the defensive scheme of things is relevant; although not talked about a whole lot I would be surprised if there were more than a handfull of clubs who have scored three goals against a  Caleb Porter led team.   PTFC had at least two weaknesses last year; goals scored and goals against… both sides of the pitch have relevance in this team bringing success to the pitch and results in the league table.
With respect to overlaps by our fullbacks; Michael Harrington, did, on the rare occasion penetrate deep into the attacking left corner; Ryan Miller on the other hand, did not if memory serves; perhaps others saw different?.  As with games against Seattle, SKC and now San Jose maintaining a higher pitch presence with the fullbacks will allow the more skilled players to work their magic down deep.  It also helps ensure defenders are near-side in case of a counterattack resulting from a turnover.
Superb buildup and great ball movement on any number of occasions the other night.  It will be intriguing to see who gets the head nod to start tonight and how PWP takes shape.
In a press release just issued by PTFC they have confirmed Mikael Silvestre has signed with the team; in my view not much was lost in yielding draft picks.  With the level of off-season transactions this past year it seems like supplemental draft picks are treated with the same regard as allocation money.
With two injuries (Richards and Dike – possible season long recovery times?) and no-doubt the pending move of Franck Songo'o somewhere (breaking news after reading the latest article from the Axe) http://theaxepdx.com/2013/02/20/saint-mikael-and-other-oddities/  Houston have not reached agreement with Franck Songo'o and he is no longer on trial with that team; where does he go or fit?.  Merritt offered up some pending moves and the Songo'o one is probably down to discussing allocation money / supplemental draft picks as opposed to another player.
Hopefully another cracking game tonight!
You can follow me on twitter at https://twitter.com/ChrisGluckPTFC