Will a Ballon D'Or Winner ever play in Portland?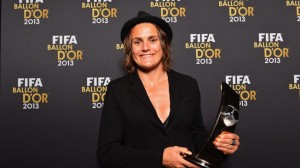 An idol thought I've indulged a few times since the moment the Timbers announced they'd reacquired top flight status a few years ago.  But in any of those MLS based daydreams, the timeframe was always at least 20 years from now.  Will a Ballon D'or winner ever play in Portland?
With the formation of the Thorns, and the acquisition of Alex Morgan, they picked up a player who had been in the Final 3 for the FIFA Women's World Player of the Year in 2012 (note: The women's award is not called the Ballon D'Or).  Perhaps she would be the first.
This year both Morgan, and fellow Thorn Christine Sinclair made the shortlist of the final 10 candidates, but were not part of the top 3.  Thus the answer to my musing seemed settled on "not this year."
Then on Monday the 13th the news broke that the Portland Thorns had signed German National team Goalkeeper Nadine Angerer just hours before she would be honored as this years FIFA Women's World Player of the Year.  In a single moment the answer was Yes and I was left a little stunned.
For the 2014 NWSL season, The FIFA Women's World Player of the year will be playing in front of Portland's 13,000+ fans of women's soccer.
New Thorns Head Coach Paul Riley spoke of the qualities that made Portland go after her.
It may not be a quality often attributed to keepers, but Angerer is really good with her feet and quick off her line, Riley said. That quality will enable the Thorns to conserve their back line and allow their defense to play higher up than they did in 2013.

"I think Nadine's feet will be critical for us," Riley said. "We want to be knocking the ball around in the other half. We want our fullbacks to be really high. Most of the time we'll defend with two players and other than that we'll be flying everyone forward."
In short it seems like we can expect to see a Thorns goalkeeper take her own goal kicks in 2014.
So Many changes and its only been a couple months since the season ended with the Thorns raising their first trophy.  In the next week or so we will walk through the changes at the Thorns this offseason.