Boston Breakers in Portland Tonight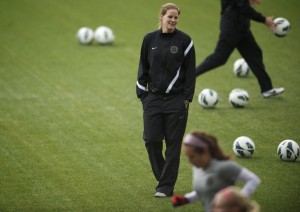 After a couple of gameson the road, the Thorns come home tonight to play against a boston breakers team led by Sydney Leroux's 8 goals on the season.  Leroux is tied for the league lead with Kansas City's Lauren Cheney.
Personally I had to miss the last home game, so this is my first chance to watch the team play in nearly a month.
My question is, Where will Christine Sinclair play?  Yes she is on of the best goal scorers of all time.  Her 145 career international goals ranks 3rd behind Abby Wambach and Mia Hamm.  But so far this season, her biggest impact has come as a midfielder.
Portland tried to play with both Alex Morgan and Christine Sinclair as forwards in the first couple games of the season.  Results were mixed and play was choppy.  Gradually Sinclair dropped deeper and deeper into the midfield to help knit the possession together.  Yes she can score goals, but her ability to help the Thorns Midfield to dominate that crucial area of the field creates so many more opportunities for her teammates.
Alex Morgan does a good job of leading the attack, of pushing defenders towards their own goals and providing an outlet for the direct long ball when its on.  This allows Christine to drop into the middle of the park and help create.
The acquisition of Mana Shim to link Sinclair and Morgan has proved problematic for opposing defenses.  Shim does an excellent job of filling in for Sinclair.  Christine likes to move about the park a bit.  Sometimes she goes on the long forward runs we are so used to seeing from her.  In these moments,  Shim has done a great job of filling in the gaps defensively.
LOSS OF EDWARDS
The loss of Becky Edwards for the season is going to be an issue.  So far, coach Parlow Cone's response has been to play with 2 defensive mids,   She's had to bring in Courtney Wetzel and to play her along side of Allie Long, who has been asked to sit deeper in front of the defense to help provide a screen.  Short answer,  at the moment it takes two players to do what Edwards had been doing by herself.
Going into tonights game, Thorns FC sits in 2nd place.