Monica Stonier might be back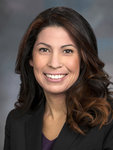 When Monica Stonier was trailing by a little more than 1,000 votes last November, she called her challenger Republican challenger Lynda Wilson and conceded defeat.
It was clear Stonier, a Democrat, didn't want her political career to be over.
In her bid for the state House, she raised a lot of money.
She had more than enough volunteers.
She spent every free moment ringing doorbells.
She was at a loss for what else she could have done to secure the seat.
"Politically, I have to say it's a tough ask to continue to run such a strong campaign that requires so much time and energy in a district that will continue to swing one way or the other," Stonier told The Columbian at the time.
Stonier may have figured out how to get herself back in the state Legislature: she moved.
Her new address is in the much more Democratic-friendly 49th Legislative District.
Stonier confirmed the move, but did not go into details as to whether it was so she could launch another run for the state Legislature in a much friendlier district.
She could run a campaign against the long-time incumbent Rep. Jim Moeller, D-Vancouver, who holds the second most powerful seat in the House, but that's unlikely.
Remember that rumor back in November?
The one where Moeller contemplated a run for the Lt. Governor's seat?
Moeller hasn't publicly announced he will run for the seat.
But it appears the wheels are in motion.