Campaign highlights shooting of Vancouver Police Officer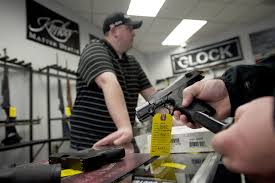 In an effort to promote the I-594 campaign, which would expand background checks to online gun sales and private transactions, the Brady campaign is highlighting the shooting of a Vancouver Police Department officer that took place earlier this year.
A  Brady Center to Prevent Gun Violence's report shows that more than 460 law enforcement officials in the state have been attacked by an armed individual from 1997 to 2012. That's an average of about 31 officers a year.
One of them was Vancouver Police Officer Dustin Goudschaal. Officer Goudschaal, who was 32 at the time, was shot seven times on June 30 during what he expected to be a  routine traffic stop.
James Sapp, considered a white supremacist, fired at Goudschaal until his gun was empty, hitting him seven times; twice in the head, once in his ballistic vest and in his arm, shoulder and leg.
While fleeing the scene, Sapp stole a vehicle from an elderly man and punched an elderly woman twice in the head. He had a long criminal history dating back to 1988 and a warrant out for his arrest stemming from a drug case.
Thanks to his ballistic vest, Goudschaal survived the shots. After trying to commit suicide in jail, Sapp died in July.
The campaign is using it as an example of why expanding background checks is crucial; Sapp would never have passed a background check.
Opponents of the measure and those backing I-591, which would prevent the state from creating any new background requirements beyond what the federal government allows, have argued criminals like Sapp would not be stopped by a background check. Instead, they maintain, it will be law-abiding citizens who suffer from the measure.
The race between the so-called dueling measures has attracted nationwide attention from the start. Those supporting I-594 include noteworthy individuals from New York Mary Michael Bloomberg to Congresswoman Gabrielle Giffords.  Millions have poured into both campaigns. Alan Gottlieb who is behind I-591 said he's still hoping the National Rifle Association gets more involved in the race.
Some have speculated there's a chance both measures could pass. If that were to happen, it would likely be up to the Washington State Supreme Court to decide the next step.