New poll: Measure expanding background checks on gun sales gaining support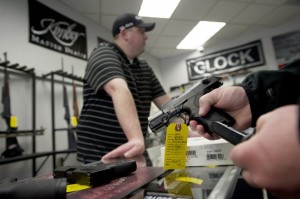 A poll released today shows a November ballot initiative, which would expand background checks on private and online gun sales is gaining support among Washington voters.
In April, a Stuart Elway poll showed the majority of the state's voters supported two diametrically opposed gun initiatives slated for the November ballot: one expanding background checks on private and online gun sales and the other preventing the expansion of background checks.
The most recent Elway Poll released Tuesday showed voters have taken a closer look at the so-called dueling initiatives and the pro-background check initiative's campaign is gaining momentum.
The polling was done July 8-11 and surveyed 506 registered voters.
Here are some highlights from the survey:
-In April, the poll showed 50 percent of voters who wanted expanded background checks (I-594) planned to vote for I-591, which would restrict adding background checks. This month, that dropped to 40 percent of those favoring more extensive checks intending to vote for the measure preventing such checks. If both measures were to pass, it would likely go to the state's supreme court.
-The more recent poll states the shift is indicative of more voters casting a vote that aligns with their thoughts on gun control. Voters are in favor of expanding background checks to private and online gun sales by a 2:1 margin over those who would like to leave the system as it is.
-The partisan divide remains: 65 percent of Republicans were in favor of I-591 (down from 72 percent in April) while 55 percent of Democrats were opposed to I-591 (up from 42 percent in April).
Both measures are attracting a lot of attention and money. The Associated Press recently reported to two campaigns have pulled nearly $3.6 million in contributions. Pro-background supporters have raised nearly $2.7 million for I-594, while those who are opposed to any changes have raised about $800,000 for I-591.