Keep Fido at home when heading to the market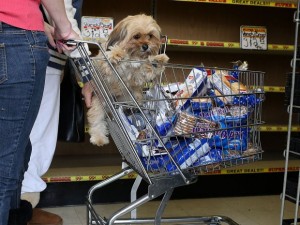 Bonnie Sabel was looking for a "hero" –  someone to protect her organic produce from dirty, little dog germs hitching a free ride down the grocery aisle.
So, she wrote her local lawmaker Rep. Liz Pike, R-Camas.
"It is not sanitary for a dog to ride around in a grocery cart, and then that cart doesn't even get washed and the next user of the cart is totally unaware that their fresh produce really needs to be sanitized with a soap product before eating," Sabel shot off in an email to Pike.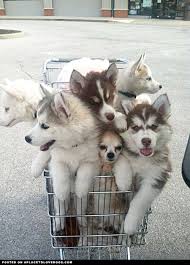 She continued, "What are we to do?  Line our shopping cart with newspaper each time?  … I am so disgusted with what I am seeing, and it seems to be happening more frequently."
Pike wrote back, "Let me look into some possible legislative fixes that will ensure a more germ free environment in our grocery stores."
KATU reported earlier this year the Oregon Department of Agriculture received more than 50 complaints in 2013 about non-service dogs in stores. Fred Meyer Spokeswoman Melinda Merrill told the TV station the problem is worse. 
"Every single day at every store we have a complaint about an animal in the store," Merrill said. "The issue of non-service animals in our stores is actually a very frustrating one for us."
It turns out no legislation is necessary. Pike sent Sabel some information back, which Sabel promptly printed and took to her local grocery store manager:
It is up to the individual business to determine whether to allow animals, including service animals, in grocery carts. They do not have to allow pets or service animals in cars and health codes could prohibit animals being in carts.
Hopefully Sabel will be enjoying some organic produce, sans dog hair, very soon.