Complaints fly in Republican vs. Republican battle in conservative district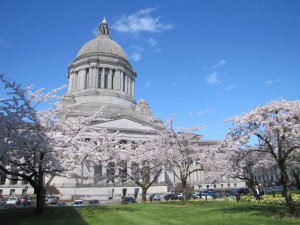 Sen. Pam Roach, the longest serving GOP state Senator, friend to Vancouver's own Don Benton and long a controversial figure in the state's upper chamber, is being accused by her opponent for taking time out of the legislative session for a junket to Turkey.
Rep. Cathy Dahlquist, R-Enumclaw, is hoping to unseat Roach, of Auburn, and has joined forces with Rep. Chris Hurst, D-Enumclaw, to request the Washington State Legislative Ethics Board  investigate Roach's trip.
"At home here in the 31st Legislative District, the weary and hard-hit citizens, who were still suffering from the Great Recession, were relying on legislators like Senator Roach to help them and their families," an excerpt from the complaint reads. "She wasn't helping them because she was in Azerbaijan on a trip visiting the Blue Mosque and going on a cruise on the Caspian Sea."
The News Tribune reports this is not the first complaint flying between Hurst and Roach. She filed a complaint with the Public Disclosure Commission accusing Hurst of using his campaign finances to slam her candidacy in a letter.
Hurst told the Tribune he was rooting for Dahlquist.
"When I meet with constituents, the question I get more than any other is, when is someone going to do something about Pam Roach? In recent years, Sen. Roach has become increasingly combative, unstable and ineffective," he told the News Tribune.
Roach accused Hurst earlier of convincing a Democrat to run solely to hurt Roach by keeping serious contenders out of the race.
Locally, none of our region's state senators are up for re-election. The battle for who will control the state Senate will be fierce.
Senate Majority Leader Rodney Tom, one of two Democrats who joined Republicans in 2012 to form the Senate Majority Coalition Caucus and give Republicans majority control, unexpectedly dropped out of the race.
The two candidates who receive the most votes in the August primary, regardless of party, move to the general election in November.