Congresswoman Jaime Herrera Beutler and Mayor Tim Leavitt trade barbs on Pearson
In a Vancouver City Council meeting last week, Mayor Tim Leavitt said U.S. Congresswoman Jaime Herrera Buetler, R-Camas, tried to "back (the city) into a corner" to support her legislation giving the city control over the Pearson Air Museum. 
"Congress people propose bills all the time that they don't ask for city support on," Leavitt said in the meeting.
Herrera Buetler blasted back in a letter to Leavitt.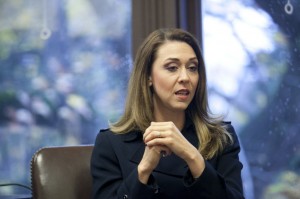 "I only introduced my bill last year after obtaining support from both the Trust and the City," she wrote.
The city recently withdrew its support of the Congresswoman's measure, which would have transferred the museum and surrounding 7 acres from the Park Service to the city. The city's move means the National Park Service will likely continue to operate the Pearson Air Museum.
The Congresswoman wrote Leavitt she had no interest in "forcing responsibilities on the city it does not want."
But, she continued, "Instead of criticizing the collaborative efforts in which the city played a significant role and deflecting responsibility for the sudden change of heart, I ask you to join me in an honest effort to work together in accomplishing not only what we both want, but more importantly, what this community deserves."
The Mayor responded.
In an email to the Congresswoman's legislative director, Leavitt said since he had "important and productive" business to do, his reply would be short.
The city's previous support for Herrera Beutler's bill?
"Premature, and clearly … ill-advised," Leavitt wrote back.
The measure itself?
"A more evolved and reasoned perspective leads one to acknowledge that a Federal House Bill attempting to peel off a part of a National Park in Vancouver, Washington, because of a local personality and operational differences between the landlord (NPS) and Tenant (FVNRT) is, at best, nonsense," Leavitt wrote.
He ended his email, urging the Congresswoman instead spend her time to work with the "Parks Service to revise internal procedures that allow for more flexibility and clarity for local Parks Officials to work with local agencies, especially in urban environments."