Billy Frank, Jr., a tribal activist and "a true legend," dies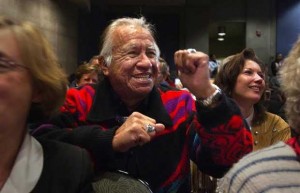 Billy Frank, Jr., a Nisqually tribal elder, a fisherman and an advocate for the Northwest tribes, a man the governor called a "true legend," died Monday.
"He was a selfless leader who dedicated his life to the long fight for the rights of our state's native people. Billy was a champion of tribal rights, of the salmon, and the environment. He did that even when it meant putting himself in physical danger or facing jail," Gov. Jay Inslee said in a statement.
Inslee said he was thankful Frank was alive to see the 2014 Legislature overturn convictions stemming from the "Fish Wars" of the 1960s and 1970s. Frank was one of many tribal members arrested for exercising treaty rights to fish.
"Billy was right on this issue and the state owed this gesture of justice to him and others who jeopardized their liberty to fight for treaty rights," Inslee said.
U.S. Senator Patty Murray, D-Wash., noted Frank was the "state's foremost advocate for tribal rights, salmon recover, and conservation efforts."
"From the members of Washington state's tribes to all of us who cherish our natural treasures and salmon-fishing heritage, Billy Frank's remarkable life touched everyone who calls Washington state home," Murray said in a statement.
Frank's life story was chronicled by Trova Heffernan in her book "Where the Salmon Run: The Life and Legacy of Bill Frank Jr."
"Billy was a singular force of nature and a central player of tribal-state relations in the past half-century. Long after the `Fish Wars' were settled, Billy remained engaged as the longtime leader of the Northwest Indian Fisheries Commission, patriarch of higher education for tribal youth at The Evergreen State College, and a tireless voice for economic and social justice. He will be missed, and it will be up to all of us to carry on his work," Secretary of State Kim Wyman said in a statement.