"There is no longer anything foreign about foreign policy"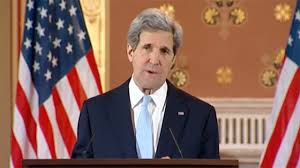 U.S. Secretary of State John Kerry said the nation is more "intertwined than ever before with the lives of people in parts of the world that we may have never visited."
"In today's global world, there is no longer anything foreign about foreign policy," he said in a speech a little more than a year ago.
To drive home his point, the U.S. State Department recently launched an interactive map highlighting its impact on each of the states.
You can check it out by clicking here. 
Here are some highlights from Washington state, from the website:
Washington hosted 4,868 foreign physicians, teachers, camp counselors, au pairs and others as part of Department of State work and study-based international exchange visitor programs.
The Department facilitated the United States' 2012 Memorandum of Understanding with Serbia which expanded trade and investment opportunities with technology companies in Washington State.

The Consul General of the U.S. Consulate Shanghai joined the U.S. Department of Agriculture's Trade Office to welcome the first shipment of U.S. pears (valued at over $100,000) to China, representing new market opportunities for pear producers in California, Oregon and Washington.