Stuffed Cabbage and Pepper Soup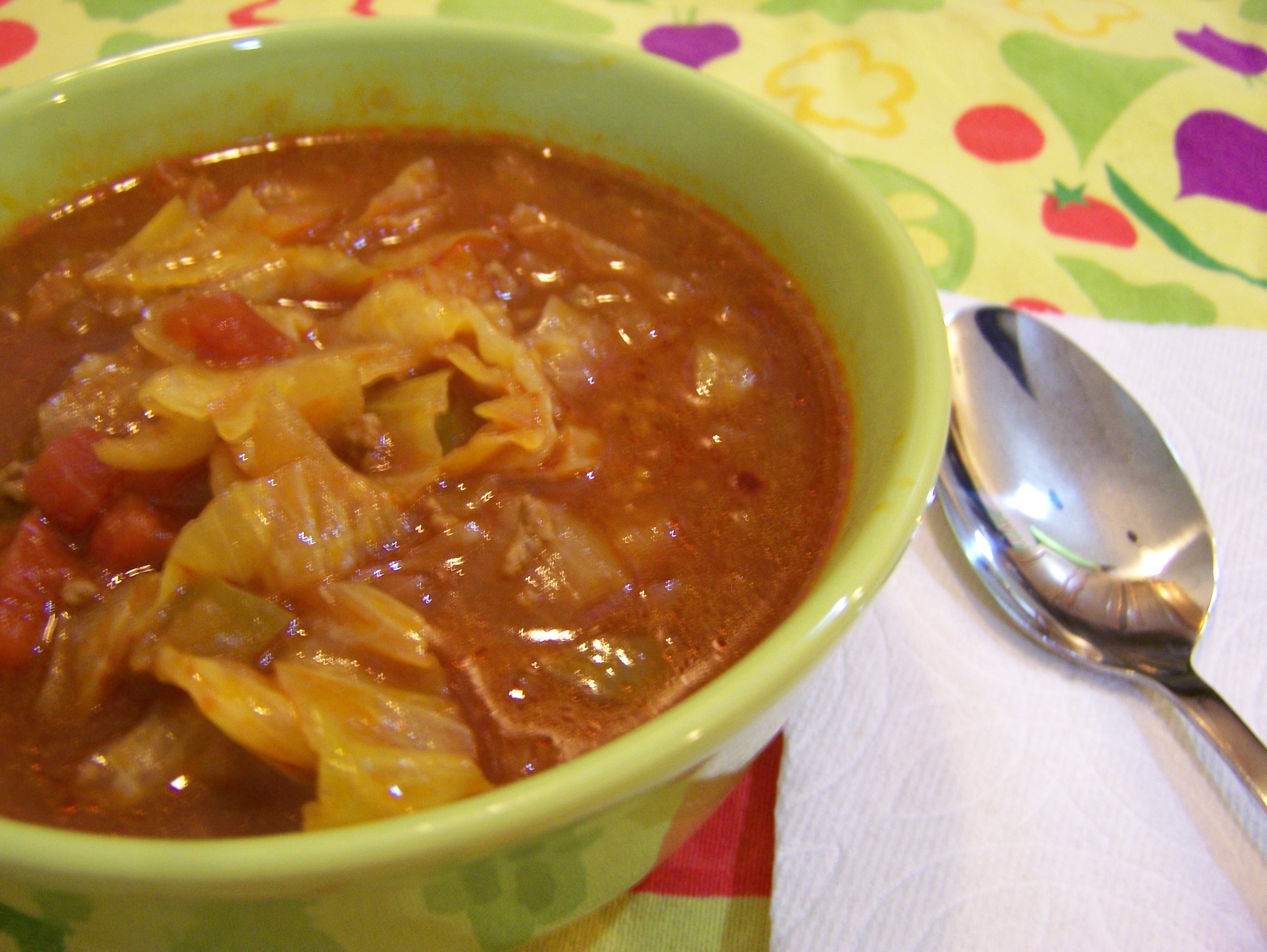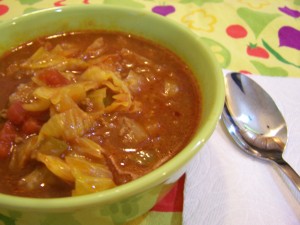 While the weather here is getting warmer and the sun is getting shinier, it wasn't that long ago that we were experiencing chilly, rainy evenings and soup was the perfect thing to put on the dinner menu. Despite the nicer weather, we all know that in the Pacific Northwest another rainy soup-ish kind of day may be just around the corner. Here is one to keep in your pocket (not literally, soup is hot) for your next soup-ish day.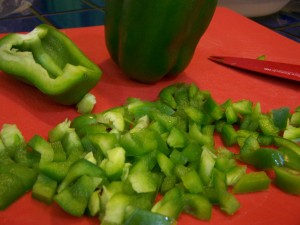 A few weeks ago, when I was feeling quite soup-ish myself, I looked to my good friend Pinterest for inspiration and I found it in two different soups. One was a stuffed cabbage soup, the other a stuffed pepper soup. They both looked so darned good and my indecisive parts really wanted both, so guess what? I made a combo soup! I bring to you the stuffed cabbage AND pepper soup. Who says you can't have it all? Well you can, at least when we're talking soup. I was a little worried about the umm power of the cruciferous veggies in this dish (some interesting reading on that here), but I ended up really enjoying this and my tummy was just fine. Since both stuffed cabbage and pepper dishes traditionally use rice, and rice is not paleo approved, I used the go to paleo rice substitute; cauliflower rice. You can mix this right in the soup or make it separately, adding the "rice" to your bowl first then ladling the rest of the soup on top. Cauliflower rice actually can be used in a lot of paleo dishes. I promise to bring you cauliflower fried rice soon. Here's a nice boring picture of the "rice" cooking.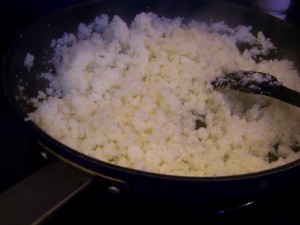 What I liked best about this soup was how comfort-foody it seemed while still being pretty darn good for you. Hope you enjoy and tell me what's your rainy day go to food?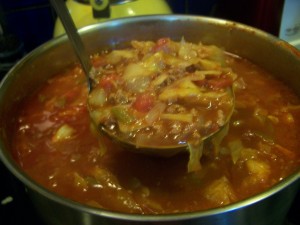 Stuffed Cabbage and Pepper Soup
Ingredients
1 lb ground beef (grass-fed is the best paleo option)
½ head shredded cabbage
1 head cauliflower
1 onion diced
1 green bell pepper diced
1 can diced tomato
1 6 oz. can tomato paste
1 15 oz. can tomato sauce
64 oz. beef broth
2 tsp paprika
Salt and garlic powder to taste
2-4 tbsp. oil to cook veggies in (again I use avocado oil)
More oil for cauliflower rice
Directions
In a large sauce pot over medium high heat, sauté onions and bell pepper in oil until soft. Next add ground beef to pot and cook with onion and bell pepper until no longer pink. You may need to drain some fat at this point. I did not, (I think it added to the flavor). Next add the broth, diced tomatoes, tomato sauce and paste. Stir well to incorporate the paste, this helps thicken the soup. Add salt, paprika, and garlic powder to taste. Bring to a boil, then lower to a simmer. Add cabbage, cover and cook until cabbage is soft. While this is cooking you can make the cauliflower rice. Chop the cauliflower head into pieces small enough to fit easily in the food processor or blender. Process until you have small bits that resemble rice. In a sauce pan heat oil and add the cauliflower. Add some water to help the "rice" steam and cover. Stir frequently and add more water as needed until the "rice" becomes soft. Keep cooking until it gets less mushy and more like rice. You may want to add a little more oil at this point and salt for flavor. If desired, add rice to pot of soup or store separately adding to bowl first and ladeling soup over. Happy souping!