Coconut Curry Chicken and Vegetable Soup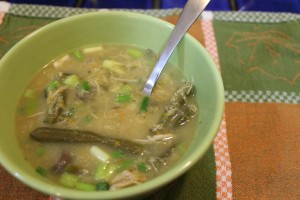 Doesn't that title just say it all? Yum in a bowl happened at my house tonight. I knew it would be a soup making week when it started out with a sick hubby and then kid. It quickly moved on to a sick me and since this soup is one of my favorite "under the weather" go-to's, I knew I had to make it.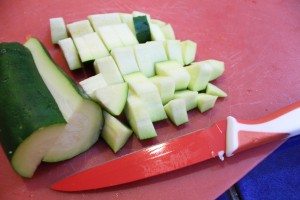 This soup was brought to you my by new favorite little kitchen helper…The Instant Pot! This amazing pressure cooker / slow cooker combo is sweeping the food world. Mine is on permanent loan from my mother-in-law. We share joint custody, she gets it every other weekend or when she wants to make rice. So glad she encouraged me to try it out and gives me free use of hers! The Instant Pot makes all sorts of dishes and in a lot less time than a traditional slow cooker. I'll now end my commercial and get to the soup.
You can really do whatever you want with this soup. I even made it with frozen chicken breasts which I cooked in 10 mins in the Instant Pot. You can throw in whatever vegetables suit your fancy and spice it up or down. Mine has a healthy squirt of Sriracha (Rooster Sauce) but you can leave it out and add some to just the bowl of the spice lovers in your house after the fact. You can also add a store bought curry sauce to this but if you want to be careful about the ingredients you can just stick to adding curry powder like I did.
It was also not thick enough for me so I used an immersion blender for an easy thickener. If you're using full-fat coconut milk that will help too. I used a few cups of a coconut milk drink because the full-fat coconut milk upsets my tummy, unfortunately.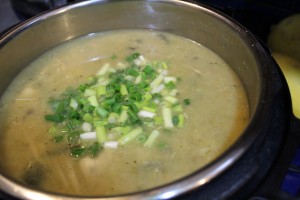 No matter the version you make, this is sure to be a winner and chase away any crud lingering in your sinuses (you're welcome for that mental picture). Happy souping!
Coconut Curry Chicken and Vegetable Soup
Ingredients
2 – 32 oz cartons chicken broth
3 frozen chicken breasts or 6 tenderloins
2 cups coconut milk (I used a coconut milk drink from a carton, can also use 1 can full-fat coconut milk)
1-2 broccoli crowns chopped
½ head cauliflower chopped
2 cups of carrots chopped
1 lb green beans trimmed and chopped into about 1" pcs
1-2 cups sliced mushrooms (I used mini-portobellos)
1 large zucchini chopped
3-4 stalks green onions chopped
2 Tbsp ginger paste (you can find it in the produce section of the grocery store)
1/2 Tbsp curry powder
2 tsp garlic powder
2 tsp chopped garlic
2 Tbsp Sriracha sauce
Salt to taste
Directions
Add chicken breasts to Instant Pot, pour chicken broth over just to cover and sprinkle the garlic powder over the top. Put lid on pot and making sure the valve is not on vent, set to "manual" for 10 mins. If not using an Instant Pot, you can cook covered on the stove top at medium high heat for about 20 mins or until the chicken is cooked. If using Instant Pot, quick vent once time is up. Remove chicken, shred and add back to pot. Add veggies on top and then the rest of the broth. Add curry powder, ginger, chopped garlic and salt to taste. Mix well, add unvented lid back and cook again on "manual" for another 20 mins. If using stove top cook cover for 45 mins to an hour until veggies are tender. If using Instant Pot, quick vent once time is up. At this time you can add your coconut milk, Sriracha and green onions. This is the point also at which I used my immersion blender to thicken. Some Paleo friendly thickeners include arrowroot powder or tapioca starch. I would Google the best way to use these thickeners if you're so inclined before just dumping them in. At this point you can spice it up more and even garnish with more green onions. Enjoy!