This recipe is dedicated to my sweet and courageous nephew, Keaton.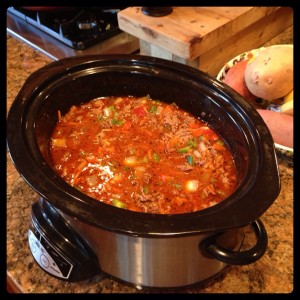 There are days when a crockpot full of comfort food can bring peace to your soul and lift your spirits. I had one of those days recently. I felt a deep sadness and ended up in my kitchen, chopping away.
It was chili I was after; something warm and bright. I pulled out my crockpot and got to work; tossing in an assortment of veggies, ground beef and seasonings. I followed my mood, adding jalapeño to bring heat and a lime to brighten my day.
The result was a bowl full of goodness and just what we needed.
You see, my brave 5-year-old nephew Keaton, battled Acute Lymphoblastic Leukemia in 2009. Yes, you did the math right. He was an infant when diagnosed. He's spent a good portion of his life in a hospital, undergoing chemotherapy and gearing up for a bone marrow transplant.
The cool thing is, bravery runs in our family. Keaton's big brother, Blake, was a bone marrow match. Blake was 5-years-old at the time and eager to help his little brother. Both boys underwent surgery and miraculously Keaton's body accepted Blake's bone marrow.
Keaton has been in remission for nearly 5-years. Yet, just a few weeks ago, he came down with a fever and it became apparent that things weren't quite right. On March 6th, Keaton was diagnosed with Secondary Acute Myeloid Leukemia. He is currently undergoing chemotherapy and the search is on for another brave soul to be a bone marrow match.
As I sit here typing, staring out my window and watching the rain fall, my heart aches. It's a desperate feeling, not being able to help someone you love.
Our hope is to find a brave soul to be a bone marrow match for Keaton.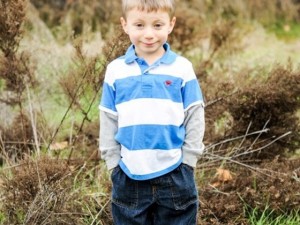 If you'd like to know more about donating bone marrow, please visit http://bethematch.org/
RAINY DAY CHILI
GROCERY LIST (makes 8 servings)
(1) 15-ounce can of tomato sauce
(1) 14-ounce can of diced tomato
2 cups bone broth (I usually use chicken)
2-3 TBSP olive oil
1 onion, chopped (I use yellow)
2 tsp. garlic, minced
1 red pepper, diced
1 green pepper, diced
1 jalapeño, minced (add seeds to the mix for more spice)
1 cup carrot, diced
2 cup celery, diced
2 lbs. ground beef
1 tsp salt
1 tsp pepper
1 tsp cumin
1 tsp cayenne pepper
2 tsp basil
2 tsp oregano
1 TBSP chili powder
1 lime, cut in half
avocado
COOKING INSTRUCTIONS (prep time: 15 minutes, cook time: 6-8 hours)
1) Pour tomato sauce, diced tomato and bone broth into a crockpot.
2) In a large frying pan, over medium heat, drizzle olive oil to coat the bottom of the pan. Sauté onion, garlic, peppers, jalapeño, carrot and celery over medium heat until onions are slightly translucent, about 5 minutes.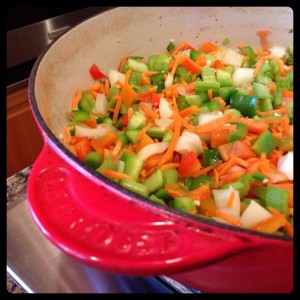 3) Spoon veggies into crockpot.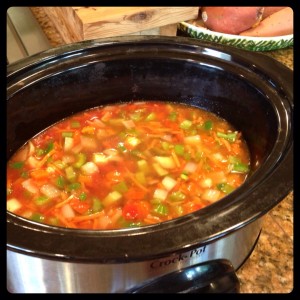 4) In the same frying pan, brown beef, about 5 -7 minutes.
5) Add beef to crockpot and stir in remaining seasonings. Toss both lime halves into the mix. (Be sure to remove limes before serving)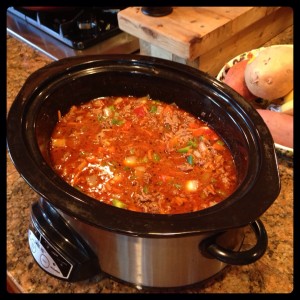 6) Cover and cook on low, 6 – 8 hours.
7) To serve, remove and discard limes. Spoon chili into a large bowl and top with avocado.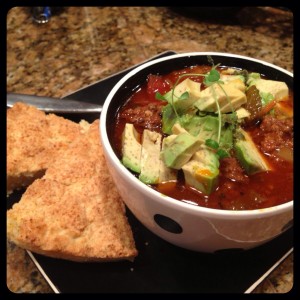 From my kitchen, to yours…… giving thanks for all the brave souls.