Of course it's hot. What do we expect? It's summer. And summer brings heat.
It also brings memories of all those warm July and August evenings driving around in convertibles. Going to the fair, riding the Ferris wheel, hoping you'll get stuck at the top with the person you're with so you can kiss a little. Maybe swimming in one of the close-by rivers and picnicking on the shore. Or taking refuge in an air-conditioned movie theater where you're more interested in the person next to you than the people on the screen.
Or is that just my memories of my teenage years?
Anyway, that was then and this is now. Now is when you're late getting home from work, it's hot and you have to get a meal on the table. Maybe even for that same special person from the Ferris wheel/movie theater days. What's a romantic to do?
Luckily, I'm here to help. For the next few weeks, I'm going to specialize in quick meals that don't heat up the kitchen but still say "I love you." Or at least say "I don't want you to be hungry even if it's hot." And I'll throw in a few ingredients that are reputed to be romantic–just in case you're interested.
Today, I'm suggesting the fastest meal I know how to make. And it's even good for you. The sexy ingredients include those Walla Walla sweets I wrote about a couple weeks ago, the mini-version of "love apples" and olive oil which the ancient Romans believed was essential to a happy romantic relationship. Worth a try, don't you think?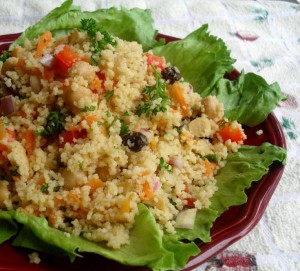 Greek Couscous Salad
2 servings
2/3 cup couscous
1 cup boiling water (can substitute chicken stock)
3/4 cup canned garbanzo beans, drained
1/2 cup chopped Walla Walla sweet onions
1 cup cherry or grape tomatoes, halved
1 cup marinated feta cheese/black olives mix (available at any Fred Meyers where there's an olive bar. Or substitute 1/3 cup pitted black olives and 2/3 cup crumbled feta cheese)
2 tblsps. fresh lemon juice
3 tblsps. (more or less) olive oil to moisten the couscous.
1. Into a medium size bowl, pour boiling water over couscous, stir to combine.
2. Set aside and let couscous soften for about 10 minutes then fluff with fork. (Pour a glass of wine while you wait. Or iced tea. Or set the table.)
3. Add garbanzo beans, onions, tomatoes, olive/feta mixture (or olives and feta) to the couscous and toss.
4. Stir in lemon juice and enough olive oil to moisten.
5. Season with salt and pepper.
The salad can be served immediately, at room temperature, or chilled. Serve on lettuce with pita bread.
This is not only a fast and easy supper but a very flexible dish. You can add almost anything you'd like to the softened couscous–cooked chicken, bell peppers, cucumbers, smoked fish–whatever you have on hand. Just toss it in and enjoy.