Yes, I'm afraid so. This is yet another berry blast. I can't help it. I love berry season more than any other time of the year, fruit-wise. I may be sitting here in heavy socks and a fleece turtleneck but biting into those Oregon Hood strawberries makes me believe it's summer. Or at least a decent spring.
It's a bit like believing in romance after your heart's been broken. You know things don't always work out the way you want them–love affairs end, Northwest weather doesn't always conform to the calendar. But if you have delicious, local, organic strawberries to bite into, you can believe it'll all work out in the end.
So, here's this week's addition to the season. I clipped it from a recent Relish insert in the Columbian (I love their recipes almost as much as I do Pinterest recipes.) The recipe credit is for Karry Hosford, St. Francisville, LA. The recipe makes 24, which is a bit much for two people. So maybe this is more for the family celebration of a wedding anniversary or engagement–a romantic event that's for more than just you and your sweetie.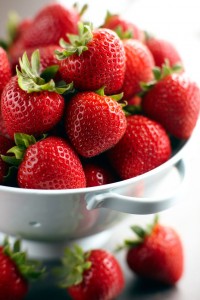 Tiny Fruit Tarts
1 package Pepperidge Farm Pastry Cups (9.5 oz. package)
1 cup chopped strawberries
1 tblsp. granulated sugar
1 cup mascarpone cheese or cream cheese, softened
5 tblsp. powdered sugar, divided
1 tsp. vanilla
grated rind of 1 lemon
1. Preheat oven to 400 degrees.
2. Break pastry cups along scored lines and place, circle cut-out side up, on ungreased baking sheet.
3. Bake 20 minutes until golden brown and puffed.
4. Using the end of a spoon, press centers of hot pastry cups down to create fillable centers.
5. While cups bake, combine strawberries and granulated sugar in a small bowl.
6. Beat mascarpone, 4 tblsps. powdered sugar, vanilla and lemon rind until light and fluffy.
7. Spoon cheese mixture into cups and top with strawberries.
8. Sprinkle with remaining powdered sugar before serving.
Enjoy!