Poet and civil rights activist Maya Angelou died recently. I saw her speak when she was last in Portland and fell in love all over again with her words, her wisdom and the sound of her voice. She is one of my heroes and I wanted to do something to honor her so I thought I'd make this post about her.
What, you are asking, does that have to do with food and romance? Well, in the days after her death, I heard any number of tributes to her. My favorite included bits of an interview she did a few years ago. In the interview she said when she needed distraction she made cream puffs and recommended that everyone make them "for your beloved" because they were so easy to make but looked so hard.
So, let's all make cream puffs (or profiteroles, as they're called in England) for our beloveds, in Ms. Angelou's honor.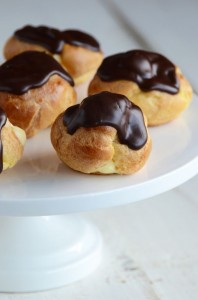 Cream Puffs (makes 10-15)
1/2 cup water
1/2 stick unsalted butter
1/8 tsp. salt
1/2 cup flour
3 large eggs
1 additional egg beaten with 1 tbsp. water
Preheat oven to 400 degrees
1. Bring water, butter, sugar and salt to a boil in medium saucepan.
2. Remove from heat and add flour. Beat until blended.
3. Return to heat and stir until mixture thickens and forms a ball.
4. Turn the heat off and let dough cool for 5 minutes.
5. Make a well in the dough and break one egg into it. Beat until incorporated into dough. Do the same with the other two eggs.
6. Using a 1 1/2 tablespoon ice cream scoop, scoop out dough and place on 2 baking pans covered in parchment paper. Leave about 2 inches between each cream puff.
7. With a pastry brush dipped in the egg wash, gently flatten the ball, making sure not to drip  egg wash on the sides of the puff.
8. Bake for 20 minutes, rotating the pans halfway through.
9. Turn heat down to 350 degrees and bake until puffs are golden and firm to the touch, about 10 minutes. Check frequently to make sure they're not over baking.
10. Remove puffs from oven and immediately pierce each puff with a sharp knife to release steam. Cool completely.
11. Puffs can be filled with vanilla pudding or whipped cream (using a pastry bag and inserting it through the slit you've cut with the knife or you can split the cooled cream puff and fill the bottom, covering with the top.
12. Top with a good quality chocolate syrup.
There it is–Maya Angelou's idea of a treat for your beloved.