I can't help it. I'm obsessed with berries this time of year. I follow the crops religiously as they ripen. Okay, I don't actually follow them. I read the labels in the grocery store so I can see the progression of where they come from as the supply of my favorite fruits moves up the coast from Mexico to California and finally from Oregon and Washington.
I buy organic, because it doesn't seem likely I'll be able to wash off anything that's been sprayed onto a raspberry, for example, without turning the poor berry into jam. And I select which container I purchase by the smell. I probably look like some kind of weirdo sniffing all the plastic containers but for strawberries and raspberries, that's the key for me–they have to have that distinctive sweet berry smell that means they are ripe and ready for serving.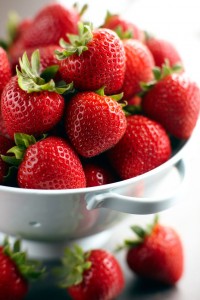 All the senses are important in sensual eating–smell, sight, taste, mouth feel. Strawberries and raspberries have it all for me–the ripe smell, the rich, red color that's often associated with love, the sweet taste. And, while they are delicious on their own, I often add a dollop of Swedish Cream to make the mouth feel of the berries that much richer. I use a recipe from a now defunct Portland restaurant I found in the Oregonian (sorry, Columbian) many years ago. Try it this weekend. It's good on berries alone or over pound cake topped with berries. You'll love it.
Swedish Cream
Makes 6-8 servings
1 cup full fat sour cream
1/2 cup granulated sugar
1/2 cup plain yoghurt
1 tsp. vanilla
3 tablespoons orange liqueur (such as Grand Marnier)
2 cups whipping cream
fresh berries–I use strawberries and raspberries alone or mixed with blueberries for a color contrast
Combine first five ingredients in a large mixing bowl and mix well.
Heat the whipping cream to a temperature just below the boiling point. Remove from heat and slowly combine with other ingredients. Chill thoroughly.
Serve by layering Swedish cream and berries in a parfait glass or bowl. Or put a dollop on top of pound cake layered with berry mixture.