How do I know it's spring? It's not the birds and the flowers. It's not even my runny nose and itchy eyes from the Scotch broom in bloom. I know the season has changed because asparagus has begun to appear in the grocery store. It's not the really good stuff from eastern Washington yet, it's still from California but while we wait for the local stuff, we can whet our appetites by enjoying what we can get now.
So, what's romantic about asparagus? Just look at it and you'll figure it out. According to "Simple, Sexy Foods, it was banned in convents during some periods of history merely because the shape was considered too arousing for the nuns. I don't believe that nonsense. But I do believe that eating it with your fingers after it's been drenched in butter or, better, feeding it to each other can be very romantic.
Of course, eating it simply is only one way to enjoy asparagus. There are others. Here are two of my favorites. The first is an old standby:
Cream of Asparagus Soup–to serve 2
1 small onion, minced
2 tablespoons butter
4-5 ounces asparagus, woody stems removed, then cut into 1/2 inch pieces. Reserve 4 heads for garnish
1 1/2 cups chicken broth
1/2 cup heavy cream
Melt butter in saucepan, add onion and cook until it's soft, about one minute.
Add broth, asparagus and bring to boil.
Cook for 10-12 minutes until asparagus is tender. Remove from heat and strain out vegetables, saving the broth and returning it to the pot.
Process vegetables in food processor until smooth. Return puree to broth and whisk until smooth. Add cream and heat through.
Taste for seasoning. Add salt and white pepper as desired.
Garnish with reserved asparagus heads and a drizzle of sour cream or creme fraiche before serving.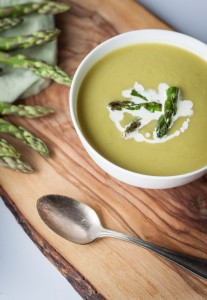 A second recipe is a new favorite:
Warm Potato and Asparagus Salad–serves 2
3/4 pound baby yellow potatoes
1/2 pound asparagus, woody stems removed and sliced in 1/2 inch pieces
fresh Italian parsley
salt and pepper to taste
Cut potatoes in half and cook until just tender. Scoop potatoes out of water and set aside.
Cook asparagus in same water for three minutes. Asparagus should still be crisp. To preserve the crispness, rinse immediately in cold water or plunge into a bowl of ice water.
Combine potatoes, parsley and asparagus with dressing composed of 3 tblsps. extra virgin olive oil, 1 tblsp. fresh lemon juice, 3 cloves garlic, 2 tsp. capers. Taste for seasonings. Drizzle with more olive oil if desired.
Salad should be served warm.
Try one–or both–this week. After all, even if you don't think asparagus is romantic, spring, in all its glory, certainly is.